View from America: The NFL play-off wackiness ends here, says Simon Veness
Simon Veness says the play-off wackiness ends here as he looks ahead to this weekend's NFL action.
By Simon Veness
Last Updated: 10/01/14 4:56pm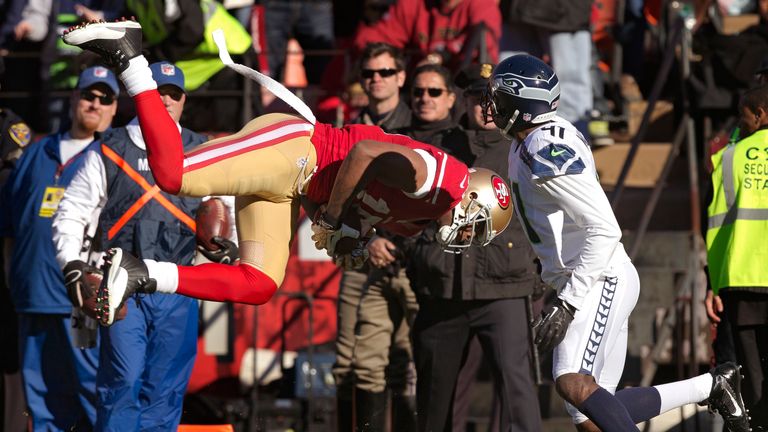 Last weekend's Wild Card round had it all in spades - the simply astonishing 28-point comeback by Indianapolis at home to Kansas City; the last-second heart-stopper for New Orleans at Philadelphia; the Cincinnati meltdown at home to San Diego; and the epic 'Who's-Going-To-Edge-It?' Freeze Bowl as San Francisco carved out a truly memorable win at Green Bay.
It stretched our incredulity to the absolute (Outer) limit, and beyond. And it was absolutely stonkingly, brilliantly amazing to watch, even the sad collapse of the Bengals behind the hit-and-miss arm of Andy Dalton (yet again).
I'm happy to say that I predicted three of the four (I just missed with the 49ers proving themselves the Ice Champions of Lambeau Field), but I'm also here to say that the weirdness and wackiness ends here, this weekend, at the Divisional Round.
It is time for pigskin normality to return, for the weight of the unlikely to be re-balanced, and for cold, hard reality to intrude on this footballing version of the X Files. In short, it is time to get predictable.
Home-field benefits
All four games this weekend (live on Sky Sports 3 from 9pm on Saturday and 6pm on Sky Sports 2 from 6pm on Sunday) have distinct home-field benefits, and the bookies fancy three of them to live up to that advantage, Carolina and San Francisco being the 'odd ones out' in this little favouritism scenario.
Once again we have weather as a significant factor (in Seattle and New England) in the pre-game prognostication mix, and there is plenty of recent 'previous' in all but the Indianapolis-New England showdowns.
It has masses of intrigue, and various sports outlets are already weighing up the different possible permutations for XLVIII, with the general consensus that a Saints-Broncos match-up would be a totally mouth-watering prospect.
The odd-makers will give you 36-1 on that particular combo, by the way, but it's still short odds compared to the 196-1 you could get on the Saints meeting the Chargers in New York, where the latest weather forecast says things will be cold (close to freezing) but dry.
So, if that's the Big Picture, what do we make of the small-scale detail on this side of the pond this week? Well, let's take it game by game and save (potentially) the best for last...
Saints at Seahawk:
We have seen this movie before, and recently, wih Seattle giving Drew Brees and Co the distinct run-around to the tune of a 34-7 thumping that was never even that close. And, despite New Orleans ending their road play-off hoodoo at Philly last week, this is where most predict the Who Dat? bandwagon will hit the buffers for a third successive post-season visit.
The Seahawks will welcome back Percy Harvin and have a well-rested defence in the Den of Din otherwise known as CenturyLink Field and, while their home invincibility has been pierced since they last entertained the Saints, few can see an upset here, even though Seattle actually overturned bigger odds in their wildest of Wild Card wins four years ago.
No, this match-up belongs to Richard Sherman and the Legion of Boom in the home secondary, with Brees struggling once more to find his receivers. Advantage, Seattle.
Colts at Patriots
Does Andrew Luck really have another miracle up his sleeve? Because he is likely to need it in wet and windy Gillette Stadium, where, purely and simply, New England have the running game to run the visitors out of town.
Last week, the Chiefs lost both Jamaal Charles and his back-up Kniles Davis but still put up 44 points, which should have been more than enough to see them safely home. Just as crucially, Bill Belichick's crew no longer need to rely on Tom Brady to pass them to victory.
The Pats rank ninth in rushing at 129 yards per game but, more importantly, they have FOUR running backs who average at least 4.3 yards per rush and that's a mighty powerful quartet.
Conversely, if the New England defence has a major weakness, it is against the run, but that is also Indy's weak suit, offensively, and it is almost impossible to imagine a Belichick defence collapsing in the way the Chiefs did last week. Advantage, New England.
Chargers at Broncos
If the odds are stacked against New Orleans and Indianapolis, they are positively Himalayan for San Diego, irrespective of the way Mike McCoy's men picked apart the porcelain-fragile Bengals.
Yes, the Chargers already have a win at Mile High this season, the first of a four-game run they simply had to have just to reach the play-offs, but that's where Simon's Immutable Law of Desperation runs out. The Broncos didn't HAVE to win that game, the Chargers did.
This Sunday is a whole different scenario and, despite the fact No.1 seeds are a surprising 2-5 against the No.6s since 2005, this is too powerful a Denver force to allow a second successive surprise win from a visiting outfit.
Philip Rivers and a ball-control offence worked the oracle last time but teams rarely fool a Peyton Manning offence the same way twice and there's no way San Diego can go toe-to-toe with this season's MVP and expect to score more points. Advantage, Denver.
49ers at Panthers
This is the game that has EVERYONE guessing. After their good-enough-for-Roman-numerals performance at Green Bay, San Francisco have reminded the league they are the current form horses, galloping to a seven-win streak that has included victories against two top 10 defences (Seattle and Arizona) and another in the top 15 (St Louis).
But Carolina are the winners of 10 of their last 11, have home advantage, have beaten the likes of New Orleans and New England on their own turf - and also won a major defensive struggle against the 49ers, in San Francisco, as recently as November 10.
It's the classic heavyweight slugfest and, while Las Vegas thinks the visitors are tentative one-point favourites, there are just as many pundits ready to argue that Cam Newton - on his play-off debut - can find enough points to win as those backing Colin Kaepernick.
But there is a crucial difference this time that wasn't available to Kaepernick back in November; it was very much in evidence at Lambeau Field and was arguably the X-Factor. Or, rather, the C-Factor, as Michael Crabtree has burst back into the 49ers offence with all the brightness of a supernova, even allowing for Jim Harbaugh's obvious hyperbole last weekend that his wideout was "the best pass catcher ever."
In the likely absence of Steve Smith, Crabtree will certainly be the best pass catcher on the field at Bank of America Stadium, and that is all Kaepernick needs to keep the Panthers' defence guessing just long enough for either his legs or arm to do the damage. Advantage, San Francisco.
PS: If all four Divisional Round favourites DO win this weekend, it will be the first time it has happened since 2005, so it is certainly overdue. Equally, this IS still the season of the weird and wacky, so hang on to those San Diego-New Orleans betting slips!