NFL Play-offs: Simon Veness expects unexpected this weekend
Simon Veness predicts some wacky play-offs after the weird and wonderful regular NFL season.
By Simon Veness
Last Updated: 03/01/14 2:01pm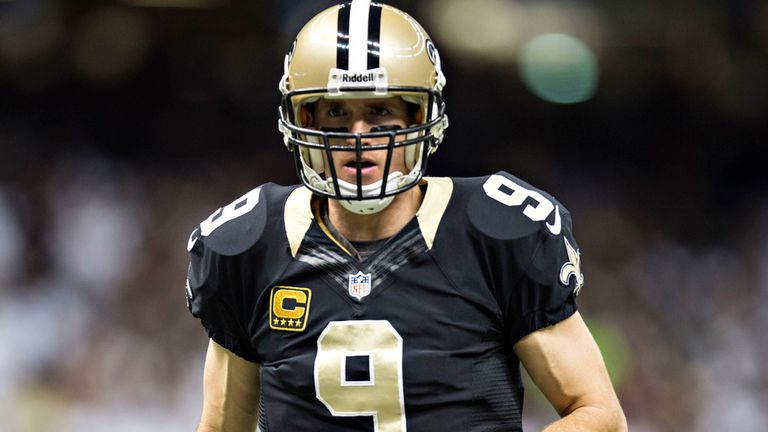 Some states have produced more than others, notably California (225 players), Florida (with 186) and Texas (184).
Of those 184 Texans, two will go head-to-head in the play-offs on Saturday night - having both played for the SAME high school. And not just any two, but two of the best quarterbacks in the league, Drew Brees and Nick Foles.
That's right; Westlake High in Austin, Texas, produced two current players who accounted for 66 touchdown passes and a combined quarterback rating of 112. Not too shabby, huh?
Even allowing for the fact Westlake is something of a powerhouse in school football, it is stretching the imagination somewhat to envisage two of their young stars going on to the highest level. And facing off for a place in the Divisional Round on the road to XLVIII.
It HAS happened before. In 1974, when Pittsburgh's Terry Bradshaw faced Buffalo's Joe Ferguson, having both grown up and played for the same school in Shreveport, Louisiana.
But this is the kind of home-spun coincidence that fair boggles the mind. Brees is still revered in his corner of Texas for taking the school to a state championship in 1996, and piling up just about every single record you could imagine, short of punting and kicking. Until Foles came along 10 years later and broke them all.
Yes, it is THAT kind of improbable confluence of pass-throwing talent that pits Philadelphia against New Orleans in a battle that will divide Westlake on Saturday, so much so that one of their old high school coaches, Derek Long, insisted: "They're such great guys, such outstanding young men who have done everything right, you hate to see one of them not continue on after this weekend. I guess the only perfect scenario would be that they both throw seven touchdown passes."
Which isn't such a crazy idea, seeing as how Foles has already done it once this season, against Oakland, while Brees has tossed four or more on five occasions this term. It is a mouthwatering prospect, but it is also a fitting way to transition from a weird and wacky regular season to a post-season that could produce absolutely anything.
Unexpected
Because if there is one thing we have learned from 17 weeks of pigskin implausibility, it is that the unexpected is the everyday and the unlikely is, actually, very likely indeed.
That's the only way you can explain the likes of San Diego and Green Bay still being alive in January when the odds on them reaching the Super Bowl's knockout stages were being calculated in decimal percentage points just three weeks ago.
After Week 13, the Chargers' hopes were not so much on life support as waiting for the final nail in their post-season coffin, a 17-10 home defeat by Cincinnati leaving them down among the dead men at 5-7 and with all of Kansas City, Miami, Baltimore, Tennessee, Pittsburgh and the Jets ahead of them in the wild card race.
The Chiefs were already all but there at 9-3, but the odds against San Diego - needing each of those other five teams to lose most of their games - were stratospheric, especially as the Chargers had to go 4-0 to finish their schedule, with games at Denver and Kansas as well as home clashes with the Giants and Raiders.
With two weeks to go, they needed six separate results to go their way, a combo with a likelihood of roughly 50-1, being generous. Then, when it all came down to a 41-yard Ryan Succop field goal, which went wide right, you knew the odds counted not a jot. This was a history-making charge into the play-offs straight out of the X Files, except the truth was no longer out there, it was all over the place.
Just like Green Bay. After Week 13 - a 40-10 Thanksgiving Day shellacking by Detroit - they were in third place in the NFC North, didn't have a viable quarterback and looked like they would struggle to win a game, let alone the three they needed, plus three losses for the Lions and two for Chicago.
Let's put those odds, conservatively, at 60-1, and, we are off past the X Files and on to the Outer Limits, a brain-bending, logic-breaking, gravity-defying alternative universe where anything is possible, including an 8-7-1 team hosting a 12-4 powerhouse (yes, many US pundits are back to debating the merits of a division winner automatically having the rights to a home game).
So, when we consider the full eight-team line-up for this weekend (all live on Sky Sports 1 HD, by the way - every glorious minute), we have to be acutely aware of how we got Here before we can work out how to get There.
And, when 'There' is MetLife Stadium on Sunday February 2, we still have a fair bit of considering to do.
It doesn't quite start with the League of Extraordinary Gentlemen that are Messrs. Brees and Foles but it might as well. The oddsmakers rate the Eagles 2.5-point favourites over the Saints, which might make conventional sense seeing as Sean Payton's men are only 3-5 on the road this season and have NEVER won a play-off game away from the cosy confines of their dome home.
But this is the NFL 2013/14 and conventional wisdom has been locked away in the Twilight Zone of sporting misadventure. So expect a New Orleans win as the NFL's No.2-rated passing attack takes on the league's 32nd-ranked passing defence, and to heck with the bookies.
Unexpected
Prior to that, Indianapolis get to entertain Kansas in a battle of 11-5 teams that we have already seen this season, albeit at Arrowhead Stadium, where Andrew Luck and Co won convincingly. Again, Las Vegas reckons the Chiefs will edge this one, but Simon Says, not on your betting Nelly. Everything we've seen recently tells us to expect the unexpected, so it's easy to see the Colts taking charge early and winning at a canter (ahem).
Then it's Sunday, and two more episodes of our footballing Wheel of Fortune. First, Cincinnati get to entertain those freaky Chargers in a second return match-up from the regular season. The Bengals won that one, in San Diego, 17-10, and gave Philip Rivers conniptions with their defensive alignment, but that was before the last-gasp four-win streak that brought Mike McCoy's outfit to the gridiron promised land and, with Andy Dalton prone to multiple INT outbursts, the sporting gods could easily decree another upset here.
Finally, it is the Green Bay Houdini Act at home to the 49ers, and the return match of Week 1, when Colin Kaepernick did his best Joe Montana impression and riddled the Packers secondary for a whopping 412 yards and three touchdowns. Aaron Rodgers matched him for TDs, but the scoreline was 34-28 against him.
Now, in the freezer of Lambeau Field, the two will go head-to-head for the third time in little more than 12 months (as the 49ers also got the better of last year's Divisional Round match-up), Close Encounters of the Third Kind, if you like.
Where this one ends up is absolutely anyone's guess. Except that we already know that it's not guesswork. It's another Tale of Mystery and Imagination - and the likelihood is that the unlikely will again be firmly to the fore.
So, count on Rodgers to make up for the last 12 months in one fell swoop. And then we'll be on to the next instalment of our Magical Mystery Tour - final stop, New York.