View From America: Tony Romo and Aaron Rodgers sagas take centre stage ahead of make-or-break games
Simon Veness sees a worrying difference in the approach to Week 17 of Dallas and Green Bay.
By Simon Veness
Last Updated: 28/12/13 9:27am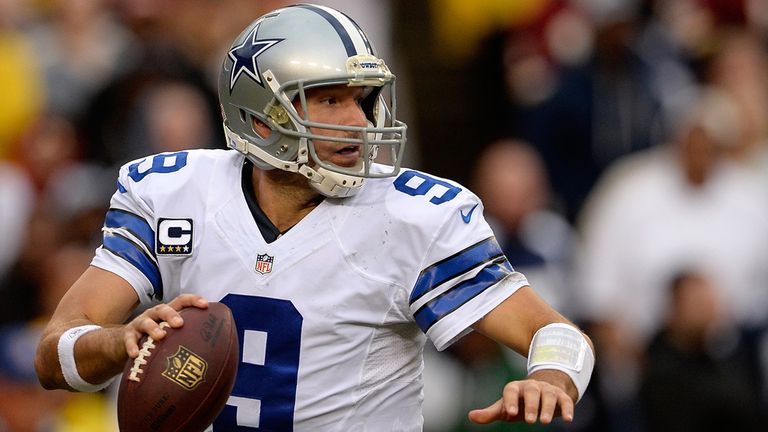 In the NFL's latest soap opera, A Tale of Two Quarterbacks, numerous football writers and pundits have contrasted the stories of Tony Romo and Aaron Rodgers in Week 17 of the season. It has sold millions of newspapers and been the core subject of talk shows all week and is rated as one of the most confusing situations of this pigskin period.
In Dickens' day, it was a Tale of brutality and revenge, set to the backdrop of the French Revolution; the modern version is a tale of recklessness and caution (although there is a certain amount of brutality - in the case of the treatment of Romo - and revenge, with Rodgers' desire to beat Chicago), set to the backdrop of the Super Bowl XLVIII play-offs.
Differences
The Cities highlighted the differences between French and British sensibilities at a turning point in world events; the Quarterbacks highlight the differences between Texan and Wisconsinite sensibilities at a key moment in the battle for the post-season.
And it has numerous observers and pundits absolutely riveted this week, wondering just how much is bluster and smokescreen and how much is genuine preparation for the make-or-break games that will define the seasons for the Cowboys and Packers.
The fact both teams have tantalising win-or-go-home scenarios in Week 17 provides all the fuel necessary for this Two Team Tale of gripping proportions. More importantly, it says much about the thinking and ethos of each team - according to many of the talking heads - when presented with extreme circumstances.
In Green Bay, Wisconsin, the story has been one of wary wait-and-see restraint; an unwavering commitment to the long-term health and safety of their prized asset. "He'll be ready when he's ready" has been the consistent message from Lambeau Field, despite the team threatening to flicker and flame out over each of the last seven weeks without their big-name quarterback.
Just two wins in that seven-game period had all but extinguished any post-season prospects for Mike McCarthy's men, but their unwavering position of not rushing Rodgers back was given an unexpected lifeline by the Bears' complete meltdown at Philadelphia that leaves the door open for progress at Soldier Field on Sunday.
Wait-and-see
All week, we waited for the vital pronouncement of Rodgers' recovery chances in time to suit up against the team that put him on the sidelines with a heavy blow to his left shoulder back on November 4.
Yet the Pack's key quartet of head coach, general manager, player and doctor stuck to the same unswerving song-sheet - we wait for full medical clearance, nothing more, nothing less.
Anyone speculating on the likelihood - or otherwise - of the Super Bowl XLV MVP being ready to play was indulging in just that, pure speculation. There was absolutely nothing emanating from Lambeau's confines that wasn't conjecture, assumption or just plain gossip. The Big Four stood firm and the media just had to wait and see.
If Rodgers was ready, he would play. If he wasn't, then Matt Flynn would get one final chance to lead Green Bay to an improbable play-off place.
As we now know, the wait-and-see approach paid dividends. No. 12 will be on the field in Chicago, and the Bears will have to cope with a quarterback boasting a career rating of 105.2 rather than one with a rating of 88.3. It is completely and utterly Game On, irrespective of the lack of reps for Rodgers in the past eight weeks.
Shambolic
Then there is Dallas and the increasingly shambolic approach to fielding a player with a herniated disc in his back - the kind of injury that often requires surgery and can certainly leave its victims almost helpless in terms of regular movement, let alone playing under centre for a desperate team.
Even on Thursday evening, we were seeing stories quoting Jerry Jones as saying he "hadn't given up hope" of Romo somehow being ready to play, despite his player not being able even to walk on to the practice field, and that after a major epidural injection to try to reduce the pain.
Finally, on Friday morning, head coach Jason Garrett announced they had "exhausted all possibilities" and that Romo was, after all, undergoing surgery.
Of course, it is perfectly possible that everything out of Arlington, Texas, was a smokescreen, meant to keep the Eagles guessing and obscure the fact the quarterback had already been ruled out; let Philly have to prepare for either Romo or Kyle Orton. Sound pre-game tactics.
Yet it didn't sound or feel remotely like that. In the absence of a proper general manager, owner Jones increasingly stepped into the media void and left the impression the team was operating on a wing and a prayer, causing confusion and misunderstanding - were they REALLY ready to leave their prize asset open to an Eagles onslaught on Sunday night?
It was impossible to tell for sure, but there were certainly plenty of 'inside sources' that raised all kinds of question marks over the Cowboys' handling of the situation, in sharp contrast to things up in Green Bay.
And, once again, Tony Romo is made to seem almost a figure of hapless fun, despite having delivered the last-gasp win at Washington on Sunday - as a limping, pain-racked figure - that at least gave the final regular season game in the House That Jerry Built some significant meaning.
Preposterous
It led to all kinds of rampant speculation around Valley Ranch, from any time Romo wandered near the practice field to simply the way he is walking.
It also led to one of the most head-scratching comments of the week from head coach Jason Garrett, who insisted: "I think pain is probably the biggest issue. Pain as it relates to how he can function. There are a lot of different levels to that, walking around, moving around and all that."
Really? It's just a question of pain maintenance? That if Romo could somehow shrug off the crippling agony of a disc that is rubbing on his spinal nerve ends he could still be effective? Did Garrett even realise how impossibly, ridiculously crass that was?
Not only was Romo NOT just dealing with pain issues (the spinal cord being the single-most important element for a functioning human being), the idea of somehow wheeling him out on to the field with a major weak point of that nature was tantamount to setting him up to be a cripple for life.
Irrespective of the fact it also gave the fans an opportunity to add to their anti-Romo sentiments by insisting, "Oh, he just couldn't handle the pain. What a wuss." Or worse (probably the latter).
It raised the utterly ridiculous prospect of Dallas dealing with a major injury and yet the player being told to suck it up, take one for the team and push through the pain. As things transpired, there was never the SLIGHTEST possibility of Romo trotting out at AT&T Stadium, and everything the Cowboys said before Friday's surgery announcement was just so much preposterous hot air.
Compare that reckless treatment with that of Rodgers back in Green Bay and there is a credibility gap of enormous proportions.
Of course, Aaron Rodgers might not work the oracle for Green Bay in Chicago, while Kyle Orton might just pull off the surprise win against the Eagles. Absolutely anything remains possible in this NFL, where form is fleeting and the improbable remains the every-day.
But it remains true that Dallas and Green Bay are poles apart in terms of their basic approach to the business of football - a difference that represents a yawning chasm in terms of professionalism and common-sense.
If We Stopped Now
It's time for our final version of 'If The Season Ended Here' to outline the play-off picture as it stands before the last round of games. And, if it had already stopped, this would be the scenario:
AFC: The 10-5 Bengals are still the No.3 seed and would be home to the 8-7 Dolphins (replacing the Ravens) and the 10-5 Colts remain at home to the 11-4 Chiefs, while the Broncos (12-3) and Patriots (11-4) have the bye week. Baltimore (8-7) now need help to get in, with San Diego (8-7) and surprising Pittsburgh (7-8) still in the mix.
NFC: Whoa! All four divisions remain wide open going into the final week. But, as things stand, the 9-6 Eagles would be at home to the 10-5 Saints (having slipped from the No. 2 seed to No. 6 after three defeats in their last four) while Chicago still have the inside track at 8-7 (just) for a home visit from the 11-4 49ers (who jump up from the sixth seed to the fifth), with Seattle (13-2) and Carolina (11-4) getting the byes. Arizona (10-5) remain alive if New Orleans slip up, while Dallas (8-7) and Green Bay (7-7-1) still have head-to-head win hopes.