Simon Veness predicts non-stop drama on Week 16 in the NFL
Simon Veness predicts non-stop drama in Week 16 of the NFL, with eight play-off places up for grabs.
Last Updated: 20/12/13 3:04pm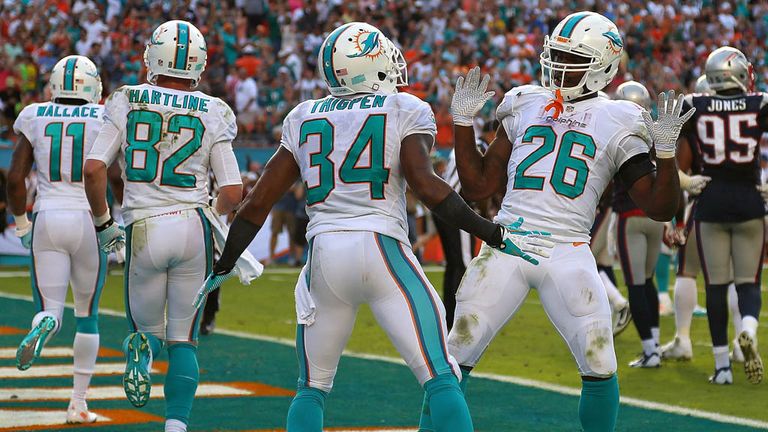 Just to put things in perspective, only FOUR teams have so far booked their journey on the Post-Season Express (final stop, New York City). Just four, a meagre quartet. Fully eight places are still up for grabs with just two games to go.
This time last year, six of the places were already filled; in 2011 it was seven; and in 2010 it was again six. We expect to know at least half a dozen of our January candidates by now. To have just four? That's plain nuts.
But it does mean there are some truly titanic battles this Sunday and Monday, with only a handful of games having nothing at stake. Two years ago, Green Bay were preparing to put Aaron Rodgers in mothballs ahead of the play-offs; in 2009, Indianapolis were 14-0 and getting all kinds of stick for sitting Peyton Manning on the sidelines.
This year there is NO-ONE even remotely considering not playing their starters. They will all have the pedal to the metal all the way to the end and even the foursome already sure of a post-season curtain call all have every reason to keep up the pressure.
In the AFC, only ONE division is settled, but Indianapolis cannot afford to sit back with the possibility of a top-two seeding tantalisingly within reach. All three other divisions remain wide open, albeit both Denver and Kansas City are guaranteed at least one game in January.
Over in the NFC, the picture is enough to give even the most nerveless performer nightmares - all four divisions are awaiting a champion and TEN teams are still jostling for the six available seats on our play-off train (Seattle being assured of one of them, but still only as a wild card entry so far).
Most amazingly of all, with the tightness of the standings in all but the AFC South and West, there are actually ELEVEN of the 19 hopefuls that still control their post-season destinies, i.e. if they win out, they're in (if that doesn't sound double Dutch).
That means Dallas have their division hopes just where they want 'em (despite current form that suggests they would struggle to win a Pop Warner league).
It's a prospect that fair boggles the mind, and sitting here trying to digest the latest TV sports bulletin about the various ramifications of 13 of the 16 games in Week 16 (yes, that's right only three of the match-ups of the penultimate week have no play-off interest - Tennessee v Jacksonville, Cleveland v the Jets and Tampa Bay at St Louis) amounts to an exercise in mathematical gymnastics, as 15 (teams) into 8 (remaining places) just will not go.
As it stands...
So, let's take a look at the eight different stages that represent each division for this two-week drama-fest sprint to the regular season finish line. Sit back and hold on tight now, off we go....
AFC East: This is a double-act of contrasting styles; New England are fighting for a top two seeding and a week off in early January while Miami have to win one more game than Baltimore to clinch the final wild card. Yet you could be forgiven for thinking it is the other way round on current form.
The Dolphins have won four of their last five while the Patriots have won three, but in tortuous fashion. All the mojo is with the team from south Florida and, while it would take a truly bizarre combination of results to keep Bill Belichick's team out of their fifth successive post-season (and 11th of the 13-year reign of Surly Bill), I'm not ready to rule anything out in this Season of the Bizarre.
The Pats are already wincing at the prospect of the trip to Baltimore on Sunday but a home game with Buffalo on the final week should see them comfortably in at 11-5. Miami, meanwhile, have two very winnable final games, which means that well, read on....
AFC North: With three teams still alive here, this is officially the Scratch, Claw & Bite division, with absolutely nothing guaranteed. It would take a significant miracle for Pittsburgh to scrape in at 8-8 (like Miami, Cincinnati AND San Diego all losing both games), so let's not get too Biblical with the Steelers.
But the Bengals and Ravens are definitely engaged in a desperate fight to the finish and, in my book, the reigning champs have a slight edge, and here's why. They will certainly have to be at their post-season best from last term but they will fancy taking advantage of the Pats at M&T Bank Stadium, and that sets up a truly titanic last-week showdown with - Cincy.
John Harbaugh's men have proved repeatedly in the past year that they are the team for a winner-take-all occasion and, if they also come through in Paul Brown Stadium on Sunday week, well, it's bye, bye Marv. Baltimore win the division and the DOLPHINS take the final wild card.
AFC South: With the Colts in total control, there is nothing to see here, so let's move on. OK, so Indy should finish a comfortable 10-6 and they and the Ravens will host home games in the Wild Card round.
AFC West: Like the Steelers, San Diego need an equation of quadratic proportions to reach the post-season, with both of Miami and Baltimore failing to win again this year, so let's not plumb those unlikely depths.
That just leaves Denver and Kansas City to scrap over top spot and, with the Broncos having the inside rail with games against Houston and Oakland, they look odds-on to finish in the AFC winner's enclosure.
NFC East: Oh boy, what a glorious mess is the once-formidable blue collar division of the NFC. Philadelphia and Dallas are once again locked in a death embrace that only one can escape and you know what? After the way the Eagles D collapsed at Minnesota, I can see them doing it again in the furnace heat of a home visit by Chicago and the trip to Texas.
And, as wacky as it seems on the basis of the Cowboys' last two woeful outings, I am going counter-intuitive here and predicting a very Happy Christmas for Jerry Jones, with them edging to a nervy win at Washington and then being the Last Man Standing at home to Philly. Just don't expect much by way of an encore, hey?
NFC North: If the East is something of a farce, this little tete-a-tete-a-tete is a production straight out of the M Night Shyamalan playbook - mysterious and impossible to fathom.
It also borders on the supernatural in that none of the three survivors actually seems like they want to win the darn thing. But, here's a little inside track - Detroit have a cakewalk of a two-game finale (the Giants and Vikings) and, from being the current odd one out, they can actually leapfrog both Chicago and Green Bay if the latter duo each go 1-1 in the final fortnight, which is probably par for the course hereabouts.
NFC South: No debate here - this whole shebang hangs on Sunday's collision of the Saints and Panthers at Bank of America Stadium and, try as I might, with their porous away form (just 3-4 on the road; a rock-solid 7-0 in their Dome home) I can't see New Orleans winning. And that leaves Carolina to enjoy a play-off week with their feet up.
NFC West: Poor Arizona. Their record is already good enough to win both the East and North, but this is the new tough-as-nails West and they are going to have to beat BOTH Seattle and San Francisco, and hope either the 49ers or Saints lose twice to snatch a wild card. Don't hold your breath, Cards fans.
Meanwhile, the Seahawks romp to a shiny 14-2 record and the 49ers and Saints both fill out the final two spots at 11-5 (and both go on the road to 9-7 division 'winners'!).
Simple, huh? Yeah, like THAT'S going to happen after all that we've seen this season. The alternative, Twilight Zone version of events (keeping with our theatrical theme) says: Kansas City win their division, San Diego creep in and it is Jim Harbaugh rather than brother John that lifts the Super Bowl silverware this time.
And Bill Belichick starts a song-and-dance act with Peyton Manning. With Manning as the straight man. Thank you, I'll get my coat....
If We Stopped Now
OK, it's time for this week's version 'If The Season Ended Here' to outline the play-off picture as it currently stands. And, if it did, this would be the scenario:
AFC: The 9-5 Bengals are still the No.3 seed and would be home to the 8-6 Ravens (not happening - see above!) and the 9-5 Colts remain at home to the 11-3 Chiefs, while the suddenly-struggling Broncos (11-3) and Patriots (10-4) would enjoy the bye week. Miami (8-6) are hot on their heels while San Diego (7-7) and Pittsburgh (6-8) still have a pulse (just).
NFC: The suddenly-vulnerable 8-6 Eagles remain at home to the 10-4 49ers while Chicago now have the inside track at 8-6 for a home visit from the 10-4 Panthers, with Seattle (12-2) and New Orleans (10-4) getting the byes (just, in the case of the Saints). Arizona (9-5) remain alive, while Detroit (7-7), Dallas (7-7) and Green Bay (6-7-1) are also bravely still giving chase.