NFL, Week 15: Crunch time for San Diego, Miami and Dallas
Simon Veness says San Diego, Miami and Dallas must strike now or risk experiencing NFL oblivion.
By Simon Veness
Last Updated: 12/12/13 10:26am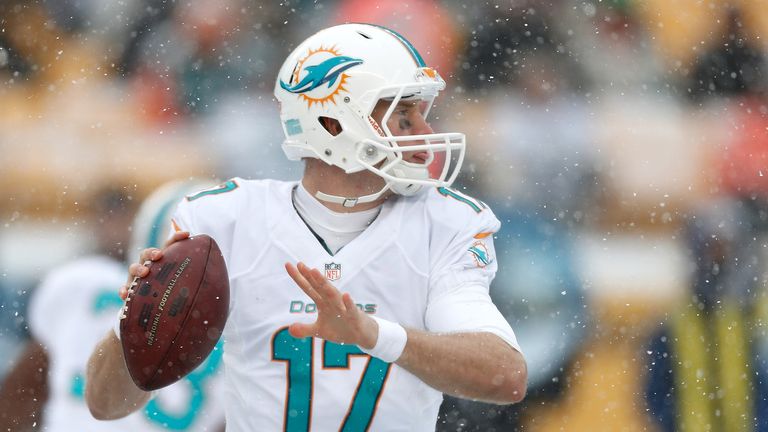 Not desperate as in Dan, or Housewives or even Seeking Susan, but good, honest sporting desperation, the kind that drives teams to extra effort and puts a bit of pepper at their heels.
Because Week 15 is the Last Chance Saloon for a clutch of teams who simply cannot afford another entry in the 'L' column if they want to be playing in January, and they all have an extra reason to need some post-season prosperity.
It is not so much that the smoke of uncertainty of the middle weeks of the season is clearing, and there are far fewer teams still standing, but that, for three in particular, it is imperative to take the extra play-off step that has eluded them in recent years.
For San Diego, Miami and Dallas, the lack of recent success is in danger of becoming a black hole of spirit-sapping dimensions, a one-way ticket to gridiron oblivion.
Negotiate
The Chargers last tasted a play-off victory five years ago and, while Mike McCoy is in his first year as head coach, the five-year itch will be a particularly difficult one for owner Alex Spanos to scratch as this was a team built to get over the post-season hump that Norv Turner failed to negotiate for the last three seasons.
Clearly McCoy will get at least another year if this campaign ends like the previous trio, but the inconsistency of this San Diego outfit will be a hard one for many of the front office to stomach with Philip Rivers having one of his best years and what was supposed to be a bumper draft crop giving the organisation a lift.
Hence the trip to Denver on Thursday night has that stamp marked 'Desperate' on it.
Win, and there is a distinct chance that, in the wild card mediocrity of the AFC, the Chargers could just nick in and justify the major house-cleaning of the post-Turner era. Lose and the black hole becomes that bit darker.
Of course, a jaunt to Mile High is not exactly what any coach would prescribe as a cure-all for the play-off blues, especially as the Broncos' last home defeat in the regular season was in September last year against Houston; that's a run of 13 straight home 'W's for Peyton Manning and Co.
San Diego urgently need to make it stop there, and they actually have a chance, too, with Rivers currently at a career-record 70.3 per cent completion rate and his best touchdown-interception ratio since 2008 - the last time the Chargers chalked up a play-off win. They lost just 28-20 at home to Denver a month ago, and John Fox's men have suffered some defensive blows since then.
So this is most definitely Runner No.1 in the Desperation Stakes, a handicap race over three furlongs where there is absolutely nothing for second place and even a victory only takes them to the next race.
Back
Joining them in this particular state of sporting anxiety are AFC wild card rivals Miami, whose own run of post-season emptiness dates all the way back to 2000, an unlucky 13 run that did include actually qualifying for the knockout stages in 2001 and 2008, only to be given the cursory brush-off by Baltimore each time - at home, no less.
Joe Philbin is in his second year at the Dolphins' helm, and there is a distinct danger this campaign could end up looking a lot like his first, a 7-9 season of two steps forward but three back.
At 7-6, the current team has the same promise as last year - and the same weaknesses, despite the five-year, $60million contract needed to entice Mike Wallace to Florida in the off-season to be the offence's 'missing link.'
Not only has the ex-Pittsburgh wideout not been the final piece of a winning pigskin jigsaw puzzle, with only three (count them, a miserable trio) of touchdowns to date - which would be far and away the worst season of his five-year career - the offence has mis-fired alarmingly elsewhere, with quarterback Ryan Tannehill often running for his life and absorbing a league-worst 47 sacks in 13 games.
Former Green Bay offensive coordinator Philbin was brought in with the essential mandate of fixing the team's offensive woes as the defence has largely held its own in relative terms (and still ranks respectably against the pass), so that ol' desperation vibe is ringing out loud and clear in south Florida.
This week's visitors are a New England team who are currently struggling just to get to the end of the regular season with enough healthy players.
But, like San Diego, Miami cannot afford to take too much notice of the opposition's record; it is a straightforward mission - win or say hello to a fifth successive year without a meaningful game in the New Year. And, like the Chargers, they have enough ammunition to make sure it is not Mission Impossible.
Tannehill is still a viable passing option (when his protective unit can keep him upright) and, while Wallace has not found the end zone very often, he still has 58 catches and has created enough space for the likes of Brian Hartline and Charles Clay to be more regular visitors to the TD column.
All of which musing suggests that Simon's Immutable Law of Desperation could also come into play here, too, that the team with the most pressing and urgent need for the 'W' can actually make it count against an outfit that would normally start as favourites.
Unedifying
And that brings us to our Final Contender in Desperation Alley for Week 15, the Dallas Cowboys, last seen being turned into a Chicago pizza pie (deep dish, of course) by journeyman Josh McCown and the Bears' wideout corps of basketball players (average height pushing 6ft 6in).
The unedifying sight of the Dallas defence being stripped buck naked by McCown and Co has left Jerry Jones in a right old Texas stew, basically over-riding his head coach and telling the defensive co-ordinator what kind of schemes they will be using in Sunday's must-win encounter with a Green Bay team who have plenty of issues of their own.
Technically, the Packers are still alive in the Nobody-wants-to-win-it NFC North, but this is one team that's hard to imagine taking the Desperation Bull by the horns and winning the battle.
Aaron Rodgers still looks unready for action following his collarbone injury in Week Nine and there are distinct suggestions the team may have to shut him down for the year.
That leaves just Matt Flynn in the way of the Cowboys and their gotta-have result. The Team That Jerry Built certainly has that desperate look about them it now - and that may well be their saving grace this week.
If We Stopped Now...
OK, it's time for our weekly round-up of 'If The Season Ended Here' to outline the play-off picture. And, if it did, this would be how things would look:
AFC: the 9-4 Bengals have taken over as the No.3 seed and would be at home to the 7-6 Ravens (who they also play in Week 17 - ouch!) and the 8-5 Colts would be visited by the 10-3 Chiefs, while the Broncos (11-2) and Patriots (10-3) would still enjoy the bye week. The Dolphins (7-6), Chargers and Jets (both 6-7) remain alive if Baltimore slip.
NFC: All change! The 8-5 Eagles (who didn't even justify a wild card last week) have rocketed up to the third seeding and would be at home to the 9-4 49ers while the struggling 7-6 Lions would still earn a home game, against the 9-4 Panthers, with Seattle (11-2) and New Orleans (10-3) looking increasingly good for the byes. Arizona (8-5) have surprisingly jumped to the head of the next-in-line queue for the wild card, but both the Cowboys and Bears are still very much alive at 7-6.