NFL: Simon Veness considers which sides will make the play-off cut
Simon Veness cuts through the play-off race confusion to pick out genuine post-season contenders.
Last Updated: 05/12/13 11:42am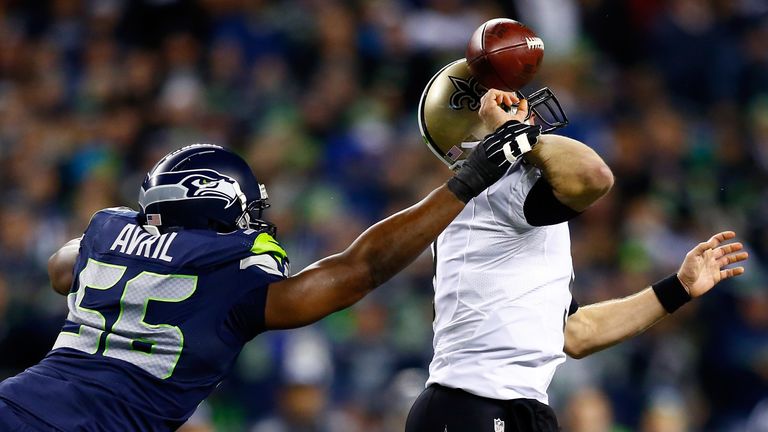 It promises to deliver an epic performance that is one part Strictly Come Dancing (i.e. ill-matched partners) and two parts Fantasia (ballet-dancing hippos - strength and grace in equal measure. And you probably thought I was going to say mud-wallowing behemoths).
The Seahawks have proved the strength-and-grace thing beyond any reasonable doubt; they totally out-manoeuvered the high-powered Saints and ground them into the CenturyLink turf like a Panzer division at full throttle (or like a hapless alligator trying a pas de deux with a hippo, come to that).
But that still leaves 11 open invitations with four games still to play, and, when one NFL source this week (it was Sports Illustrated) pointed out 2-10 Houston could still, theoretically, reach the play-offs, it opens a lot of theoretical doors.
(Just to be precise, the Texans reach the post-season IF they win their last four games; and IF Baltimore and Miami both go 0-4 the rest of the way; and IF Tennessee, San Diego, Pittsburgh and the New York Jets do no better than 1-3; and IF Oakland, Cleveland and Buffalo finish 2-2 or worse: and IF there is a total eclipse of the sun; and IF Elvis is spotted back at Graceland. It's all possible, but...)
In theory, every single AFC team is still in the hunt (until Houston play Jacksonville in the early hours of Friday morning, UK time, when one of them will DEFINITELY be eliminated), and only Tampa Bay, Atlanta and Washington are officially out of the running in the NFC. Which leaves, hypothetically, 28 teams still battling for those 11 spots on the road to XLVIII.
Only this is where supposition and speculation take their leave from the picture; we have enough information and cold hard facts to rule out mathematical equations, presumption and good old-fashioned guesswork.
Chasing
In the real gridiron world, 10 of the 12 teams are firmly inked in, and four teams are left to fight over the scraps of the final two places. And it's not really even close.
Having dubbed Week 13 as 'Moving Week' in this column last week, several teams not only made moves but positively moved out of sight of the chasing pack. Teams like Carolina, San Francisco, New England, Indianapolis and Cincinnati.
The Saints stumbled badly in front of that Panzer horde in Seattle - or the Legion of Boom, as they like to call themselves, which makes sense in the mind-numbing din of their stadium - but would have to lose three of their last four to miss out, while just two wins would almost certainly see Detroit in, too.
Chicago would have to win out and, with both Dallas and Philly still on their schedule, plus the possibility of Green Bay with a healthy Aaron Rodgers in the final game, their prospects would be firmly in the 'theoretical' realm.
Kansas City would have to finish the season 0-7 to allow another wild card team to sneak past them and, in the Unlikely Stakes, that is right up there with Elvis and Co.
In divisional terms, the Colts can afford to breathe easy, the Patriots are home and hosed, and Denver are already getting a metaphorical rubdown and dreaming of the bye week to help out their battered defensive cohorts.
I would add the Bengals to complete an AFC quartet of More-Than-Likely Lads if it weren't for a Week 17 visit from Baltimore, but the reigning champs will first have to beat the likes of Detroit and New England to stay alive, hence Marv Lewis' team already have several toes, if not a whole foot, in the knockout stages.
Wild card
To my mind, in American Conference terms, the only final question mark is over whether the Ravens or Dolphins snatch the final wild card and, if it wasn't for that tough final three-game stretch, I would stick Baltimore firmly in the 'Odds-on' category as well.
Miami haven't had a sniff of the play-offs since 2008 and they will likely have to win three of their final four to sneak past - and that quartet includes Pittsburgh (on the road) and New England (at home), as well as a trip to icy Buffalo at a quarter-to-Christmas (a forbidding feat for a team from a state where the temperature is currently a balmy 30C).
No, I think we can go ahead and put the Ravens in, even though the bunch of 5-7 hopefuls (all four of them) could still, hypothetically, scrape through. Several pundits have postulated that an 8-8 record could well be the stuff of wild card dreams, but I don't see it. Baltimore should get to 9-7 and that's the end of it.
Over in the senior conference, the only serious intrigue centres on the East, where either the Eagles or Cowboys will win the division - and the runner-up will be left to contemplate another empty January.
Sure, both are only a game behind the 49ers, who currently hold the conference's final wild card berth, but Jim Harbaugh's team have the same kind of juggernaut look that is currently on display in Seattle, and the idea of them missing out at this stage is almost impossible to envisage.
The simple fact is the chasing pack, which includes the 6-6 Bears and 5-6-1 Packers, are nowhere near consistent enough to win a four-game sprint with a team that already has a head start.
Does this mean that the real interest of the final month of the season is already dead and buried? Not at all. There is plenty to play for as home-field advantage is going to be crucial in the NFC and all-but in the AFC. Seattle's home advantage is already well documented, while Denver have been beaten at Mile High just twice in two years.
The jostling for the first-week bye is also going to be considerable, with five genuine contenders in the AFC and three in the NFC.
And there is always just the SLIGHT chance of that total eclipse or Elvis appearance. It is Fantasia Football, after all.
If We Stopped Now
It's time for our weekly feature of 'If The Season Ended Here' to line up the post-season match-ups. And, if it did, this would be how things would look:
AFC: the 8-4 Colts would be at home to the 6-6 Ravens (the Titans having slipped out of the picture) and the 8-4 Bengals would still entertain the 9-3 Chiefs, while the Broncos (10-2) and Patriots (9-3) would enjoy the bye. The Dolphins are now Next In Line if Baltimore slip up.
NFC: Detroit have firmed up their record slightly as the 7-5 third seeds and would welcome the visit of 8-4 San Francisco while the 9-3 Panthers are still on course to travel to the 7-5 Cowboys, with Seattle (11-1) and New Orleans (9-3) sitting out, but the Saints now hanging on to that bye by their finger-nails. The Eagles are only a half-game behind Dallas, but the wild card hopes of 7-5 Arizona are fading fast.