NFL contenders will come to fore in Moving Week, blogs Simon Veness
The genuine NFL contenders are set to be revealed in Moving Week, says Simon Veness.
By Simon Veness
Last Updated: 28/11/13 11:29am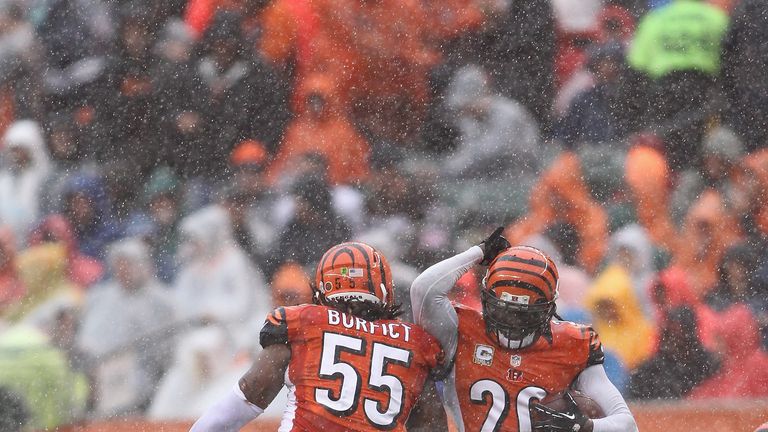 It is a chance for the leaders to set themselves up for the final day and for someone to make a charge from lower down.
It is 'moving in' on the final act of the tournement, jostling for position and creating separation from the chasing pack. In this case, it also includes the chasing Pack, but we'll get to Green Bay in a moment.
It's also a time when the pretenders over the early going fade away and cease to be relevant; when Tiger, Phil and Rory typically come to the fore and the journeyman who has jumped into prominence over the first two days reverts to also-ran status.
This is the exact same time in terms of the NFL season, only it is Moving Week, a period of five days over which we will get to know who the REAL contenders are - and who has just been assuming the 'journeyman' role.
Except that we don't really have a Woods, Mickelson or McIlroy this year, and the chasing pack consists of fully 21 teams, all jostling and elbowing, snarling and biting to get to the play-offs. Classy it probably isn't; compelling it certainly is.
There has seldom been a situation with just five games to go where more than two thirds of the league still has realistic ambitions of reaching the Super Bowl, of upsetting the odds, of being The One.
And, while there are certainly some strong candidates, no-one has yet made a cast-iron case for a ticket to New York in early February (which would actually be the booby prize under normal circumstances, seeing as how anything above freezing is a bonus and there are two major conventions in town the same week, which means hotel prices already range from 'Simple Extortion' to 'HOW Much?' By the time the actual Super Bowl teams are known, their fans will be lucky if they can get a room at the Fleabag Motel for under $600 a night).
Of course, there ARE names we can already pencil in for the post-season. Seattle need just two wins in five to be sure, and they have three games at the CenturyLink arena where they are unbeaten since December 24, 2011. It's almost as foregone a conclusion as Tiger with the lead on a Major Sunday.
A brace of W's will also get New England into the play-off dance, where, hopefully, they will be able to perform a full tango rather than the stuttering two-step we have seen during losses to Cincinnati, the Jets and Carolina, and even for long spells of their Silly Sunday overtime win against Denver.
One of Denver and Kansas City will also be there, and probably both seeing as how the bar for the final AFC wild card is going to be so low even one of Snow White's friends will struggle to limbo underneath it. An 8-8 record may well be enough, in which case the Broncos and Chiefs can already count on playing during January - even though Andy Reid's team are suddenly doing their best Journeyman Jim impression.
New Orleans and Carolina have both the form and the smarts to take our prospective post-season count to five but, after that? The picture would make a hippo's favourite watering hole seem crystal clear. Murky would be the understatement of the year. The likes of the Colts and Bengals could be this year's Phil at the US Open - or they could be Jean van de Velde at the 1999 Open.
Which is why Week 13 will be distinctly unlucky for some. Come Tuesday morning, we will know if any of the mass of 5-6 AFC teams have a January future; if Philadelphia or Dallas are the Most Likely to emerge from the NFC East; and if St Louis or Arizona can turn short-term gains into long-term aims.
Heck, we might even find out if the NFC North can actually produce a winner.
Fascination
But it is the jumbled confusion of the AFC that holds most fascination on Moving Week. With 14 of its 16 members still actively entertaining play-off thoughts - and NINE separated by just ONE game for the final wild card position - it is riddled with intrigue and potential.
Just look at the match-ups - Oakland in the Last Chance Saloon, appropriately enough, in Dallas; Pittsburgh and Baltimore going head-to-head in their twice-yearly pit-bull slug-fest in the knowledge only one can survive; another battle of 5-6 outfits desperate not to be this year's Judge Smails (look up the film Caddyshack, kids) in the shape of Miami and the Jets; and Cleveland and Buffalo, two of the 4-7 brigade, bidding to add to the contrasting 2-9 agony of Jacksonville and Atlanta respectively.
The final AFC hopeful is, perhaps, the one with most to gain. San Diego, at home to the Bengals, have shown in the past four games that absolutely ANYTHING is possible, losing at Washington and Miami but winning at Kansas City. And, with four of their final five at home, it's certainly possible to see them going 9-7.
Amazingly, of that motley nine-team bunch, only one currently has a winning streak: the Steelers. But if anyone can truly see them turning that three-game stretch into a wild card run, then there is a mystic I need to introduce them to by the name of Meg.
Did I say murky? I meant opaque. Even current 7-4 division leaders Indy and Cincy have no reason to feel confident on the back of a combined 2-4 record over their last three outings.
Form
The NFC can't afford to feel too smug in the clarity stakes, though. Absolutely anything is still possible in the East and the North seems to have developed a complete aversion to winning. That will have to change in Moving Week (unless we have TWO divisional ties this week instead of just the Packers-Vikings), but predicting an outcome is again equally Nik Wallenda.*
The Seahawks are the unarguable form horse on the back of six straight wins, but Arizona are not far behind with four, and the West is poised to become one huge pigskin punch-up, with even the Rams not out of it. At least the South is purely a two-horse race, but neither New Orleans nor Carolina can afford to feel they have hit the final furlong yet.
Both have particularly ticklish tasks on Monday and Sunday, the Saints at the formidable CenturyLink and the Panthers at home to the suddenly-dangerous Buccaneers, hence whoever gets the win this week will certainly be advancing into Tiger territory.
It will still take all of the final five weeks, of course, to get us to the Promised Land of the play-offs. But, with 26 teams still alive and kicking, there isn't a bigger one in terms of head-to-head confrontations of singular significance. Time to get a move on.
If We Stopped Now
With five games to play, it's also time to begin our annual feature of 'If The Season Ended Here.' And, if it did, this would be the post-season scenario:
AFC: the 7-4 Colts would be at home to the 5-6 Titans and the 7-4 Bengals would entertain the 9-2 Chiefs, while the Broncos (9-2) and Patriots (8-3) would enjoy the bye. But only New England can feel slightly confident that their grip is reasonably firm. Don't look now - but here come the 5-6 Steelers and Chargers.
NFC: Detroit, as the 6-5 third seeds (!), would welcome the visit of 7-4 San Francisco while the 8-3 Panthers travel to the 6-5 Cowboys (cue more arguments about division winners not justifying a home game), with Seattle (10-1) and New Orleans (9-2) sitting out. Arizona (7-4), Philly and Chicago (both 6-5) are all only a gnat's whisker out of the frame, though.
* Nik Wallenda is the seventh-generation tightrope walker who crossed part of the Grand Canyon on a two-inch-thick cable earlier this year. Brave? Undoubtedly. Foolhardy? Yup. Nutty? As a fruitcake.