View from America: 16 teams are sitting pretty at the NFL's half-way point, says Simon Veness
Simon Veness give his views on all the NFL teams at the half-way point of the season.
Last Updated: 31/10/13 1:03pm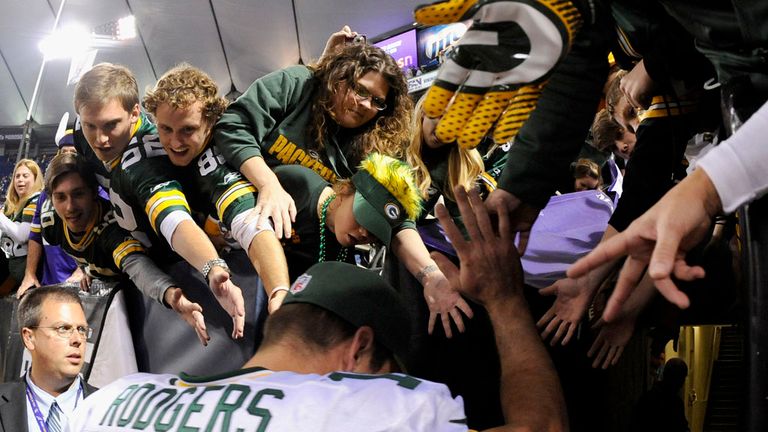 And, as we reach the half-way mark in this year's regular season, it's appropriate to view the state of play through that psychological filter.
It isn't all just about who has the best record, either, as the NFC East leaders certainly cannot afford to be too optimistic about how the rest of the season might go while several teams with losing records right now can be a little dreamy.
So, with that in mind, I give you - the Pure Glass Awards 2013.
NFC East: Yikes. Can I start with someone else? I can? OK, I'll come back to this collection of calamity later.
NFC North: Green Bay have possibly the rosiest of glasses to view their division through right now. Despite losing James Jones and Randall Cobb to injury, Aaron Rodgers has kept firing touchdown darts while the running game is really ticking, with both Eddie Lacy AND James Starks finding the end zone recently. Glass (more than) half-full.
Chicago, ironically, stand on the very cusp of full/empty. Their Monday Night showdown at Green Bay - almost certainly without Jay Cutler - could well define their season. Lose and they will be in the Packers' dusty slipstream for the rest of the year; win and their whole season looks different.
For Detroit it is definitely half-full all the time Calvin Johnson trots out; there is simply no stopping Megatron right now. Minnesota are certainly running on empty, with no idea what to do at quarterback or most other parts of the offence.
NFC South: Like the Packers, New Orleans are definitely looking and feeling full; full of scoring (with fully 12 different scorers to date) and full of defensive capability. Carolina fit in the same category, mainly because Cam Newton is finally playing like the 2011 version and not the 2012 edition again, while they trail only Kansas City in defensive stinginess, with second fewest points-per-game conceded.
Atlanta are firmly in the same half-empty boat as Tampa Bay and, for both outfits, the vessel has sprung a terminal leak. The Falcons could, in theory, salvage something from the season if they can pull off the upset at Carolina on Sunday, but it is a pretty big 'If' without Roddy White and Julio Jones. The Buccaneers, meanwhile, are going down with all hands.
NFC West: There are no surprises here. Both Seattle and San Francisco are distinctly half-full at this stage, as was expected. The Seahawks have the glass raised slightly further to their lips as a result of their early beating of the 49ers, but wait for Week 14 for the return and the fate of the division could well be sealed.
Arizona remain half-empty all the time they are reliant on Carson Palmer to pull the trigger, while St Louis have that empty feeling after losing Sam Bradford for the season - but seeing their defence almost overcome Seattle single-handed.
AFC East:New England and the New York Jets can both feel they have reached half-full as it looks like the division will be a straight fight between the two, and neither team is exactly predictability personified. Tom Brady has just two touchdown passes and four interceptions in his last four games; Geno Smith is just all over the place, but is still winning as many as he loses.
Miami and Buffalo have both had their moments this year but both are half-empty as the Train of Opportunity has passed by and neither team has been able to hop aboard.
AFC North: Cincinnati have suddenly leapt into the position of full-ness behind an impressive salvo of passing dexterity from Andy Dalton, with ELEVEN touchdowns in his past three games (even Peyton Manning only has nine in that spell). Baltimore will also feel there is a certain half-full nature to their season with at least six games left that they will feel are very winnable.
For Pittsburgh and Cleveland, there is extremely little reason for optimism at this stage. Despite stout defensive performances (both in the top 10 for yards per game), their offences simply haven't turned up this year, hence it is back to the drawing board.
AFC South: There's no doubt this division has been the big surprise so far, with Indianapolis playing with the half-full maturity we expected of Houston, who have simply disintegrated in just about every category. The Texans are playing purely for pride at this stage, unlike Tennessee who know that, with a fully-fit Jake Locker, their wild card hopes remain positively half-full.
Jacksonville would love to be simply half-decent at this stage, but we all know the reality here. They don't even HAVE a glass at all.
AFC West: Here's a whole DIVISION with reasons to be thinking half-full. Denver we were pretty sure would be certs to pick up where they left off last season, with lots more entries in the 'W' column. No surprises there (although, for a while, we wondered if Peyton Manning might set a record for most TD passes - by the half-way stage).
But if anyone expected Kansas City to be sitting atop the pile at this stage they were absolutely silent in pre-season. The Chiefs don't believe in doing anything by halves just now, and could easily be 9-0 before they face the meat of their schedule - Denver, San Diego and the Broncos again in Weeks 11-13. Split the series with Manning and Co and beat the Chargers and they'll fancy a serious post-season glass raising.
Equally, the Chargers are better-placed than most predicted and could yet be the big spoilers, while even the 3-4 Raiders have confounded predictions that they would be contending with the Jaguars for this year's wooden glass, ahem, spoon.
OK, I can avoid it no longer, it's time to peer into the murky depths of the Division of Shame.
NFC East: At a combined 11-20 and with no team boasting a winning record, it is easy to see this quartet as all half-empty. Only it's worse than that. Six of those 11 wins came in intra-division battles, which means they are 5-14 against the rest of the league. The only 'signature' victory you might claim among those five would be Washington's last-gasp ambush of Chicago.
Yet one of this sorry bunch WILL qualify for the play-offs and, amazingly, no-one is more than two games out of first place. Conversely, some Wild Card team is going to fancy their chances in January. A lot.
STATS OF THE WEEK
Calvin Johnson had the second-best game for a wide receiver of all time in Detroit's stunning 30-31 victory over Dallas, amassing 329 yards on 14 catches, with one touchdown.
It was just seven yards short of Flipper Anderson's total for the Los Angeles Rams against New Orleans in 1989 - but Anderson had 40 of his yards in overtime.
Megatron didn't catch a ball until the 2:44 mark of the first quarter - but then it went for 87 yards. He also had receptions of 54, 29, 26, 22, 21 and 21 yards. It was his shortest, just two yards, that ended in the end zone.
It WASN'T a perfect gamer for Johnson, though. He fumbled under a tackle by Barry Church in the third quarter and it led to a Dallas field goal. The Cowboys scored 16 of their points off the Lions' FOUR turnovers. And still lost.
PS: Memo to Jerry Jones - No, the 6ft 1in, 190lb Deion Sanders would NOT have stopped the 6ft 5in, 236lb Johnson. As sharp and opportunistic as Sanders was, he would have been just as helpless as the rest of the Cowboys' secondary on Sunday. It was football from a different planet.