Simon Veness fears for the Wembley fans this week
Simon Veness says things don't look pretty for the Jags as they prepare to face the 49ers at Wembley.
By Simon Veness - View from America columnist
Last Updated: 24/10/13 10:26am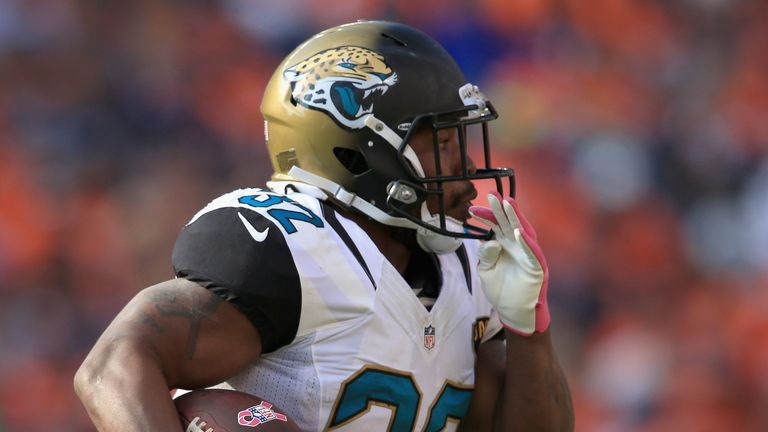 Orlando isn't often a cause for major sporting celebration (we have the Orlando Magic basketball team, but they are not exactly a force majeure) but we are a little giddy at the prospect of our local soccer team hitting the big time.
Those who recall the View From America column back on August 16 will know I was fairly upbeat about the chances of little Orlando City building a case to bid for a Major League Soccer franchise on the back of a third successful US Pro league season, rising attendance and a savvy ownership group.
The Missing Link to their case was a soccer-specific stadium and the local authorities were being asked to vote on a public/private deal to come up with the necessary funding.
Well, this week the final votes came in - and Orlando City will get their stadium, hence all the talk hereabouts is centred on whether MLS will keep their verbal deal to award the Lions a franchise in time to start against the likes of New York and Los Angeles in 2015.
After a visit from league president Mark Abbott on Monday, it's clear MLS is equally keen to make this happen, so it's now a case of waiting for the November meetings for the imminent announcement of the city's 'promotion.'
It is an intriguing prospect - and in sharp contrast to our friends on the Atlantic side of the state, who are currently in London.
Because the debate is on. Are Jacksonville the worst team in NFL history? It's hardly the kind of conversation the league (and Wembley fans) want to hear prior to Sunday's date with San Francisco, but this is a sad fact of life in north-east Florida.
The simple fact is the Jaguars are 0-7 and it hasn't been close in ANY game. They have scored the fewest points in all eight divisions and they have conceded the most.
Their first-round pick in 2011 has proved a complete bust - he has started 27 games in three years and won precisely five, with a truly miserable 53.3% completion percentage - and Blaine Gabbert has officially been shelved in favour of Chad Henne (with just a 59% figure, by the way).
Defence
Leading rusher Maurice Jones-Drew is playing like he has aged 20 years this season and the defence just WISHES they were 20 years older, and able to watch things on TV. It's a 'D' giving up almost 400 yards and 32 points per game, and they can't even claim they have any major injury problems.
The 49ers, by contrast, have stormed through their last four games, scoring 132 points and giving up just 51. It suggests a mis-match of monstrous proportions and, sadly, International Series fans may see just that.
There is nothing in the Jags' play this season that gives any real cause for hope, other than the fact this IS the NFL, and an upset win often isn't far away.
Only it would take more than just an upset for Jacksonville to break their duck this week - it would take a shock of seismic proportions. True, San Francisco have lost twice this term, but that was to Seattle and Indianapolis, both of whom are in the top four of this week's Power Rankings. The Jags would struggle to make the top four of the Putting Their Uniforms On Right Rankings.
So it isn't an auspicious match-up for the Wembley faithful, especially considering this is the 'London Jaguars' as they refer to them here in Central Florida, the UK's team for four successive years thanks to a multi-year contract signed last year by new owner Shahid Khan, who has since bought Premier League Fulham and, thus, has two teams in the nation's capital.
Saving grace
Several local pundits have suggested the team might do their Florida fans a favour - and stay in London permanently. But Khan has calmly shrugged off all talk of a permanent move for his gridiron franchise, even though it seems clear the league are keen to push further in that direction, having recently announced three International Series games for next year.
And therein lies the Jags' long-term saving grace. Because Khan has definitely set his stall out for the long haul. I asked Arthur Crofton - the 'voice of Jacksonville' from local radio station Lite 96.1, and an expat Brit who started his career with Piccadilly Radio in Manchester - how the fans view things in the face of seven straight defeats (and an imminent eighth).
Arthur was surprisingly upbeat - or, at least, as upbeat as it's possible to be in the face of an oncoming avalanche - and insisted things have yet to hit DEFCON 1 on the fans' Panic-ometer (which may not be the case across the state at 0-6 Tampa Bay, where head coach Greg Schiano is seeing the ground crumbling beneath his second-year feet).
Sure, no-one is exactly singing head coach Gus Bradley's praises, but the majority of supporters - "the 40,000 or so who really understand where we are right now" - are ready to tough it out, according to Arthur, keeping their heads up during the hard times and fixing their eyes firmly on the horizon of a Brighter Tomorrow.
There is a Plan, you see, and it involves building through the draft and working their way steadily back into the upper echelons of the league (Jacksonville did reach the play-offs in four of their first five years, don't forget, including a 14-2 season in 1999, and four post-season wins in that spell - four more than Dallas have in that period).
Although it is officially Year Two of the Khan era, it is more like Year One as his first season was under the Gene Smith/Mike Mullarkey leadership, both of whom were quickly ditched when it was clear their time had very much run out after a team-record-worst 2-14 campaign.
There was certainly HOPE that this year might not be another lost season, but it was the kind of hope you have when you're crossing a 50-year-old rope bridge with frayed edges and missing slats. And woodworm. You HOPE it might all stay in place, but you wouldn't be surprised if a great gaping hole opened up and left you with a freefall to the very bottom of the Rankings (did you see what I did there?).
So, this may not be the most competitive team ever to sally forth from the AFC South, but just wait for next year. Or the one after that.
STATS OF THE WEEK:
There's no escaping the Floridian Futility this week, after the very opposite of an epic week for our three teams.
Jacksonville, Tampa and Miami went a completely unstellar 0-3, sending the state's NFL contingent to a combined 3-16 (with the Dolphins, of course, notching up the only W's).
If the Buccaneers fail to chalk up their first win on Friday at home to Carolina (live on SS1 HD at 1am), it will be 0-4 in five days, with a current points count of 50-78 against.
The Jags continue to be Top of the Flops however, last in points-per-game (just 10.9), yards-per-game (282) and first downs per game (16).
They have had 32 possessions at EverBank Field and scored exactly ZERO touchdowns. That's right, in Week Eight, their next home TD will be their FIRST.
Catch the Jacksonville Jaguars take on San Francisco 49ers, 4pm, Sun, Sky Sports 2.