Simon Veness blogs on the Johnny Manziel debate
Simon Veness blogs on the 'best ever' quarterback prodigy - and why NFL sides may opt NOT to draft him.
Last Updated: 17/10/13 9:50am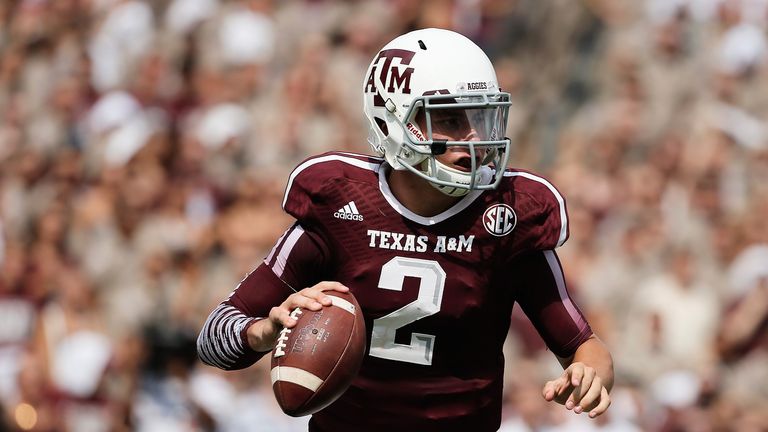 He's the current Heisman Trophy holder and he is sure to enter the NFL Draft next April and forego his final two years at college.
And yet he won't be the No.1 pick. In fact, he might not go in the top 10, and he is going to cause more debate and more controversy than any previous Draft pick before him.
Because he's also been called 'immature', 'arrogant' and a 'party animal'. Former Washington great Joe Theismann went off on a famous radio tirade when asked about him, fuming that he was 'totally classless. He would have trouble playing professional football with men'.
Welcome to the crazy world of Johnny Manziel, aka Johnny Football.
He was given the nickname by Texas A&M fans - before he had played a single game. And he promptly went out and trademarked it.
Of course, he also went out and led A&M to an amazing season of wild on-field escapades and victories, including a momentous victory on the field of national champs Alabama, a 58-10 destruction of Arkansas, a similar demolition job on Missouri and a 41-13 Sugar Bowl beatdown of Oklahoma.
As a 19-year-old freshman.
Although the Aggies finished only third in the SEC's Western Division (after defeats by both Florida and Louisiana State), Johnny Football was summoned to the Best Buy Theater in New York for college football's 'Oscars', and became the first freshman to walk away with the Heisman.
It was truly unprecedented and immediately sliced the country into the Football fans, and the Johnny Doubters; those who saw him as a rare and outrageous talent and those - like Theismann and ex-Dallas head coach Barry Switzer - who rated him as simple outrageous.
But what REALLY caught my attention at the weekend, watching the Week Six action with the benefit of the NFL's unique Red Zone action station, was the announcer who said: "Johnny Manziel is simply the most exciting athlete in America today. Better than LeBron, better than RGIII, better than Yasiel Puig."
Yikes. That's some hype to live up to. But then you watch a Texas A&M game - as millions more Americans are currently doing than ever before - and you realise he might be right.
Amazing
This is no ordinary 20-year-old and no ordinary quarterback. He does the impossible as a matter of course, and the highlights reel is pretty much his whole repertoire. You're watching simply to see what amazing feat he is going to come up with next.
Last week against Mississippi was a typical Manziel adventure - an early injury scare, a comfortable lead, a furious comeback by Ole Miss, and then a grandstand finish led by Johnny Football to the winning field goal. The 41-38 final score included 346 yards passing, two rushing scores, a horrible end zone interception and a fumble.
It was their LOWEST score of the season and their fifth win in six, but the lone defeat was a potential season killer, 49-42 against the mighty Crimson Tide machine. But that won't stop Johnny Football reaching into his bag of tricks again this Saturday at home to Auburn.
A national title is obviously the team's goal but somehow the fans are just happy to witness another Manziel classic and another display of athleticism, either throwing 60 yards across his body in the classic way NFL passers DON'T or taking off on another run that makes defenders look like slow motion clowns.
He has already broken the SEC record for offensive production, previously held by the likes of Cam Newton and Tim Tebow and it is, apparently, next stop Radio City Music Hall and the NFL draft next May.
Problem
And that's where the professional ranks have a problem. The pundits at CBS have him going at No. 9 (the FOURTH quarterback on their board); Bleacher Report at 8 (but the FIFTH passer); Sports Illustrated's pre-season projections put him at 18; and uber-draftnik Mel Kiper lists him only at 25.
So, for all his uniqueness and excitement, where he ends up going after Texas is absolutely anyone's guess, and it isn't just the off-putting effects of his off-field antics - which DO include a fair amount of extra-curricular activities, including two brushes with the law for disorderly conduct and a parking infraction, plus a more serious investigation by the NCAA over accepting payment for autographs, eventually ruled an 'inadvertent violation'.
When NFL personnel people talk about possible red flags over a draft candidate, there are a whole parade's worth of crimson banners hovering around Johnny Football.
But even that isn't the crux of the matter. At 6ft 1in and barely 200lbs, he is a long way from the prototypical NFL QB (although you think the evidence of Seattle's Russell Wilson might have put paid to that). His arm strength is not rated as out of the ordinary and his decision-making can be sketchy, with some pundits rating him FAR too keen to take off on a run if his first read isn't there.
In this case, the evidence of the currently far-from-100% RGIII is probably enough to scare off several teams.
And yet the kid is a winner in a far more realistic fashion than the heavily manufactured Tebow ever was. He really CAN play the position and the X-factor he brings to the game is off-the-charts startling.
And yet is he REALLY mature enough - he will be 21 only this December, by the way - to handle the disciplined, work-first ethic of the NFL? Can he avoid the greater array of off-field temptations with a huge weekly cheque in his pocket? And can he suppress the apparent innate ability to rub people up the wrong way?
And yet, and yet...the arguments go round and round. But, as we all know by now, this is the League of the Quarterback and, if you don't have a viable passer - as each of Minnesota, Jacksonville, Tennessee, Cleveland, Tampa and Arizona know only too well and Houston have recently discovered - you don't have much of a chance.
Johnny Manziel definitely represents a chance for somebody. But who will be brave enough to take it?
STATS OF THE WEEK
There are only two unbeaten teams left, but three without a win. And the debate is raging - which one is the WORST team.
NY Giants: forget Eli Manning's 15 INTs for the moment, this team has rushed for a TOTAL of 407 yards in six games (that's a woeful 67.8 per game), and Brandon Jacobs accounted for 106 in a rare display of power running in last week's 27-21 defeat Chicago. It's the G-men's worst start to a season since 1976.
Tampa Bay: the Buccaneers have now dropped 10 of 11 games dating to last season and are looking increasingly ragged. The offence actually ranks 20th for rushing but 31st overall, which is bad news for a pretty decent defence. They are dead last in passing yards per game, while even Jacksonville rate 25th.
Jacksonville: is there hope for the 0-6 Jags (apart from the fact they beat the record 28-point spread in the 35-19 defeat at Denver)? Well, Justin Blackmon has put up a stunning 326 yards receiving in just two games, on course for 1,956 for the season, which would put him second all-time to Calvin Johnson's 1,964 last year. In 12 games.
Don't forget to check out our unique Power Rankings each week. The Week Six rankings can be found here.