NFL: Simon Veness asks, what's going on with the running backs?
Simon Veness wonders what has happened to the NFL's ground game...
Last Updated: 11/10/13 4:40pm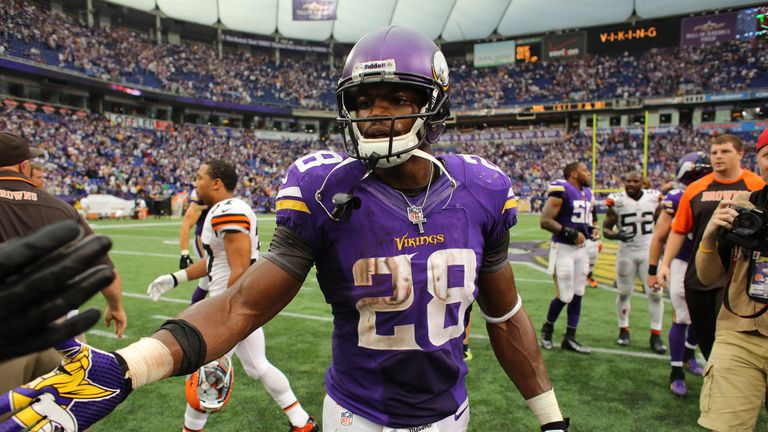 With the honourable exceptions of Adrian Peterson, Jamaal Charles and LeSean McCoy, the current rushing scene is starting to resemble a certain piece of furniture in Old Mother Hubbard's gaff.
In Week Five, only TWO running backs topped the 100-yard mark, Charles and Marshawn Lynch. In Week Four, there were four (Peterson, Frank Gore, Reggie Bush and Arian Foster), and Week Three saw five, but only one from any of the aforementioned (McCoy).
Week Two did at least have six men pass 100 yards, but in Week One it was also only two (McCoy and Shane Vereen - remember him?).
There have been almost as many 400-plus-yard passing performances (13) as 100-yard rushers in the first five weeks of the campaign, and the evidence suggests it isn't going to get much better for the league's foot soldiers.
Which leads me to ask - is the NFL's ground game grounded?
We all know the current gridiron era belongs to that of the passers, the air-it-out merchants who sling it 40 or 50 times a game. That's a given.
But even last year we had 123 instances of the 100-yard barrier being broken (two by quarterbacks), often substantially (witness the 24 performances of 150 yards or more - and only four so far this term). In 2013, we are on course for 61.
Yes. SIXTY-ONE. Less than half last year's figure and comfortably the worst rushing performance, as measured by the 100-yard plateau, in NFL history.
Week One also featured the fewest running yards for the opening round of games since the NFL expanded to 32 teams in 2002, just 2,964. Last week the total was a bit better but still reached just 2,999 (in two fewer games).
Just two players - Peterson and McCoy - will total more than 1,400 yards for the SEASON at the current rate. Last year, there were six. And there are 14 outfits that are presently failing to reach 100 yards/game as a TEAM.
No wonder so many Fantasy owners are looking at their teams and thinking: What happened - where did all my points go?
The simple answer is they went into the great Running Void of '13, sucked away by pass-first teams who have forgotten the value of a good time-consuming running game (Hello, anyone playing Denver - think it might be a good idea to play keep-ball away from Peyton Manning?) and offensive lines who have forgotten how to pass block.
There are teams who have seemingly all but given up on the run (Hello Pittsburgh, New York Giants, Miami and Atlanta, all at less than 20 rushes per game); who have lost the ability to punch it into the end zone (with five teams on only ONE rushing touchdown so far and St Louis on a big fat ZERO); or who are just flat-out awful (that would be Baltimore and Jacksonville at less than 3 yards per attempt).
That's the only explanation for the wasteland of running back stats that are even more startling when viewed through the lens of the Fantasy Leagues.
Extraordinary
In standard points-scoring leagues, there are only TWO running backs (Charles and McCoy) in the top 15 scoring players. It would be three if Peterson had played in all five games, but even that is fairly pitiful compared to the 11 quarterbacks and one tight end (the extraordinary Jimmy Graham).
Even the Chiefs' Defence/Special Teams have outscored all but Charles in the running back category while Sam Bradford - of the feeble 2-3 Rams - sits ahead of the likes of McCoy, Forte and Lynch!
And, while it is often an imperfect comparison, of the 21 players to chalk up 70 or more Fantasy points to date, just FOUR make their living primarily by running the ball.
It's enough to make the average fantasy league aficionado howl in anguish as they see their RB1 and RB2 clock up single digits week after week (and I should know - I have fielded 14 RBs to date for the measly total of TWO touchdowns!).
But if this is the 'New Normal'; if teams are only going to use the running game as an afterthought; if they increasingly line up in the shotgun on first down; if throwing the ball on third-and-goal from the one-yard line is Option A; and if teams like the Ravens are going to forget Ray Rice is a pretty nifty runner (he had just 30 carries in three games before Week Five), then we need to re-draw the football map.
And make sure running backs are an OPTION in Fantasy Leagues, and not a two-player requirement!
Battle
Did you hear the one about the 0-5 team that is only two games out of first place? The answer is the 2013 NFC East, with the Giants as the punchline.
The battle to be the least worst in this division could be one of the recurring (horror) stories of the season and more fuel for those who would seed the play-offs by games won rather than by division winners, giving high-performing Wild Card teams more chance of a home game.
At the present rate, the Cowboys and Eagles are both on course for a 6-10 finish, and you could easily see someone like Detroit or San Francisco earning a wild card berth with 10 wins or more (if Green Bay and Seattle were to win those divisions).
It's certainly possible to argue than another Wild Card team - ANY Wild Card team - would be more worthy than a 6-10 division winner of home advantage. Otherwise the joke really would be on the NFL.
It's no stretch of the imagination to say Jacksonville are on course for a historically bad season. At 0-5 and with a points differential of -112, they are comfortably beating the other three winless teams, the Giants (0-5, -100), Steelers (0-4, -41) and Buccaneers (0-4, -26).
In fact, their five-game phase of futility is equal to that of the 2009 Rams, who also started 0-5 with a record -112pt differential. That team of four years ago actually finished with a less-than-sparkling 1-15 record, but at least beat the all-time-worst of the 2008 Lions, who managed to avoid victory in all 16 outings.
BUT the '09 St Louis outfit managed to chalk up their lone success against Detroit, the second-worst team that season. The poor old Jags don't get to play the second-worst team this year (which would be any of Tampa, Pittsburgh or the Giants).
In fact, it's possible to say Jacksonville have already had two of their easiest games, against Oakland and St Louis. The only current two-win team left on their slate are Buffalo and, even without EJ Manuel, you have to think the Bills would still have the upper hand.
Having to face the likes of Denver and Kansas City (both 5-0), and Seattle and Indianapolis (both 4-1), while also losing top draft pick Luke Joeckel to a season-ending injury is also tantamount to climbing Everest without oxygen.
When you factor in this week's trip to the unbeaten Broncos, the record of their first six opponents is a remarkable 22-8, enough to see off even the most battle-hardened team, let alone the beat-up Jags.
But, at the current rate of regress, Jacksonville are on course for a stunning -358 point differential, which would beat the '08 Lions by more than 100 minus points! Which just leaves fans the long and dismal 'anticipation' of who the No.1 pick in next April's draft will be.
Stats of the Week: Denver's astonishing 51-48 shootout victory over Dallas provided any number of fascinating facts. Take your pick from these:
1) Denver's regular-season win streak is now up to 16, just seven behind the best ever - Peyton Manning's 23-win Indianapolis from 2008-09.
2) Manning is now tied for second with Drew Brees for most 400-yard passing games, 10. Dan Marino holds the record with 13.
3) Kurt Warner actually threw for more yards through the first five games of the 2000 season, piling up 1,947 to Peyton's 1,884.
4) But no-one has ever scored the 230pts the Broncos have chalked up at this stage. Warner's Rams had "only" 217.
5) Manning's 20 TD passes in the first five weeks also beats Daunte Culpepper's 18 to start the 2004 season.
6) Denver's 51pts at Dallas equals Jacksonville's TOTAL haul for this season. The Broncos play the Jags this week, and the points spread is a record 28. Yikes.