NFL: America is in awe of Peyton Manning, says Simon Veness
Simon Veness says the Americans are currently infatuated with Denver Bronchos quarterback.
Last Updated: 02/10/13 1:27pm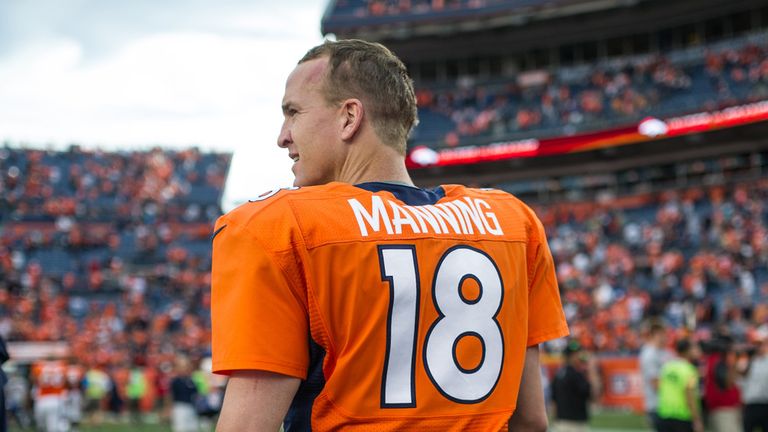 Okay, so it was written in 1959, but if you imagine John Elway and John Fox crooning this instead of Ol' Blue Eyes, it could easily be an ode to Peyton Manning; who is four games into a season for the ages and has most observers over here intoning that memorable refrain:
The best is yet to come.
It is a wide-eyed, awe-inspired chorus of incredulity led by Manning's former head coach at Indianapolis, Tony Dungy, who stated: "I'll tell you what's scary - Peyton will be better in November. He's still getting used to his receivers. I can tell you - the longer he works with guys, the better they'll all be."
Which makes you wonder, in the wake of the 52-20 rout of Philadelphia, just how badly will he start beating teams when he really gets going?
The Broncos are already on course to pile up 716 points this term, which would break the previous season record of the 2007 New England team by the little matter of 127 points!
Lorks a Lordy. If this is Manning in only second or third gear, with less than a 100 per cent understanding with his receivers, he could put up 127 a week if he hits overdrive.
He won't, of course, but that hasn't stopped the latest media bandwagon, which is all about how good the 2013 version of the 37-year-old quarterback actually is.
Sports Illustrated sage Peter King has gone back through Manning's previous best four-game stretch and concluded the current pride of the Broncos has never been better; no, not in his first MVP season of 2003, and not in his second a year later; not in 2005 when he and Indy went 13-0 to start the year; and not even in the following Super Bowl-winning season when he finished off Chicago in the Miami rain.
His four-touchdown-a-game ratio is 'video game good'; and on his four scoring drives either side of half-time against the Eagles he was 'off-the-charts amazing' as he completed all four without going to third down once. That's right - four drives, totalling 305 yards in 36 plays and the worst he saw was a second down marker.
That's not just good, it's uncanny. Never mind drug testing, they ought to be checking to see if Peyton Manning is actually Peyton Metronome, some kind of automatic machine that just ticks off touchdowns like they are clicks on a musical beatbox.
His quarterback rating of 138 is certainly other-worldly and his completion percentage of 75 per cent is the best of his career. And he'll be 38 shortly after Super Bowl XLVIII next February.
Manning himself remains the consummate professional, brushing off the welter of stats and scoring plays as if they are nothing more than a training ground routine. But even Broncos executive vice-president Elway, who knows a thing or three about decent quarterback play himself, when asked if he ever had a stretch like Manning is having now, replied: "No, because no-one has."
Just let that sink in for a bit. I'll wait...
What Elway clearly believes is that no-one has ever played the quarterback position quite as out-and-out brilliantly as Manning is currently doing. Oh, and he could get better still.
Now hear this, football fans. The other fact of this particular matter is Denver are NOT all just about the quarterback and his pinball-scoring offence. Oh no, not by a long chalk.
The Broncos are the best team against the run through the first quarter of the season, giving up just 74 yards per game on the ground and only 3.2 yards per run. They have 11 sacks to date, which is tied for 14th.
They are not as effective against the pass, but mainly because teams are having to throw a billion times a game to try to keep up, but their completion percentage rate for opposing passers is still only 57.8, ninth best in the league.
And Champ Bailey and Von Miller have yet to play a down so far this year. So yes, Denver could well be better as the season goes on, on offence and defence.
Oh, and the special teams unit can play a bit, too, with three touchdowns to their credit as well.
What this all means is that Dallas will have their hands fuller than a very full thing when they entertain the Broncos on Sunday night, live on Sky Sports 3. It is a big test both ways, not least because the Cowboys' defence is no pushover, despite giving up a big day to Philip Rivers in San Diego last weekend. Tony Romo has some serious weapons of his own in Dez Bryant, Jason Witten, DeMarco Murray and, if fit, Miles Austin. Both Dallas defeats came on the road and they have scored 67 points in their two home outings to date.
So expect a low-scoring game this week.... No, only kidding. This has all the makings of a real classic as Jerry Jones is sure to have his team amped up for the biggest game of the week while there is just no sign of the Manning bandwagon slowing down anytime soon (especially as several observers consider Denver to have the weakest schedule of all 32 teams this year).
Trips to Indianapolis and New England still await the Broncos, plus a pair of divisional showdowns with the equally unbeaten - and new-look - Chiefs, who surprisingly loom as the big test, defensively, for Mr Metronome.
But Manning and co. could easily arrive at their first Kansas City date at 9-0 the way they are playing now, and, if they do go on to get better as the season progresses, as Dungy and others have suggested, they could well be a completely unstoppable force by the time the play-offs arrive, and this orange-coloured train could easily be headed straight for XLVIII itself.
In which case it won't be 'The Best Is Yet To Come' that will be their constant serenade, but the most famous Sinatra song of all - 'New York, New York'.
Stats of the Week: For all the facts there have been some eye-popping quarterback displays so far this year, there have been some right duffers, too.
1) Seattle's Russell Wilson had just 31 yards passing in the first half at Houston. Even Jacksonville's Blaine Gabbert (with 2 INTs) had 39. However, Gabbert had only five in the third quarter - and that was on two completions!
2) Super Bowl MVP Joe Flacco had five interceptions at Buffalo. That's as many as Peyton Manning, Jake Locker, Tony Romo, Andrew Luck and Philip Rivers combined for the season.
3) Kansas City are now 3-0 against the NFC East.
4) New York Giants - 16 quarters of football, 9.125pts conceded. Per quarter. Even the Jaguars are conceding only 8 per quarter.
5) Miami's Ryan Tannehill is on course to be sacked a brain-numbing 72 times this year, which would be second all-time only to David Carr's miserable 76-sack season in 2002. How many ways can you spell 'ouch'?
Catch the Dallas Cowboys take on the Denver Bronchos live from The AT&T Stadium, Sun, 9.00pm, Sky Sports 3HD