Expect plenty of points at Wembley, says Simon Veness
Simon Veness expects poor defensive records could lead to a Wembley points feast this weekend....
Last Updated: 26/09/13 11:24am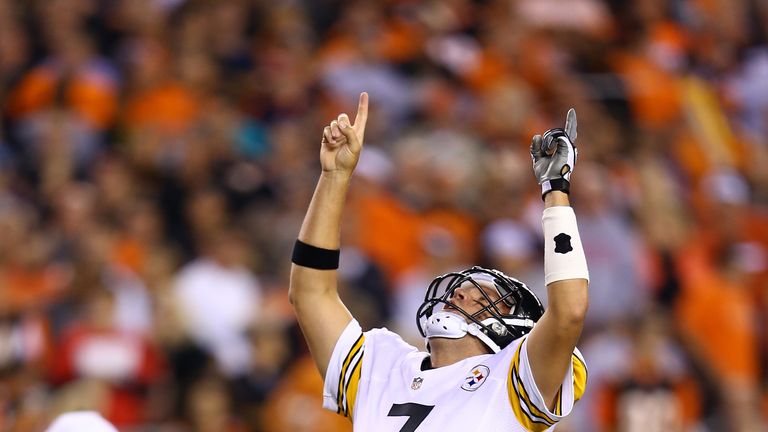 Yes, it's 'Let's all make fun of the two 0-3 teams playing at Wembley' week from the US media with the obvious inference that neither team is good enough to win right now and we could see the first 3-3 tie in modern NFL history on the playing fields of North London.
OK, so it's true that both teams have pretty much stunk up the place so far, and they have both had their Keystone Cops moments in going a collective 0-6, with Ben Roethlisberger in particular starting to look like the Human Turnover Machine (a title he can dispute with Philadelphia's Michael Vick this week).
But, considering this was a pretty tasty match-up when it was first announced during Super Bowl week last season - with a surprising and promising play-off team taking on another that was presumed to be on the rebound - it shouldn't be written off as a lost cause.
Yes, the Steelers' O-line is still about as solid as a wet paper bag and yes, the Vikings just lost at home to Cleveland, with the Browns winning behind their nominal third-string quarterback (who managed to throw three INTs but still walked away a winner in his second career start).
Time to rejoice
Both teams have combined to give up 172 points to date, or almost 29 per game, but that should be a cause for rejoicing, not rejection, ridicule or remorse (or lots of other things beginning with 'r'; don't you just love alliteration?).
Because this will almost certainly be a breakout week for one of these teams.
There is just too much talent on both sides for the 0-fer to become a major albatross around the necks of either Adrian Peterson or Roethlisberger.
Despite the soul-sapping home defeat by Chicago - when Pittsburgh fell into a 24-3 hole, fought back to 27-23, then collapsed in a welter of late turnovers - Big Ben and Co have put up some decent offensive numbers, including 459 yards against the Bears (with a stunning 196-yard, two-touchdown day from Antonio Brown) and almost 300 against a Cincinnati defence that is quietly working towards becoming one of the toughest in the league.
Turnovers are obviously a major part of the Steelers' current woes, but that is something that can be corrected. The defence isn't the problem either, as it is currently ranked No. 5 in points per game (298) but the time of possession battle IS. Pittsburgh rank only 29th in ToP/game and there lies the hidden stumbling block, almost literally, as it is the running game that is proving their Achilles heel (if that isn't too many 'running' metaphors for one sentence).
The pre-season injury loss of rookie running back Le'Veon Bell has definitely hindered their cause (as a Michigan State fan, I've seen a lot of Bell in action, and he is an absolute beast of a workhorse), and the combination of Isaac Redman, Jonathan Dwyer and Felix Jones has been about as successful as Paolo Di Canio's dressing-room manner, but it can only get better. Right?
Minnesota obviously have no problems running the ball, with Peterson totalling 281 yards to date (fifth best in the league), a touchdown per game (joint first with Detroit's Joique Bell) and 23 rushing attempts per outing (joint second with Chris Johnson and behind only Tampa Bay's Doug Martin).
Defensively, the Vikes rank a healthy fourth in yards/game BUT they have conceded a whopping 96 points, behind only the NFC L-East duo Washington and the Giants (with the Eagles also well up in that ignominious list), which hints at a different kind of problem. Sure enough, when you notice the five INTs and four fumbles so far this term, you can see another team with turnover-itis.
Quarterback Christian Ponder is responsible for a stunning seven of those turnovers, so the finger of suspicion is easy to point and it is therefore pretty clear he will be the focal point of a make-or-break effort from the Steelers' 'D' this week.
Even if Ponder fails to shake off his rib injury and Leslie Frazier has to give Matt Cassell his full debut, you can expect to see a LOT of intensity around the line of scrimmage when Minnesota has the ball. Whoever wins that particular battle is most likely to be the happier team for the flight back to the US and their bye week on Monday.
While it is easy to get carried away with the Big Game on home soil this week, there are several others worth particular scrutiny, especially in light of some wacky goings-on in Week Three.
San Francisco are currently a bagful of questions with precious few answers. If ever it were possible for a 6ft 4in, 230lb quarterback to look like a little boy lost, that has been the perception of Colin Kaepernick in the defeats to Seattle and Indianapolis, and he will be most under the spotlight of punditry scrutiny at St Louis (live on SS1 HD at 1am on Friday).
And, if ever a team has gone into screaming reverse after their high-profile 2012 campaign, it is these 49ers, with so many aspects of their game mis-firing in those two recent defeats. They are neither throwing nor running the ball well, and the defence was positively man-handled by the Colts running game last Sunday.
Clearly, Jim Harbaugh has a big task to turn things around this week, and nothing less than a convincing win against the suddenly-floundering Rams will suffice for the critics over here.
Equally, Sunday's match-up of San Diego and Dallas (also live on SS2 HD after the Wembley game) ought to show us if these Cowboys are for real - or if the Chargers actually have changed their ways.
Both teams have been incredibly hit or miss through the first three games, alternating periods of real potential with moments of maddening inconsistency. San Diego could easily be 3-0 but for two late-game meltdowns while Tony Romo has operated in confounding fits and starts.
The re-emergence of DeMarco Murray as a major rushing force last Sunday against St Louis suggests Jason Garrett's men should have the edge, but I'd hate to have to call this one in advance, especially at Qualcomm Stadium, where the Chargers can be either brilliant or boneheaded, often at the same time.
Stats of the Week
I have compiled quite a few this week, so I thought I'd finish with this little catalogue of the curious:
1) Seattle have never started a season 4-0.
2) Detroit beat the Redskins on the road for the first time since 1939, a 21-game streak. Franklin D Roosevelt was President the last time it happened - and there have been 12 US presidents since!
3) The Giants managed all of 18 yards of offence in the first half against Carolina.
4) So did the Rams.
5) Peyton Manning is on course for 64 touchdown passes this season, which would break Tom Brady's 2007 record. By FOURTEEN.
6) Has anyone NOT got Manning in their Fantasy League team on NFLUK.com?!
Catch the Pittsburgh Steelers take on the Minnesota Vikings live from Wembley, Sun, 5.30pm, Sky Sports 2HD