Simon Veness looks at the surprising moments from Week One's NFL
Has Liverpudlian favourite Cilla Black taken over the NFL? Simon Veness thinks she might have...
Last Updated: 13/09/13 12:44pm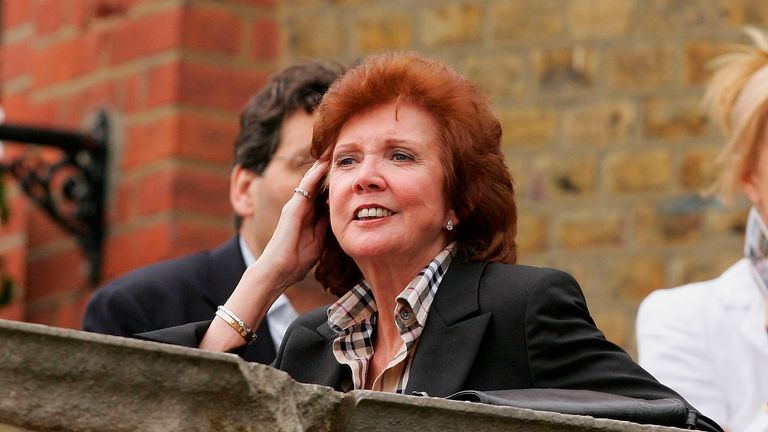 It was that kind of opening to the new season as there were, indeed, some VERY surprised (and surprising) teams, and it makes looking ahead to this week even more fascinating than usual.
Now, I am aware Holly Willoughby has taken over the slot previously made iconic by Cilla Black, but there can be no doubting our first full look at this season was a lorra, lorra, laffs.
And surprising. And, if you were Washington, Pittsburgh, New York Giants, San Diego, Baltimore, Green Bay and Tampa Bay, downright shocking.
Almost everywhere you looked last Thursday, Sunday and then (especially) Monday, there was something unusual, unexpected, unimagined or, in the words of Michael Vick, "unreal."
Just take Vick's teams for starters ("On your marks - set - GO!"), as they were off and running practically at Olympic 100m pace, with Washington looking like they were standing still.
The Eagles' new hurry-up offence wasn't so much fast-paced as turbo-charged, and the Redskins were left trailing breathlessly in their slipstream.
Gasping
Cue Cilla again. "What's yer name and where d'yer come from, chuck?"
Actually, it's Chip, and he's from the University of Oregon. Oh, and new head coach Kelly thinks his offence was still "too slow" and "took their foot off the pedal" in the second half against Robert Griffin III and co.
Yikes. If they get any faster we'll have to watch the whole game in slow-mo just to keep up.
Whether Vick can keep it up or whether he will also be left gasping on the sidelines by Kelly's gung-ho, up-and-at-'em approach is one of the key questions of Week Two as an already shell-shocked Chargers outfit arrive at Lincoln Field to try to slow down Kelly's speed merchants.
San Diego were one of the teams who helped define the opening round of games, as they charged (ho, ho) all over Houston for much of the game and then forgot that Norv Turner was no longer the head coach as they collapsed completely and utterly in the fourth quarter (albeit with a little help from the officials, who also had a weekend to forget in several instances - and we can't even blame the Replacement Refs this time).
But the Chargers had plenty of company in the 'What Just Happened?' stakes.
Offence
And if it wasn't Cilla with her best hat on, it was Ken Dodd with his tickling stick (how else do you explain Tennessee's safety gaffe from the opening kick-off, where Darius Reynaud fielded Shaun Suisham's squib kick at the one-yard-line - and promptly backed into the end zone to kneel down?) or even the Keystone Cops, in the case of the Buccaneers, where the offence practically fell all over each other in a bid to get on the same page early on.
And then there was the seemingly Impossible (come in, Tom Cruise), where Jacksonville came storming into the season with a home game against last year's fellow 2-14 no-hopers Kansas City - and looked even WORSE than they did the last time we saw them. It's a good job the Jags' Wembley showdown with San Francisco is already a full house, because they wouldn't sell any tickets on the basis of what we saw on Sunday.
There were also other bizarre opening day occurrences in this surprising gridiron landscape, such as the fact there were only TWO running backs who topped 100 yards in all 16 games.
That's right, with the likes of Adrian Peterson, Marshawn Lynch, CJ Spiller, Matt Forte, Jamaal Charles, Steven Jackson, and others, all primed to come leaping out of the blocks, it was only LeSean McCoy (brilliantly) and Shane Vereen (surprisingly, thanks to the instant Fumble-itis developed by Stevan Ridley) who reached the rushing Promised Land.
If it wasn't Fumble-itis (step forward New York Giant David Wilson and Steeler Isaac Redman), it was a crushing inability to turn multiple touches into meaningful yardage - and, yes, we're looking at you, Doug Martin, Trent Richardson, Arian Foster, Chris Johnson and even Ray Rice.
There was plenty of blame to go round, though. Green Bay's defence totally failed to deal with the arm - rather than the legs - of Colin Kaepernick; Cleveland's Brandon Weeden continued to look out of his depth in the pro ranks; Minnesota's offence completely fizzled at Detroit; and Atlanta were stymied by that ultimate shocker - New Orleans actually playing some defence for the first time since their Super Bowl win in 2010.
So where does that leave us heading into Week Two?
Improbable
Definitely on the edge of our seats, as we already know just about anything is possible. OK, so the Jags are still footballing punch-bags, but even Oakland's offensive line showed signs of life at Indianapolis and that one might have surprised even Cilla, bearing in mind they were struggling to find bodies just to put in front of Terrelle Pryor after Brit hope Menelik Watson was ruled out with his knee injury last week.
(Sadly, The Mancunian One will be out for at least a month with a torn lateral meniscus that needed arthroscopic surgery, which means his full debut remains agonisingly on ice).
Barring, two improbable ties (and I'm ruling NOTHING out this week!), there WILL be a winner in the AFC North, and, again, as long as they go tie-less, one of the Packers and Redskins will be 0-2 on Monday morning, which will be a mighty turn-up for the pre-season predictions, which had both teams practically strolling to division victory, if not deep into the play-offs.
The same unlikely 0-2 standing could also be the Ravens' fate if they don't find some pass defence at home to Cleveland, while each of Kansas City, St Louis, Tennessee, Detroit and Miami could be in the mirror-image scenario, which might confound the prognosticators even more - and give Cilla even more couches to jump out from.
Sky's Sunday armchair viewers will have ringside seats for two of the more intriguing match-ups as we wait to learn if Jay Cutler really has turned over a new Marc Trestman-inspired leaf with Chicago entertaining Minnesota (live on SS2HD from 5.30), who badly need Peterson to come out from behind the shadow of Reggie Bush this week.
Then it is the truly tantalising case of Manno a Manno, as Eli squares off at home to Peyton and either the Giants will be wide open to immediate condemnations of doom from the New York media (with counter-balancing overawed forecasts of fantasy for the Broncos), or Denver will be labelled the equivalent of flat-track bullies for beating up on the hapless Ravens in the rarefied Mile High air last week.
After what we saw from the opening outings, I'm offering no predictions, other than it will be well worth watching - and while we may not need Cilla to give us the state of play, we could certainly be on to Big Brother territory if Peyton throws another seven touchdowns.
OK, TV off for now....