NFL 2013: Simon Veness looks at each division ahead of the season
Simon Veness concludes his two-part NFL preview with Super news for Green Bay and Houston fans
Last Updated: 04/09/13 11:26am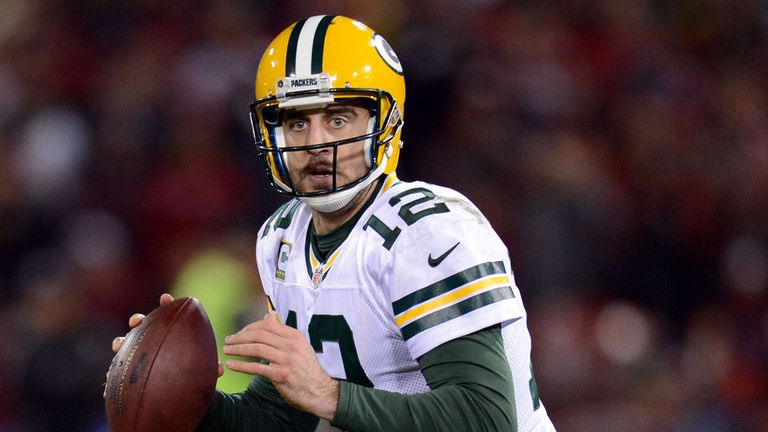 Which is all fine and dandy if you believe the odds - and completely discount all the question marks I mentioned in yesterday's part one of this preview. But I've never been a huge believer in backing the favourites, especially for such a quirky race as the Super Bowl.
There are so many variables, pitfalls and distractions, it is rare indeed that the pre-season favourite walks off with it all, which is why I'm having none of it.
So, with no further ado, here's how the pundits 'Over Here' see things going, division by division - with my thoughts at the end (and no, I don't think either the Broncos or 49ers will be in danger of New York hypothermia).
AFC East: it pains me to have to say it but, for all their off-season tinkering, no-one (not even me) believes Buffalo, Miami or the comical Jets can halt the continuing New England juggernaut. It's like re-arranging the deckchairs on the Titanic - the iceberg called Belichick will sink them just the same.
AFC North: here's where things get interesting in a hurry. Recent history (and most pundits) say the reigning champs will struggle, hence the stage is set for the Dalton Gang to ride in and take over. That's Andy Dalton and the Bengals, of course, with the Ravens reduced to scrabbling for the crumbs of a Wild Card berth. But, boy, is everyone disrespecting Pittsburgh right now and, with four very winnable games in their first five, I'm thinking the Steelers could quickly build up a head of steam that would take some stopping.
AFC South: most observers have this as a pretty simple story. Established kingpins continue to lord it over the commoners, and the Texans go marching through to the post-season pretty much as they have the past two seasons. But Sports Illustrated sage Peter King predicts a common uprising hereabouts, with Indianapolis staging a shock overthrow of the expected order. Frankly, I don't see it myself as Andrew Luck seems a prime candidate for the infamous Sophomore Slump and, unless Vick Ballard and Ahmad Bradshaw suddenly develop into the best one-two punch since Cannon and Ball, the ground game will keep the Colts grounded.


AFC West: like the division on the opposite coast, there is the well-established bandwagon and then The Rest. This bulldozing freight train is led by He Who Would Be Perfect (aka Peyton Manning) and the addition of Wes Welker to his supporting cast ought to be a frightening prospect for their immediate rivals. There are certainly things that could go wrong in the Broncos' defence (witness last season's play-off meltdown against Baltimore, who they just happen to be facing again in the early hours of Friday morning), but they would have to be absolutely catastrophic for any of Kansas City, San Diego or Oakland to cash in. And I'm talking Manning Injured In Week One catastrophic.
Brit Note: Mancunian marvel Menelik Watson, who has secured a starting job as the Raiders' left tackle on the strength of ONE pre-season performance, could be in for a rough debut season through no fault of his own.
It is not so much the suspect quarterback competition that sees Terrelle Pryor ready to take on the No. 1 role over assumed starter Matt Flynn, nor the fact Watson is being thrown in the mid-Atlantic, let alone the deep end, or even that running back Darren McFadden still looks made of glass, but Dennis Allen's defence - with NINE new faces - seems like it could spend a LONG time on the field this season in the ultimate learning process. Fantasy League owners are already being told if they want a D/ST fill-in each week, just look to see who's playing Oakland. Gulp.
NFC East: all eyes will be on a certain right knee hereabouts and all bets are on if it stands up to the rigours of a full season. Yes, that means a fully healthy Robert Griffin III means another play-off charge for Washington, although several forecasters do see a shootout down the line with the Cowboys. The Chip Kelly era in Philadelphia could be a fascinating study - or a complete train-wreck. Meanwhile, the Giants are lurking in the division shadows, overlooked by most outside Gotham.
NFC North: if there's one thing you can be sure of when it comes to Green Bay, Chicago, Detroit and Minnesota, there will be footballs in the air - LOTS of them. Even the Vikings could well air it out if Adrian Peterson continues his rampaging ways and the offence is able to take advantage of nine men in the run-stopping box. But that means it's purely a battle of the quarterbacks, and there still isn't a better one in this region than Aaron Rodgers.
NFC South: yes, Sean Peyton is back, and yes, he will definitely make New Orleans better once again. But also back is that woeful defence from last season and, unless Payton really IS a magician, Drew Brees will continue to have to put up 35 points a game just to be competitive. Which means Atlanta still get to look down on everybody, even a fast-improving Tampa Bay team.
NFC West: now here is where everyone - and I mean absolutely anyone with even the vaguest passing interest in football - expects the biggest slugfest since Frazier-Ali III. It's San Francisco v Seattle for the Heavyweight Title of the West, and there could even be three separate bouts for this one, too, if the bookies are to be believed and this is also the NFC Championship game. How do you spell also-rans? Arizona and St Louis.
Post-Season: it's surprising how similar many punditry predictions look when it comes to the knockout stage this year, with very few able to see past Denver, New England, San Francisco and Seattle as the Final Four.
Each of Houston, Cincinnati, Atlanta and Green Bay are considered as Those Most Likely To Upset The Big Apple Cart, and there is even some love for New Orleans, Washington and Chicago.
There is little respect for the reigning champs, though, while Dallas and Pittsburgh would probably be the darkest of horses in this race (notwithstanding Jacksonville's odds at a startling 300-1!).
But, as I mentioned at the start, I really don't see this as cut and dried for the bookies' darlings, especially as the Packers now offer a much more convincing option at running back with newcomers Eddie Lacy and Johnathan Franklin, who could quickly become another version of the Thunder and Lightning approach of Ron Dayne and Tiki Barber that carried the Giants to Super Bowl XXXV (and Rodgers is definitely a better bet at quarterback than Kerry Collins!).
I can certainly see Mike McCarthy's men able to go punch-for-punch with either the 49ers or Seahawks, and Rodgers just has too many weapons at his disposal if his defence keeps their part of the bargain. The Pack would be ideally suited for a frozen New York in February, too.
In the AFC, Houston can give them all Watt for. JJ Watt, that is. The giant do-it-all defensive end is still only 24 and in his third season but he has all the maturity and smarts of a player in his prime.
The REALLY bad news for Texans opponents this season is that Brian Cushing is back and raring to make up for missing most of 2012 with a knee injury, and that could easily counter-act the end-of-season power failure they suffered last term, when they lost three of their final four regular season games and then bowed out, feebly, to the Patriots in the play-offs. Oh, and they also signed Ed Reed.
With all that 'D,' there may not be too much for Matt Schaub, Arian Foster and Andre Johnson to do, until the post-season rolls round, and then it could be time for Houston to reverse roles with New England. As for Denver, I don't think their defence will be in the same zip code to the Texans' and Manning won't be able to throw too many touchdowns to Welker with either Watt or Cushing draped all over him.
So that means it's a Packers-Texans Super Bowl, Simon says. And the bookies will be the ones left out in the New York cold.