NFL 2013: Simon Veness looks at the key issues ahead of the season
Simon Veness says there are more questions than answers on the eve of the new NFL season.
Last Updated: 03/09/13 5:53pm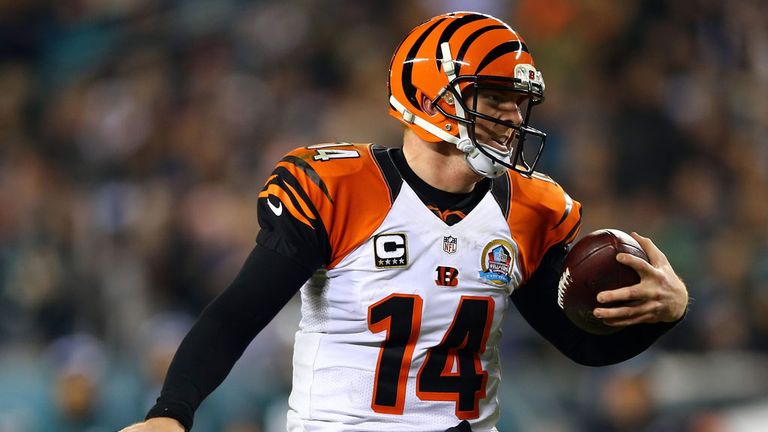 The 18th century poet was blissfully unaware of football, the NFL and pretty much anything to do with America, but he had a key sporting message for those about to enter a new season, as delivered in his famous 1734 poem An Essay On Man (and who said sports columns don't educate as well as entertain!).
"Hope springs eternal in the human breast," he wrote, and it is the perfect adage as we start the road to Super Bowl XLVIII, because all 32 teams will certainly be full of optimism and aspirations of glory prior to Week One in the NFL calendar.
It remains the essential footballing truth in the land of Uncle Sam that everyone starts on an equal footing and everyone genuinely believes this can be The Year. Unlike the predictable ranks of the Premier League where the majority are just there to make up the increasingly humdrum numbers, the gridiron realm remains one primarily of parity and even-handedness.
The genuine title candidates are many, there are no real lame ducks and it often doesn't take a lot to turn last year's turkeys into this year's high-fliers. Or Ravens. Each one carries the hopes of a clean balance sheet and the promise of a level playing field (assuming they came through the past month relatively injury-free).
And this year, possibly more than ever, the words of Pope ring loud and clear. With eight head-coaching changes and literally dozens of other posts welcoming new tenants, plus some major system changes at teams like Kansas City and Philadelphia, it is open season for the open-hearted, optimum time for the optimists.
Yet seldom has there been a year when question marks hang heavy over SO many teams and SO many issues surrounding them. We are about to enter a largely uncharted football realm, hence everyone can feel at least a little hopeful.
Yes, even Jacksonville with their colours still nailed to the mast of Blaine Gabbert and, yes, even New York Jets, who remain seemingly only half a step from a complete Keystone Cops breakdown at any moment.
The pre-season proved little, if anything, and the fact Washington went 4-0 and Pittsburgh 0-4 for the Phoney War is indicative of precisely nothing. Most coaches kept their powder dry and their quarterbacks even dryer (unless their name was Rex Ryan, in which case exposing the starting QB to the meaningless machinations of the fourth quarter is obviously the new normal).
History
So we step to the starting line on Thursday night for The Strange Case of the Reigning Champs On The Road (a curious story of the 138th baseball game of the season having priority over the NFL's prestige opener), while the rest of the field hear the starter's gun alternately on Sunday and next Monday.
There will certainly be some surprise results, and those results will give way to a surprising first month of the season for some and then a surprise charge on a play-off place, as recent history tells us at least 50 per cent of the post-season line-up will be different to last year, hence there is plenty of reason for high expectations from the likes of Detroit, Dallas, Chicago, New Orleans, Pittsburgh, Tampa Bay, San Diego, Arizona, Miami, Carolina and even last term's 2-14 Kansas City.
Which ones will actually be 2013's metamorphic marvels depends on who you read (or listen to), but there is a fair consensus that the Cowboys are ready to ride again, the Chiefs can get back on the warpath, Tampa Bay can start dreaming of January once more and the Saints will also go marching in.
When it comes to the heavy hitters, though, the pundits tend to stick in safe territory, hence predictions for conference championships and Super Bowl contenders see a list of the extremely familiar leading the way, which means a lot of Seattle, San Francisco, Denver, New England, Houston and Atlanta among the prime prognostications.
There is also one team that many expect a 'breakthrough' year from, and that is Cincinnati, with Andy Dalton seemingly ready to lead the Bengals to AFC North dominance and a genuine challenge for the rest of the Conference, where the Broncos are heavily fancied to grab one of the Championship-game berths.
In the NFC, it is largely a four-way scrap between San Francisco, Seattle, Atlanta and Green Bay. But that's where some of those question marks start to raise their multiple heads.
Microscope
Of COURSE Peyton Manning is going to get the Mile High men in position offensively to mount a serious challenge. But how much will the loss of Elvis Dumervil and the six-game suspension of Von Miller take out of the defence? Will Manning get as much of the ball as he is used to? And will Manning-Welker really be better than Brady-Welker?
You see, that's what happens when you put each of the 'strong contenders' under the microscope and start dissecting their inner workings.
Of COURSE the Seahawks and 49ers will provide a formidable battle for the once-weak-as-water NFC West. But what kind of sophomore slump can Messrs Wilson and Kaepernick expect? Or, perhaps, will they find defences more ready for them, able to blunt all those solid expectations of further quarterbacking brilliance?
Of COURSE Matt Ryan will have the Falcons positioned for another deep post-season run, with Julio Jones poised to become one of the league's truly elite receivers, but can Tony Gonzalez really ramp it up for one more year at the age of 37 and how will they find a way to get past those ferocious defences looming in the West?
And of COURSE the Patriots will again be the class of the AFC East all the time Bill Belichick and Tom Brady come trotting out of the locker-room together. But how will Tom be affected by having to throw to tight ends called Michael Hoomanawanui and Zach Sudfeld instead of Rob Gronkowski (at least for Week One) and Aaron Hernandez, and how will he cope with his 'security blanket' now being in Denver?
In another personnel curiosity, Belichick has fully 14 rookies on his 53-man roster this season, more than TWICE the usual number and, perhaps, another indication that all is not quite as grimly business-as-usual in the world of Surly Bill.
Overlooked
It is just a matter of scratch the surface and all kinds of potential pitfalls loom into view, an array of barely-hidden Achilles heels and blind spots. And there are a fair few teams being blithely overlooked as well.
Yes, of COURSE the reigning champs always have to overcome a sense of After The Lord Mayor's Show, but surely that's overlooking MVP Man Joe Flacco's late-season brilliance last year? Can so much lustre be lost just with the departure of Anquan Boldin and the injury loss of Dennis Pitta?
Of COURSE no-one knows what to expect of the Eagles in the era of college head-coaching mad scientist Chip 'Speed It Up' Kelly, but couldn't he just as easily become Diamond Chip as Dud Kelly?
And of COURSE Pittsburgh's offensive line will again look like Swiss cheese for much of the year and put Ben Roethlisberger's body and soul at risk at almost every snap, but, equally, could Mike Tomlin's constant offensive tinkering possibly turn up another gem or two to complement Big Ben's ability to conjure something out of nothing?
You see, it is all just a question of questions before we get through Week One. We can only fall back on Alexander Pope's famous maxim - and let that eternal well-spring of hope come bubbling up before reality sinks in (and we realise the NFL's big game next February could well be played in Arctic conditions - but that's a whole 'nother strory!).
Click here for details of Sky Sports' NFL coverage.