Simon Veness assesses NFL sides pre-season preparations - part two
Simon Veness continues his pre-season look at the Best Case-Worst Case for all the NFL teams.
Last Updated: 23/08/13 5:13pm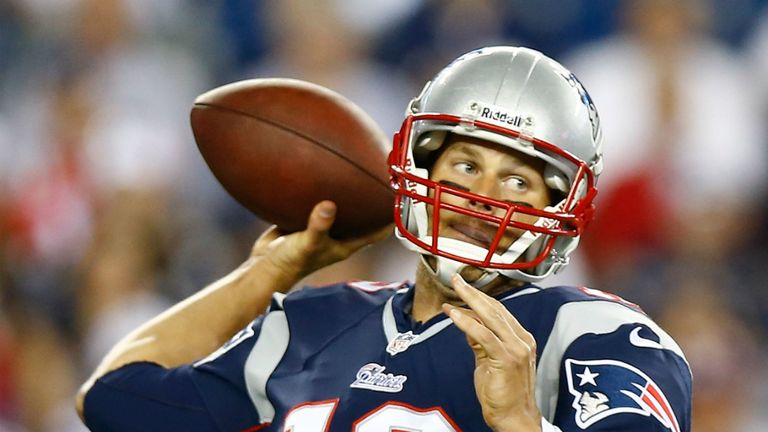 Miami: it's new uniforms in South Florida these days and Dol-fans will be hoping the players inside them will also be unrecognisable from the mediocre bunch that have inhabited them pretty much since Don Shula hung up his coaching cape. With Mike Wallace as their megabucks new home run threat in the passing game it's equally tempting to say, try again.
Minnesota: think 2,097 rushing yards were impressive? Pah! That's nothing compared to what Adrian Peterson has in store this time out, especially as he should be fully healthy from Game One this term as opposed to feeling his way back from knee surgery that would have crippled a rhinoceros. However, pragmatists point out Christian Ponder (and his 2012 league-worst 6.8 yard downfield pass average) is still at quarterback. Oh dear.
New Orleans: "Sean Payton is back! Sean Payton is back!" You can hear it all over The Big Easy, where everyone is convinced the return of the Much-Maligned One will be all the magic the Saints need to go marching all the way to New York. But, insist the sayers of nay, The Same Defence is back, too, and we all know how productive that was in 2012 - for opposing quarterbacks.
New England: "Badges? We don't need no stinkin' badges!" If you just change the famous line from Blazing Saddles from 'badges' to 'receivers you've never heard of,' that's about how things are viewed in The Land of Brady, where Major Tom is confidently expected to send end-zone passes to people called Dobson, Jenkins and Boyce (and finally be promoted to a full general). Turn that around to the other side of the argument and people go "HUH??"
NY Giants: here, the Rose-Coloured view of things has things painted with Eli Manning throwing an end zone dance party with Victor Cruz several times a week and a ferocious D-line ensuring the Giants become the first host team to reach the big Roman Numeral occasion. Conversely, the Mystic Megs of the Dark Side insist they will suddenly find themselves in the toughest division once again and be unable to claw their way out.
NY Jets: it's tempting to say here that the play-offs are the Promised Land for Rex Ryan and his hopes of coaching the guys in green again next year. It's tempting, but the simple reality is this is just such a reality show gone horribly wrong that there will be no Survivors at all..
Oakland: oh Menelik Watson, we worry for thee. At least, most fans of the Mancunian export do, as the British second-round draft pick struggles even to get on the pre-season field. With every down that Watson remains sidelined, his chances of making a 2013 impact recede further and further into the 2014 distance. But what about the Raiders' hopes, you ask? Not a bloomin' chance insist just about everybody not wearing silver and black.
Philadelphia: if ever a team came into a season with a Chip on its shoulder, it is this Eagles outfit (sorry, I just couldn't resist). But ex-Oregon coach Chip Kelly does carry enormous upside with his fast-paced, spread 'em-out offensive mantra, and, if Michael Vick can just throw a few more passes to his own players, it might not be a fanciful idea to see Philly winning the division. "Hah! Gotcha," say the Bad Cops." You said 'If.'"
Pittsburgh: we all know it's a quarterback's league these days, and Ben Roethlisberger is going to be fully fit for the first time since Barack Obama was in the White House, and that's all the Steelers need to reclaim their rightful spot at the top of the AFC North. But then there's the other side of the fence, where Big Ben gets injured (again), the offensive line do their Swiss cheese impression (again) and the defence just can't bail them out (again).
St Louis:here's a team quietly headed for a major upgrade this year, behind a seasoned-but-still-young quarterback with a growing array of weapons and a defence ready to back them all. Many people think speedy wideout Tavon Austin, the Rams' first round draft pick, is poised to be Rookie of the Year, many people also claim they have seen Elvis.
San Diego: so, Norv Turner was the problem all along and new head coach Mike McCoy is ready to step in and finally set this team free of their play-off hoodoo (providing they can actually reach the play-offs, of course). But then again, they haven't improved their 27th-ranked running game and they haven't replaced stud wideout Vincent Jackson, so the phrase 'Titanic' and 're-arranging the deckchairs' springs sharply to mind.
San Francisco: like Green Bay, 49ers fans firmly believe it is just a question of lining everything up and letting fire with Jim Harbaugh's Pistol offence once more, with Colin Kaepernick now benefitting from a whole pre-season of being the starter. Nothing less than a Super Bowl win will suffice for the Pro lobby. Except that's an awfully small target to be aiming for, especially with Michael Crabtree already a spectator.
Seattle:there's a recurring theme here - find a team that had a promising rookie QB at the helm. Last term, and pile the expectations even higher. Yes, Russell Wilson seriously over-achieved in 2012 and, with more opportunity to handle Pete Carroll's offence, he can go at least one better, right? But dang if there isn't that Sophomore slump thing again.
Tampa: here's a very good reason for Buccaneers fans to be solidly behind the Good Cop ethos - their running game was sneaky good last season and Doug Martin figures to be even better in '13. But here's the Bad Cop News - quarterback Josh Freeman needs to be a LOT more consistent to get this team back to the play-offs where they think they belong.
Tennessee: head coach Mike Munchak is in his third year in Nashville and that's about the time the locals start demanding more, like tickets to the Grand Ol' Opry - and the Super Bowl. Actually, a winning season would be a big step in the right direction, but not too many forecasters see much reason to remember these Titans with Jake Locker still at the helm.
Washington: we can keep this really, really simple. The Best Case scenario sees Robert Griffin III back at quarterback and running amok with Mike Shanahan's read-option offence that was one of the freshest things since a 19th century Philadelphia inventor came up with something called deodorant. The Worst Case - RGIII is back at quarterback, but way too soon after knee surgery and he doesn't last the course. In which case, neither will Shanahan.
So that's it, folks, the full pre-season breakdown for each team from the opposite ends of the spectrum. But, as I said, it's still the Phoney War. Most teams have yet to draw up their battle lines for real, and you know there are going to be more injuries that feed into the Best/Worst scenarios before we get to September.
And then we can decide who's For Real and who's just For Sale.