Simon Veness assesses NFL sides pre-season preparations - part one
Simon Veness assesses the pre-season so far and says Super Bowl champs Baltimore may struggle.
Last Updated: 22/08/13 12:14pm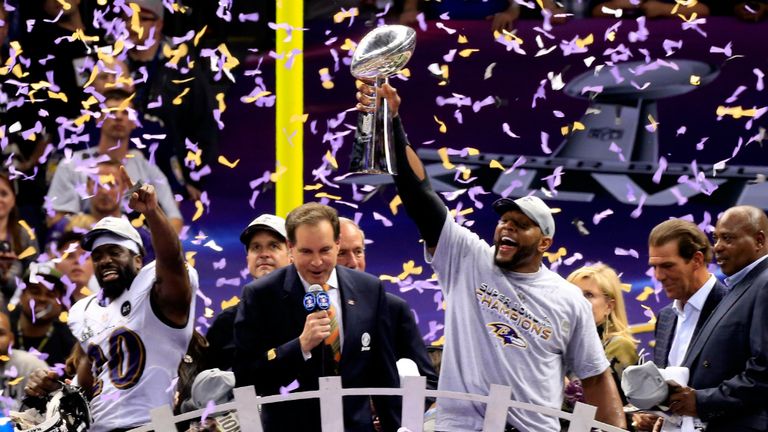 Which is kind of a neat way to look at the mid-point of the pre-season campaign and try to work out the genuine Contenders for Super Bowl XVIII next February and the mere Pretenders, because so many of the US media are also playing their own game of 'Best of, Worst of' in assessing 'Where We Are' little more than two weeks from the Big Kick-Off.
Here's how the game is played. You look at each team in turn and work out their Best Case scenario for 2013 and then, almost in the same breath, the Worst Case. It is a fun one to play because, at this stage in the phoney war proceedings - and regular readers will know I refer to the pre-season in negative competitive terms due to the bogus nature of much of it - there is enough material to see both ends of the spectrum for all 32.
So, taking things in alphabetical order, I give you - Simon's Crystal Balls-Up....
Arizona: after last season's 5-11 finish and the Year Of A Million Quarterbacks (all of them about as useful as a concrete parachute), new QB Carson Palmer doesn't have a terribly high ceiling for improvement, hence Phoenixians would be happy merely with not finishing last again. Conversely, the nay-sayers can see more passing frustration no matter who is under centre because there is still only Larry Fitzgerald to throw to.
(You see how the game is played now? Sort of like Good Cop, Bad Cop. "So we believe you, Mr Hernandez, that there is absolutely nothing to tie you to these multiple murders." Or "You're guilty as sin, son. Time to get the prayer mat out....")
Atlanta: they have to be a major Contender after running the 49ers so close in the play-offs, right? Yes, say the Inspector Morses, especially with an upgrade at running back (Steven Jackson over Michael Turner) and another off-season for Matt Ryan to be even better buds with Julio Jones and Roddy White. Hold on, insist the Dirty Harrys. This team took advantage of a literally defence-less New Orleans last year, and the Saints are due to bounce back, big-time.
Baltimore: OK, this is a tougher Yes/No argument, as the last team to repeat were the 2005 Patriots and most defending champs have a fairly unhealthy record ever since. Just getting to the play-offs might be the limit of these Ravens' ambitions. Or, with their line-up shorn of nine gold-plated 2012 starters, including pass-catching safety blanket Anquan Boldin, it could easily be downhill all the way for John Harbaugh's troops.
Buffalo: Not finishing last will be VERY high on the list of Bills' fans hopes for this term. Their recent record of futility is right up there with any team not called Celtic or Rangers hoping to win a Scottish league title or Paul Daniels hoping you won't notice it's a syrup. The sky is not so much the limit as the skirting board. However, there IS still a downside (with many pundits already predicting a 3-13 season in upstate New York) and a first-year coach potentially hitching his wagon to a questionable first-round QB draft pick is the primary reason.
Carolina: the term 'sophomore slump' has absolutely no point of comparison in UK sporting terms but it's a great one (not least because alternative California rock band Grandaddy brilliantly titled their second album The Sophtware Slump) but it was tied to quarterback Cam Newton at regular intervals in 2012. Now he's ready to get back on course and look like the Cam of 2011. Or, without any major offensive upgrades, Newton will turn fully green and take his Incredible Sulk act to new heights (or lows).
Chicago: the pre-season Swingometer shows one of the highest Yay and Nay fluctuations when it comes to the Bears. Either the introduction of Canadian League alchemist Marc Trestman will turn Soldier Field into the city of gold, a la Jose Mourinho's original stint with Chelsea. Or Jay Cutler and Co will disappear in a blizzard of deep-flying footballs - and even more interceptions.
Cincinnati: softly, softly catchee trophee might be the Bengals' mantra after two promising seasons and now a chance for Andy Dalton, AJ Green and BenJarvus Green-Ellis to break through the Paul Brown Stadium glass ceiling and open a serious march on New York. The Not-So-Fast brigade see things differently, of course, with Cincy falling victim to the usual Baltimore-Pittsburgh hegemony.
Cleveland: Brandon Weedon, your time is Now, insist the soothsayers of north-eastern Ohio, with a quietly hard-nosed, chip-on-the-shoulder defence ready to grade the road for the quarterback's second-year coronation under new offensive coordinator Norv Turner. And yet it IS Brandon Weedon, and the Dawg Pound has pretty much forgotten what good quarterbacking is since Bernie Kosar hung up his pads.
Dallas: they simply HAVE to get it right behind Tony Romo this year, don't they? After all, they have all the offensive pieces you could possibly want, short of a Sherman Tank. Dez Bryant is poised to become a fantasy superstar and the running game HAS to be better than 2012's 31st-ranked effort. But then this is still the House That Jerry Built, and you know how jerry-built edifices go...
Denver: in Peyton they trust, and in Manning the Broncos potentially have an unstoppable air offensive, now with Wes Welker as wing commander in the slot receiver position. This was also a terror of a defence in last year and they are all ready to go again in '13. What's that you say? Elvis Dumervil...in Baltimore...contract snafu...Von Miller...in doghouse...6-game ban...Oh dear...
Detroit: this one's pretty simple. Either Matt Stafford is going to step up as an elite quarterback, throw for 5,000 yards and make Calvin Johnson Fantasy League owners the happiest people on the planet. Or Matt Stafford is going to step up and throw even more interceptions than he did last season (17) and the Lions will again inhabit the NFC North dungeon.
Green Bay: you can feel the sense of urgency for the season to start in the spiritual home of Vince Lombardi more than anywhere else in the States. The prevalent feeling - and Best Case Scenario - is that the Packers just need to get going again to mount the NFC's biggest threat, and play a bit of defence when they meet the 49ers again. Alternatively, Aaron Rodgers gets injured early on and someone called Graham Harrell will take over under centre and everything will go to hell in a Wisconsonian handbasket.
Houston: "This time, this time," quoth the denizens of southern Texas, and you'd be right in thinking Matt Schaub and Co are desperately keen to right the play-off wrongs of the past two years, and that they have the wherewithal to achieve just that behind a defence that will see the return of Brian Cushing at linebacker and the arrival of ballhawk Ed Reed in the backfield. But then, it is STILL Matt Schaub and he has yet to convince most people outside Houston that he is capable of being The Man.
Indianapolis: "If he was that good as a rookie, just think how good he'll be from now on," goes the thinking in Coltsville. They are, of course, referring to rookie quarterback Andrew Luck and the poise he showed in taking the team to the play-offs first time out. But remember that Sophomore Slump thing? Well, it may well be lurking in this corner of Indiana.
Jacksonville: the February New York sky is most definitely the limit for last year's toothless big cats because, well, you have to dream big if you buy into Shahid Khan's Florida philosophy. Or you can look at this team, see no significant upgrades for '13 and think they'll be lucky to get two wins. Again.
Kansas City: new coach, new hope in Chieftainville. And we all know how the New Hope worked out for Jedi followers everywhere (you know, Luke Skywalker, flashing light-sabres, death of Darth Vader, end of the evil empire, etc). So Andy Reid's arrival has fans definitely thinking of challenging for the play-offs behind new quarterback Alex Smith. But then, didn't Luke also get ambushed and half-murtilated by Vader before the Dark Side inexplicably had its hearts-and-flowers moment?
Part Two coming soon...!