Simon Veness on rise of NFL in the UK and new dedicated Brit magazine
Simon Veness discusses the growing popularity of NFL in the UK - and a new magazine for Brits.
Last Updated: 11/08/13 3:38pm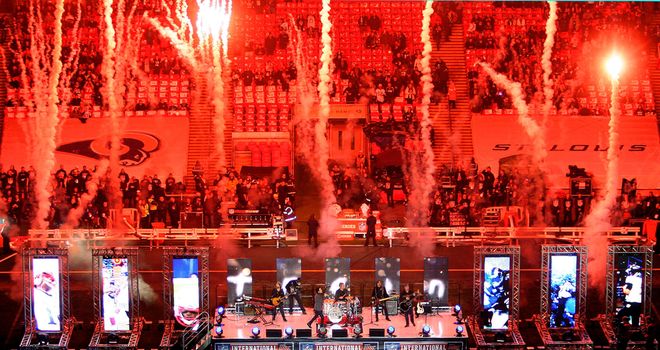 Those who remember the rosy gridiron glory days of the 1980s will recall we had the choice of several weekly publications written specifically for us Brit fans.
And, in the days before the interweb, Facebook, Twitter and the explosion of other social media, we waited eagerly by our letter-boxes and newsagents for the latest copy of First Down or GridironUK. The Extra Point fanzine was another trailblazer of the time.
There was even a Channel 4 NFL Annual that gave us the history of the year and kept us going through the long, dark months before the game flickered back on to our TV sets each September.
But that was it. The sum total of NFL consumption in Britain. Sundays (during the season) on Channel 4 and First Down/Gridiron UK. A lot of the mainstream media steadfastly refused to acknowledge 'American football' as a sport or just sent their reporters to the Super Bowl to mock the annual over-indulgence in the Ultimate Game.
It was a tough time to be a fan, but many thousands were swept up by the NFL phenomenon and First Down kept us in the picture.
Amazingly, it managed to keep going from 1986 to 2007, albeit largely thanks to the never-say-die persistence of reporter/editor/publisher/sales manager Keith Webster. But it worked, and those who subscribed got some invaluable insight into the game (and Keith remains one of the wittiest and most knowledgeable scribes ever to take up the gridiron cause).
Sky Sports, obviously, have been primarily responsible for keeping the NFL flag flying for so long when Channel 4 made a complete Horlicks of it and national newspaper coverage all but vanished, even when the fledgling World League arrived on our shores and briefly threatened to grab a significant foothold.
Those of us who continued to champion the cause of the NFL (or the WLAF) in the media were often ridiculed as the Premier League all but wiped other sports off the face of newsprint, but we kept the faith - the likes of Nick Halling, David Tossell, Neil Reynolds, Ken Elliott, Alan McKinley, Ross Biddiscombe, Chris Davies, Nick Szczepanik, Steve Careford and others.
We even had a proper journalistic organisation for a few years - heavily indebted to Budweiser for its sponsorship! - that went by the wonderfully cumbersome title of AFWAB (or American Football Writers Association of Britain).
However, it seemed the TV (and then the online world) was enough for British NFL fans, especially with the national press - with a few honourable exceptions - still preferring to keep it largely at arm's length, just in case it distracted people from the latest Premier League groin-strain rumour.
Just to digress, having covered the NFL for more than 20 years and enjoyed the amazing journalistic freedom it provides, in general terms, it never ceases to amaze me how truly backward and archaic the soccer reporters have it. Want to interview a player after a game? You'll be lucky sunshine! Need a manager's quotes? Maybe, if he can be bothered.
Don't believe me? Just check out this blog from Chris Davies, now he is firmly back in the camp of the Football Writers Association. Go and cover soccer? Not bloody likely!
Insight
But, lo and behold, despite all the above, a new NFL magazine expressly for UK readers is now on the horizon. In fact, it has already sailed into full view and dropped anchor, ready to distribute its bold colour and designs in both digital and printed format.
It is just called Gridiron (OK, not the snappiest title, but YOU try to come up with something new!) but it is written by Brits, for Brits and promises to add a fair bit of interest and insight to the coming season.
Sky's Neil Reynolds and Jeff Reinebold are already on board and - in the interests of full disclosure - I should also add that Sky Sports are helping to promote the debut issue, which is out later this month.
A monthly publication, it is available for £30 for a year's subscription (a mere three quid an issue) and can be delivered on all portable devices (albeit the full hard-copy version will cost more).
But there's a catch. It needs a solid show of fan support to provide momentum beyond Issue 1, as the publishers (sports specialists TriNorth) are canny enough not to want to over-commit for something that may get left, literally, on the shelf.
It's my estimation that there are certainly enough gridiron fans to make Gridiron a success. Interest in the NFL, in Britball, in the International Series and in whatever Jacksonville owner Shahid Khan might do next is at record levels. A UK-dedicated magazine to feed that appetite seems a no-brainer.
But then I've been wrong before. I tipped Tiger Woods to win this week's US PGA Championship, and, as things stand in the middle of Round 2, he'll be doing well to make the cut. And I thought John Carter was a pretty good movie (even though it lost about a gazillion dollars at the box office).
Yet there is a great chance here for NFL Brit fans to really stand up and be counted; get behind a worthy cause; and benefit from the whole experience.
Go to their website at www.gridiron-magazine.com, check it out and register your interest. Better still, use the special page on the NFLUK.com website and you could win a free copy of Madden NFL 25 from EA Sports as well as a year's subscription to the mag (assuming it lasts that long, of course).
I could be wrong, but I have a feeling Gridiron is setting itself up the right way and is strong enough to last at least as long as First Down. Perhaps we should even resurrect AFWAB to share in its success. Now where is that number for Budweiser sponsorship when I need it...?