What a dope
Simon Veness assesses the latest drug scandals to rock American sport - and fears there's more to come.
Last Updated: 24/07/13 8:46am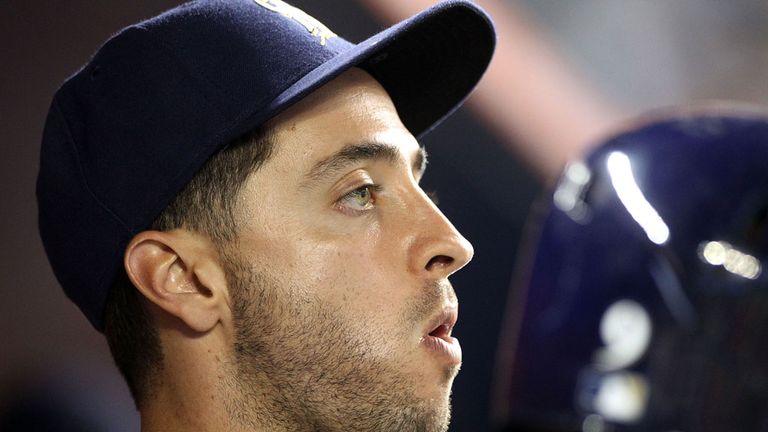 Lloyd Bridges - as the legendary Steve McCroskey - uttered one of the most memorable lines in film comedy history in Airplane when he insisted: "Looks like I picked the wrong week to give up smoking/drinking/amphetamines/sniffing glue!"
The four-part gag was delivered with increasing manic frenzy as the madcap movie wound up to its epic conclusion of rapid-fire jokes and visual mayhem. Sadly, there is no laughing in Denver this week - or many parts of the sports-coloured USA - but the line is distinctly prophetic.
Because Von Miller most assuredly picked the wrong week to get linked with a failed drug test.
If there is one thing the media does extremely well over here, it is to treat even the hint of a drug scandal like a dog with a bone. They simply won't let go of it until something gives. They will chew and chew and chew, refusing to ease off if there is even the slightest possibility of the story still having some life. And then they will chew it some more even when it's dead, just to make sure.
Such is the current media fervour in the wake of Milwaukee baseball star Ryan Braun's unprecedented 65-game ban for being linked to the Biogenesis drug clinic in Miami, you would be forgiven for thinking the season has actually stopped while we assess what it all means.
And there is a LOT that it means, especially because there are up to 20 players also linked to the same vile drug clinic, including New York Yankee Alex Rodriguez, who is poised for the biggest fall in sporting history if you believe some of the Big Apple news outlets.
If Braun was high up on baseball's Public Enemy hit-list (he escaped a suspension in 2011 after a failed drug test was overturned on a procedural issue), Rodriguez is positively stratospheric in his current standing. Even Yankees FANS would be happy to see their biggest earner banished from the face of the planet, let alone suspended.
Scenario
The latest 'insider' story even suggests A-Rod could be looking at a life ban from baseball, so the media spotlight for this Bio-shocker could therefore not be any brighter.
And into this starkly-lit sporting scenario comes Miller, the Broncos' outstanding outside linebacker and the team's leading sack merchant of the last two seasons (with 30 sacks, behind only Aldon Smith of San Francisco, Minnesota's Jared Allen and DeMarcus Ware of Dallas in 2011 and '12).
First came the news Miller had potentially failed a drug test and was therefore liable to an automatic four-game ban.
Then came the follow-up from Miller himself, denying any wrong-doing and submitting an immediate appeal against the suspension.
It was accompanied by the inevitable Twitter excusology (a now-familiar combination of excuse and apology), in which Denver's defensive kingpin - they have already lost bookend linebacker Elvis Dumervil to Baltimore, don't forget - insisted: "I know I did nothing wrong. I'm sure this'll be resolved fairly."
Irrespective of the fact the Broncos must be in fear of starting the season without much of their defensive firepower from last year, Miller had better also hope there is no fire to go with the smoke in his case.
Because, with the focus on drug crime and punishment at an all-time high in media terms, he simply will not escape with much of his reputation intact if he has anything to hide.
Cover-up
There just could not be a worse time to be associated with the words 'failed' and 'drug-test', and you sense the columnists and talking heads are circling like vultures just waiting for the next sporting carcass of lies and deceit to hit the floor.
Make no mistake. The Biogenesis case is one of massive duplicity and cover-ups, and the relish with which it is being carved up on TV, radio and in newspapers suggests the next offender will be equally savaged, whether they come from the baseball diamond or the football field.
Even Green Bay's Pro Bowl quarterback Aaron Rodgers has not been immune from the fall-out. Having backed up his pal Braun's assertion of innocence on Twitter earlier this year, Rodgers has also been a target for the righteous wrath of America (i.e. the media) when his BFF meekly admitted his wrong-doing this week.
That all means Miller needs to be extremely careful with all his utterances right now, whether they be on Twitter, Facebook or a stone tablet on Mount Sinai.
It has already been an off-season to forget for the NFL. The likes of Aaron Hernandez, Josh Brent, Josh Gordon, Bruce Irvin, Ausar Walcott and Joe Lefeged have piled up a rap sheet longer than Hannibal Lecter's and nearly as ugly, hence the next example of excusology is likely to get pretty short shrift.
Fully 12 players, not including Miller, will already be sitting out the start of the season for "violating the league's substance abuse policy," but the Denver ace would be by far the biggest name if he were to make it a baker's dozen of drug-tainted miscreants.
A four-game ban - the league's statutory punishment for a second offence involving non-performance-enhancing drugs - would not be a critical blow to Miller's career, and he would almost certainly be welcomed back to Mile High with open arms.
But, if his pleas of innocence turn out to be false - as was the case with Braun - he can expect a far heavier load of disapproval to descend in his direction, and end up with a much tougher stain to shake off in the long run.
So, if it is the wrong week to be in the drug-test spotlight, it is even worse timing to be mounting a hollow defence, because even Steve McCroskey wouldn't find it funny.