US fans eager for NFL pre-season to get underway, says Simon Veness
Stateside blogger Simon Veness says excitement is already building ahead of the new NFL season.
Last Updated: 11/07/13 10:57am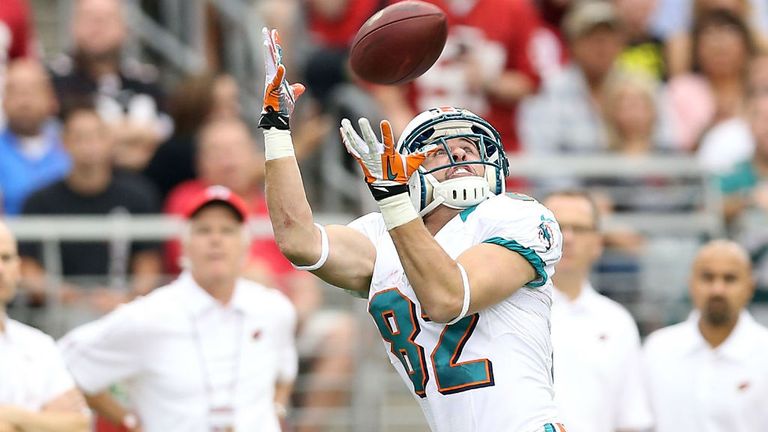 The reason the denizens of Dolphin Nation and Cowboyville are especially eager is because they are this year's teams for the annual Hall of Fame game in Canton, Ohio, and therefore kick off the NFL's frenzied training camp campaign in advance of the other 30 teams.
Under league rules, teams can send out the call to arms a maximum of 22 days before their first pre-season outing, but only 15 days for veteran players, hence the 'Fins and 'Boys are making it a mass assembling by leaving it until the 15-day mark.
The other 30 members of the National Football League get under way a few days later - for initial games on August 8, 9, 10 or 11 - and they will all complete the four-game pre-season programme (five in the case of Miami and Dallas) on August 29.
For every team not called Baltimore there is every reason to want to get back in action and open up the six-month gallop to Super Bowl XLVIII in New York, "the first-ever outdoor, cold-weather Super Bowl" (and you will need to get used to that phrase in the coming weeks and months as the SB Host Committee are keen to trot it out at every opportunity!).
As I mentioned last week, the amount of actual physical contact, practices and reps are more limited under the current Central Bargaining Agreement with the players' union, hence there is more focus than ever on every single opportunity in the pre-season for those with something to prove.
Key veteran players are increasingly cosseted and protected in the warm-up period as their ability is mostly taken for granted. In most cases, it is simply a case of shaking off the metaphorical ring rust and being fully fit for the end of the Phony War - September 5 in the case of the Ravens and Broncos, September 8 or 9 for everybody else.
But, for everyone else not in that protected 'elite' category, the action is 100 per cent for real when the first kick-offs of August take to the air. And, with the increasing microscopic focus on the Draft and free agency, what happens in those four (or five) advance skirmishes becomes more important than ever.
The fact teams can now bring 90 players to training camp (instead of 80 under the previous CBA) heightens the scrutiny still further, and makes sure the pressure is ratcheted up a notch or two more.
So it should surprise absolutely no-one that, while the actual quality of the pre-season games is unlikely to be remarkable, their importance is greater than ever. And our anticipation of them is, therefore, that much higher.
Which probably explains the numerous Countdown Clocks I now see on just about every website dedicated to the various teams - including the XLVIII Host Committee's by the way.
Void
Sure, there is a relative void in the American sporting scene this month - only Major League Baseball is actively under way, with the likes of the Gold Cup soccer tournament, the recent NBA draft and next week's Open Championship struggling to gain much attention this week.
But that doesn't really explain the sense of eagerness to witness some proper helmet-to-helmet action (not forgetting, of course, that running backs will now be penalised if they lower their heads to hit defensive players in future).
The NFL is now unquestionably THE sport as far as much of America is concerned, hence the lack of any games serves only to increase the interest in the next one, whenever that might be. And hence the mania of the Countdown Clocks.
I'm serious. Put the phrase 'NFL countdown clock' into your favourite search engine and see how many results you get (I chalked up 152,000 on Google and 554,000 on Bing). Heck, there are even apps for your Apple and Android devices that allow you to indulge in this frenzied fiesta of expectancy.
It suggests a positive obsession with counting down to the exact moment when we can once again fully indulge our passion for NFL viewing - and woe betide any other sport that gets in the way!
Scope
It is also just the latest manifestation of the amazing scope of football and the grip it has on the country in general and the sports-loving population in particular. It's no surprise, of course, but it does help to explain why we will have a whole new sports station - Fox Sports 1 - starting next month (August 17, to be precise) as yet another testament to the power of pigskin.
For us armchair viewers, it is more wonderful fodder for our obsession, fuel for the ever-expanding living room monster that now comes in larger-than-life 3D form as well as traditional two-dimensional format.
And, if I can just look past the ever-present "countdown corner" (a special prize for any reader who can spot that oblique reference to a well-known 1970s and 80s Saturday morning TV show, by the way), I can be pretty sure I will also be swept up in the ever-gathering eagerness for July 20 to get here and for some meaningful action to ensue 15 days later.
Just don't expect me to "clock in" by downloading the app or any such similar gadget or widget.
PS: If it seems like I'm down-playing the advent of America's first new major sports channel in years, let me set the record straight.
ESPN currently brings in around $6billion a YEAR and, while Fox Sports 1 isn't going to scale those lofty heights overnight, it will be a serious player almost immediately and a full-on rival to ESPN within a few years.
The only question is likely to be - how do I now watch five major sports stations at once?!