'Brits Lawrence Okoye and Menelik Watson could struggle in NFL'
Simon Veness explains why Brits Lawrence Okoye and Menelik Watson may NOT take the NFL by storm...
Last Updated: 06/07/13 1:27pm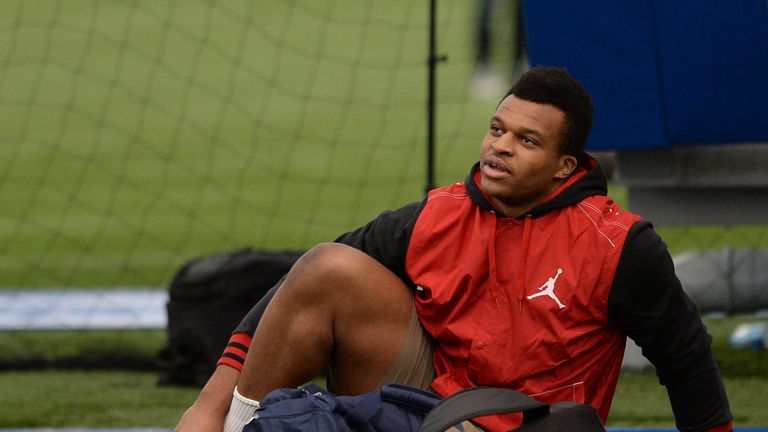 And the quote in question goes right to the heart of the possibility of British duo Menelik Watson and Lawrence Okoye being in NFL colours come the start of the season.
The great physicist once insisted: "All that is valuable in human society depends upon the opportunity for development accorded the individual."
If we just change 'human' to 'football' you have the perfect synopsis for the fledgling careers of the Oakland second-round pick and San Francisco's free agent signing to this point after their first proper practice workouts with their respective teams last month.
It is the opportunity for their sporting development that will be key to their long-term success as Union Jack-waving trailblazers in the National Football League, a realm that has yet to produce any players of note outside the occasional kicker (and yes, that means you, John Smith, Mick Luckhurst and Lawrence Tynes!).
And, without wishing to prejudice the chances of Mssrs Watson and Okoye, it is starting to look like a pretty tough road to any kind of NFL stardom, and the new Central Bargaining Agreement could be largely to blame.
Back in 2011, the NFL Players Association staged a famous challenge to the league's lockout that briefly threatened the start of the season and ended up with a new CBA that seriously limited the amount of direct physical work in the off-season (it also limits what teams can do during the season, but that is less important in this context).
Specifically, the agreement means "teams can hold only one minicamp and 10 organised practice activity sessions. One-on-one drills between offensive and defensive players are not permitted, although special teams can be practiced provided there is no contact. Helmets are allowed but shoulder pads remain outlawed."
Mould
While they certainly haven't admitted it, Watson and Okoye must be chafing inwardly at these limitations, which strike at the very heart of their hopes to be in a starting line-up.
The one thing that both need at this stage of their careers is reps; hard, physical, practical reps. In-your-face, down-and-dirty, spit-and-snot reps. The basic grunt work that moulds successful offensive and defensive lineman from the raw clay of the gridiron foundry.
As most fans won't need reminding, offensive tackle Watson has just two years of college-level experience under his belt, only one at top level (with Florida State). Okoye has yet to play a single meaningful down anywhere. Both are rated as magnificent pure, physical athletes, with all the attributes of some of the best to have ever strapped on pads.
Okoye, in particular, has drawn praise for his 'Adonis' physique, but it remains a physique that has so far excelled only at rugby and in the shot put.
Even after his first practice workouts with the 49ers, we are not really any closer to knowing if Britain's young Olympian has what it takes to merit a place on the defensive line and start causing nightmares for opposing quarterbacks.
San Francisco defensive coordinator Vic Fangio spoke directly to this at the completion of the team's recent training mini-camp - their last one before pre-season proper opens up on mid-July (technically, 22 days before the first pre-season game) - when he commented: "You see some potential, yes. But it's still a game you have to know how to play. And it's going to be a matter of how quickly he learns how to play.
"He hasn't had anybody hit him yet. He hasn't had a double team yet. He hasn't figured out if it's a run or pass, whether he should rush or play the run. So it'll probably be a very slow process with him much more than a normal rookie."
Hits
It is precisely that lack of physical engagement - as limited by the CBA - that is likely to affect Okoye's chances of being on the 53-man roster, or even the practice squad, come early September.
He can study the position all he wants - and, by all accounts, he is a prodigious technician, who works fiercely at the mental side of things - but he is just not getting anywhere near the practical side of things as yet.
And, once pre-season camps open up, he will be a LONG way behind the other linemen and even special teamers when the pads and helmets go on and the hits start coming, as they inevitably do when 90 players are battling for those 53 spots.
Watson, too, will find the pace and physicality of things taking a BIG upward tick and his relative lack of repetitions will start to be a major drawback (as well as his penchant for saying "You know" at the beginning and end of every sentence!).
That isn't to say either player is without a chance of carving a significant Brit-inspired niche in the NFL ranks. The Raiders, for all their draft futility in recent years (witness them having to pay ultimate flop JaMarcus Russell a £3million 'bonus' this week, despite the fact he last played for them FOUR years ago; and that the team is having to write off almost $50m of salary cap money this season for players no longer on their roster), were not alone in seeing Watson as a prime talent, and it is hard to see him not making the 53-man cut.
Equally, Okoye will get to learn under the tutoring of defensive line coach Jim Tomsula, who has a fabulous track record of taking unrefined talent and turning it into the polished finished article.
But anyone who expects to see either one of them in a September starting line-up, either tossing aside marauding defensive linemen or charging through to scrag the quarterback, may well be sorely disappointed.
This time next year may be a very different story, though.