Simon Veness says a London franchise for the NFL is close
The move to put an NFL team in London could soon become a reality, says Simon Veness.
Last Updated: 08/06/13 7:04pm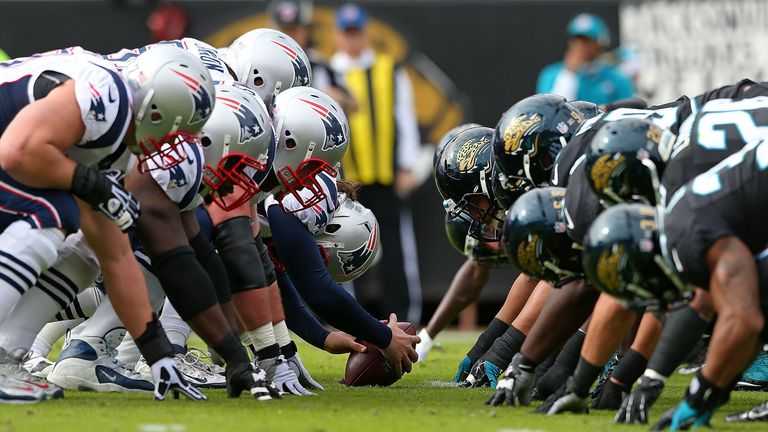 There comes a point in any avalanche where you can no longer resist the pull of gravity and the sheer momentum of the downhill rush, when you have to abandon any thoughts of if it's really where you want to go and just let yourself go with the flow.
In terms of the NFL's headlong charge to create a full-time London franchise, we probably haven't quite got to that point yet. But we are definitely moving in that direction, and the slope is becoming distinctly steeper.
And make no mistake. Commissioner Roger Goodell has made it perfectly clear this week it is absolutely not a question of 'If' but 'When' we hear the words, "And the first pick in this year's Draft goes to the London *muffled*..."
The Commish is now firmly at the head of the avalanche, pulling with all his might to achieve Critical Mass where the rest of the league just has to give in to the momentum and fall in line behind the irresistible force.
We already knew the NFL (or, more properly, those acolytes of The Commish who also share in the Global Dream) saw this year's two-game International Series at Wembley as a crucial litmus test of full-franchise viability. And the fact both games sold out in no time flat was a major boost to their campaign.
Almost before you could say 'Jacksonville for London" (and we will get to that thorny argument in a moment), there was The Commish talking of staging THREE games in London in 2014, and pencilling in the Jaguars very firmly for a second appearance.
The clear inference is that a three-game sell-out would be the final test for the UK's gridiron followers and, if they pack out a third game to the rafters - be it at Wembley, the Olympic Stadium or somewhere else - then the case for the NFL's ultimate eastern division will have been made. In triplicate.
Honeymoon
Initial Jacksonville objections to giving up a second home game have been eased by the simple solution of saying, "Well, OK, then. It will just be a road game instead." With the clear understanding it may be a nominal away trip on the official schedule, but it will be a 'home' game in all but name at the venue in question.
But why make the Jags take the transatlantic flight twice in one season, you may ask, especially when there are plenty of other teams you could call on?
Because there are only a handful of teams - namely San Diego, Oakland, St Louis, Jacksonville and, possibly, Carolina - who are not 100 per cent secure in their current locations and could, therefore, be moved to a strategic location of the league's choice that isn't called Los Angeles.
It is crystal clear "the league's choice" is to have a team in London, and the fact Jacksonville will have a four-year honeymoon period is the ideal proving ground. Make them twice-yearly visitors in 2014, 15 and 16, and that's seven full games in which to create your fan base.
Of course, not even The Commish can force owner Shahid Khan to up sticks and re-locate to the other side of the Atlantic, no matter how compelling the vision (and the waiting fan base).
But the league can certainly make it extremely attractive in marketing terms and hand the Jags all kinds of incentives to base themselves in north London instead of north Florida. The weather and beaches, where they are now, are certainly better but the revenue-earning opportunities are not.
Eggheads
And, before Jacksonville's existing domestic fans bombard me with the usual platitudes of "We sell out every home game," etc, let me point out the invidious economic truths of doing business in the league's second-smallest market.
Their average attendance in 2012 was 64,984, good enough for 20th out of the 32 teams. The 'capacity' of EverBank Field is booked at 67,246, except that some 9,703 seats are covered by tarpaulins during the regular season, ensuring the team can avoid local TV blackouts under the NFL's media rules.
They actually had an announced attendance of 70,251 for their final game against New England, but drew only 62,907 for the opener with Houston. Yet the 2005 Super Bowl pulled in a crowd of 78,125, while the periodic college games have additional seating taking capacity up to more than 84,000 (with a record 85,413 who saw Florida State defeat Alabama in 2007).
That means EverBank Field is realistically 20,000 below what its Jags attendance COULD be. Imagine if the Bears only drew 41,000 to Soldier Field? What kind of outcry would there be from team ownership to find a new market?
And, with an 80,000-seat stadium in London sitting empty for much of the autumn, and the huge commercial spin-offs from being the ONLY game in town, how much could a team expect to rake in for a concise eight-game season? How many ways do you need to spell m-e-g-a-m-i-l-l-i-o-n-s?
So you can see how the financial eggheads at NFL HQ have put 2 + 2 together and come up with the London Jaguars.
Is it a done deal? Certainly not. Mr Khan has given Jacksonville a verbal assurance that he WON'T move the Jags anytime soon, and I believe he genuinely wants to honour that pledge by maintaining Florida's three-team balance. And, if they can come up with a local tourist strategy - as they have insisted they will - that taps into the Sunshine State's British visitor profile, they can easily add to their attendance figures with a genuine Union Jack-waving component.
With EverBank Field just two hours' drive from the big honey-pot of Orlando, if they can't add 5,000 or so extra fans eight times a year from the 800,000 of Mickey Mouse's annual UK visitors, then they really would be doing something terribly wrong. And that would go a LONG way to removing those tarpaulins for good.
But it demands a long-term game-plan and a level of patience which doesn't seem to be the current forte of The Commish, who was so quick this week to suggest a third London game - and put the Jags in as half of the bill.
The avalanche is most definitely in motion and Jacksonville is certainly within its gravitational pull. They would also be the easiest 'rock' to uproot and take along for the ride, in league HQ terms.
And, whether the likes of Cincinnati's Andrew Whitworth approve of a London base or not, if the league agrees to a London team, there will be a 55-man roster in HA9 pretty darn quick.
(Just to digress for a moment - you have to think the Bengals' Pro Bowl offensive lineman is completely missing the point when he says he'd quit rather than play abroad. What? You'd give up your $5m-a-year contract just to avoid having to play half the season a 6-hour flight from New York? Would you really rather be in sunny Cleveland? Or Minneapolis? Or even Detroit? In winter? Doesn't he realise his vastly inflated salary is entirely due to TV, and TV money calls the tune these days? What if the team moved to Alaska? Or Hawaii?).
The only question that remains is will that roster be Jaguars, or Raiders, or Rams, or Chargers?