Simon Veness investigates the hysteria behind NFL player Tim Tebow
Simon Veness tries to make sense of the hype surrounding American footballer Tim Tebow.
Last Updated: 26/05/13 1:17pm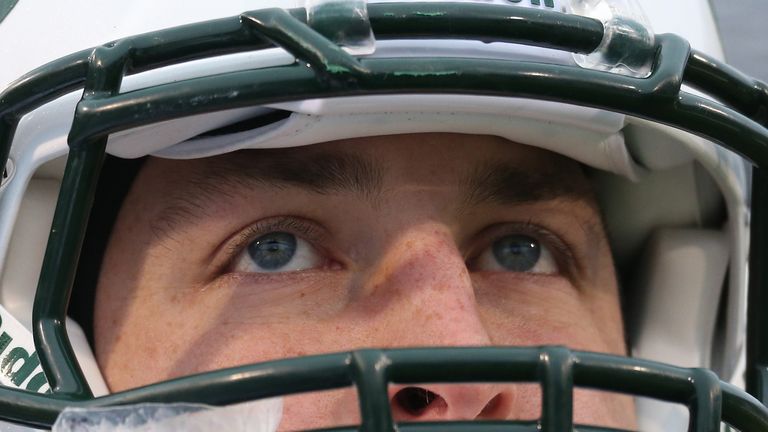 There is just no escaping it. Turn on the TV and the name is usually only nano-seconds away; read the local paper and the headline is sure to be near the top; tune in the radio stations and it's the recurring theme, more incessant than British summer rain and more insidious than the theme tune to 'It's a small world' just a few miles away in Walt Disney World.
It concerns a player with just 16 starts in three full NFL seasons, a first-round pick in 2010 who has already been on the books of two teams and was wanted by neither. At present, he is totally unlikely to feature in the 2013 season - unless it is in the Canadian Football League, the Arena League, or the Legends League (formerly the Lingerie League).
And yet the US sports media can't leave Tim Tebow alone for five minutes. Take today, for example. There in the Orlando Sentinel headlines is the one that states (in extra-large type), 'NFL player makes fun of Tebow's virginity on Twitter.'
The ex-University of Florida quarterback has become a sporting punchbag, a figure of mockery and derision, known as much for his religious views as his ability to view the opposition's back-field ahead of the snap. It is truly, unutterably incomprehensible. And that's before you even consider what it's like to be the person concerned.
You can't really even call it hype surrounding Tebow; it's more like hysteria, even in the non-SEC-influenced parts of the country, where the Southeastern Conference isn't yet considered mightier than the NFL.
To try to get to the bottom of it, you first have to consider the strange beast that is college football. There is no other phenomenon like it in the sports cosmos, an 'amateur' game as big (or bigger, in some parts of the country) as its big-brother pro version.
It is, essentially, the same sport, and yet it exists in its own universe, a precursor to the National Football League and yet a separate entity in its own right.
Historic bonding
The two have an intricately symbiotic relationship, and yet college ball has rules and traditions that go back more than 100 years, ensuring it inhabits its own sphere of influence entirely, especially in places like Alabama, Tennessee and Michigan, where the professional ranks are thin. And in Florida.
You might think that here in the Sunshine State it would be all about the Dolphins - they of the Perfect Season in 1972/73 - or the Buccaneers (who have a title far more recently than their southern cousins), or even the Jaguars, who inhabit a relative sporting vacuum for hundreds of miles in either direction along their coastal location.
But that would be to ignore the 600lb gorilla in the room (as well as two other universities who wield significant footballing influence). The University of Florida (or U of F, the Gators, or, more usually, just 'Florida') first fielded a football team in 1906 - that's 14 years before the NFL was even founded, for those keeping count - and the good citizens of the Gainesville area, which stretches roughly from the Georgia border in the north to Key West in the south, have been absolutely barmy for it ever since.
Can you imagine the Varsity rugby game between Oxford and Cambridge overshadowing England v Scotland for the Calcutta Cup or even Saracens v Harlequins for the Aviva Guinness Premiership Knockabout Whatdowecallitthisyear Cup?
No, I thought not. It is a whole different realm of sporting perspective, and, by and large, quite a healthy one, with places like Tuscaloosa, Knoxville and East Lansing turning out en masse to support their college heroes. Until the Tebow Phenomenon happens along.
Carried
The Gators, you see, have played in 37 Bowl games (only 10 less than there have been bowls prefixed by the word 'Super'), won three national championships and eight Southeastern Conference titles, produced 135 All-Americans, 35 first-round draft choices and three Heisman Trophy winners.
One of which just happens to be Tebow, whose very first game was greeted with the kind of fervour normally reserved for visiting members of the Royal Family - if Prince William also filled in at centre-forward for Manchester United, opened the batting for Yorkshire, played scrum-half for the British Lions and carried the British flag at the London Olympics. Oh, and also appeared in six Hollywood blockbusters. This year.
It is a level of adulation off the sporting charts, so badly out of whack it makes you wonder how Tiger Tim gets out of bed each morning from the weight of expectation from millions of people he doesn't even know, and yet who follow his every move with microscopic intensity, filling up the chat rooms and talk programmes with their hopes for his next NFL start.
And it is certainly no wonder that no team wants to expose themselves to the fanaticism that now accompanies him, along with scorn, disbelief and outrage from the pro-Tebow lobby when any team suggests as such - and the counter-derision from the anti lobby (which now includes the low-brow opinion of Philadelphia guard Evan Mathis, he of the ill-advised virginity 'joke').
Memo to Mathis - when an NFL player is currently expressing his sympathies and willingness to help the victims of the appalling Oklahoma tornado tragedy, it's probably not too smart to make him the butt of your latest infantile prank. Like 3 out of 10 for humour, but minus-10,000 for brains. I'm just sayin'.
Completed
Anyway, back to The Dilemma. The fact is, Tebow is a player full of latent talent, only no-one really knows if it's as a quarterback, tight end, half-back or even cheerleader. He completed 75% of his passes last season - which is better than any other starting passer in 2012. OK, so it was only 6 of 8 for 39 yards, but you see the problem, and it's a completely polarising one.
On one hand, he looks like he could be a made-for-stardom NFL starter. And, on the other, he looks like he could be a made-for-obscurity over-hyped wannabe, a player caught betwixt and between, neither one thing nor the other. And the bottom line is we are never likely to find out now. He has been left more overlooked than a two-quid DVD in a Tesco bargain bin.
Thanks to the coaches and 'talent evaluators' at the New York Jets, Tebow is more of a busted flush than Audley Harrison's chin. And yet, and yet...there are still coaches out there who think they can turn it around, witness Steve Clarkson's recent assertions that the oft-quoted 'faulty throwing mechanics' have been 'repaired.'
It is a maddening contradiction for someone who seems to be quite a classy human being (unlike the clowns at the Jets), and who has never ONCE complained at the offhand treatment meted out to him at both Denver and New York.
So how did we get to Here with someone who remains the next best thing to a Saint to anyone connected with Gainesville? For the answer to that question, I turned to my professional sporting contacts here in Central Florida. And I think it might surprise a few people....
Part Two of the Tim Tebow story next week.