The football factory
Simon Veness highlights the draft's secret 'kingmaker' ahead of Thursday night's big event.
Last Updated: 24/04/13 3:07pm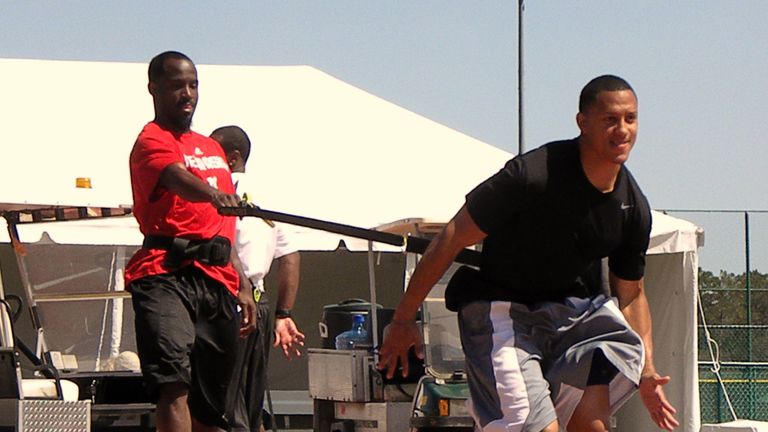 Tom Shaw is a name you're unlikely to hear at the Radio City Music Hall in New York among all the media pomp and circumstance of the NFL's annual draft. But, in many ways - and certainly for many teams - he is as important as the players themselves.
In these days of mega-million contracts - and the ever-present fear of the dreaded 'bust' - Shaw's coaching programme here in Orlando, tucked away at the back of Disney's Wide World of Sports complex (of all the unlikely places to be), is one of the most highly-regarded 'talent factories' in the US.
The stats alone make intriguing reading on CoachTomShaw.com - eight No 1 draft picks, 122 first-round selections and 10 Super Bowl MVPs*. But ask a player who has been through Shaw's coaching mill what it is that makes this a special place to work out and learn the business of professional football, and it is not stats that you hear. It is family. And being humble. And responsibility. And a lot more besides.
Ask Ike Taylor, the highly-regarded 11-year Pittsburgh Steelers cornerback, who has been a protégée of Shaw's since he was 13 and is still working out with the former New England and New Orleans strength and conditioning coach at the age of 34. Taylor has seen a LOT of players pass this way, and his view is unequivocal.
"Coach Shaw is where it's at. He is the main reason I moved down to Orlando, period. We have been having this relationship since I was in the eighth grade. Tom is like a father figure to me, and he has good help from Brian Stamper and Sabrina Atkins, and, together, they take good care of us. But for the most part, what this facility brings to us is amazing.
"I saw an ad for him in a newspaper in New Orleans and got together with him there. After Katrina, he moved to Orlando and I moved here because of coach Shaw."
Raw talent
Taylor's story was an unusual one in that he switched from running back to cornerback for his final year at the University of Louisiana at Lafayette, meaning he was far from a certainty to be picked up in the 2003 draft. But, with Shaw able to see his full potential, the two REALLY went to work together.
"I was a raw athlete coming out of college and had little experience at cornerback. But coach Shaw drew up specifics for my position, fine-tuning everything I needed to do. Every position has its own drills, but coach went back to the old school with me, running the hills, in sand, pushing trucks in neutral. Then it was agility drills, everything cornerback and safety related.
"In the off-season, I was having the benefit of learning from the likes of Deion Sanders and Rod Woodson, and all this background kind of all boiled into one. Whatever they told me, I pretty much did."
That's the other key to Shaw's coaching regime - veteran players helping the rookies - and the end result for Taylor was a fourth-round pick from the Steelers, which many felt was a reach at the time. Now, 167 games, 616 tackles, 17 interceptions and two Super Bowl rings later, he is a vital veteran presence and the wheel has almost come full circle.
Taylor says: "We had a lockout two years ago and the Steelers were willing to let a number of our players train with coach Shaw, which usually never happens. And, when he came up to Pittsburgh, everyone was able to see what he was doing here in Florida.
"You get a wide variety of drills you can use, you get a great atmosphere at the Wide World of Sports, and you get great conditioning from his assistant Brian. We always say coach Shaw must never sleep because he keeps coming up with all kinds of drills to help you individually, whether it's defensive line, quarterback or cornerback.
"He gets quality guys here. It is a great atmosphere and we feel like we're family. Of course, coach Shaw is not going to baby-sit anyone. At this stage, you are grown up and it is time for you to start having some responsibility but, at the same time, you're going to get better, you're going to work. We even have a nutritionist from Alaska who flies in for a month, so her dedication tells you everything you need to know about the set-up here."
It is from this crucible of gridiron sweat and toil that several dozen CoachTomShaw.com hopefuls have been forged, ready to hear The Commissioner call their names on Thursday night (or Friday, or Saturday, with the three-day marathon that the draft has become). And Taylor has had a first-hand look at the cream of the crop, sweating, cajoling and encouraging alongside them.
He explains: "I have been around coach Shaw for a long time and whenever he asks me to come down, I am happy to help. I tell myself all the time, if it wasn't for him, I wouldn't have played in the league for 11 years. It is such wear and tear on your body, but here, with the emphasis on building up your muscles, pretty much every small muscle you can think of, it is something that helps out throughout the season.
"Now, he doesn't need to ask me and I can see myself doing this when my career is over. I like to see that transition in guys, from wanting to be good, to better, to great. The atmosphere is nice - you couldn't get anything better.
"And I am looking for at least five first-round picks this year from players who have been with Coach Shaw. He has been doing this for at least 20 years and, from what I've seen, this might be one of his best camps overall, from guys that are humble, that are willing to learn and willing to work out and wanting to get better.
"I like Tavon Austin, Jarvis Jones, Eric Fisher, Xavier Rhodes and Kawann Short, the defensive lineman from Purdue. In fact, if you could give me six guys in the draft from here, I would be really excited for the Steelers because I know what we would be getting."
So, if the hulking Central Michigan offensive tackle Fisher gets his name called early on (possibly even at No. 1 according to several pundits); or speedy West Virginia wideout Austin; or Georgia linebacker Jones; or cornerback Rhodes from Florida State; or the other lineman Short (who has interested New Orleans, who sit at 15 in the first round); they will all have been signalled by Taylor, courtesy of the Tom Shaw football factory.
Because, in simple terms, no-one prepares players for the draft and makes them stand out better than this quietly-spoken 53-year-old former Central Michigan wide receiver and his hard-working team.
Three of Taylor's 'Famous Five' (Fisher, Rhodes and Austin) have been invited to be among the 23 attendees at the first night of the draft itself, which is a fairly handy indication of their likely success rate.
However, one other fascinating name among the 'Likely 23' is that of Menelik Watson, the Manchester offensive lineman who has had a positively meteoric rise to fame after just ONE season at Florida State. The 24-year-old's skill set is rated as top drawer by many observers, and the fact he has so little experience on the gridiron field - after playing basketball for most of his school and college career - is not seen as a big drawback.
Indeed, draft guru Mike Mayock has said that coaches "should be salivating" at the thought of getting a talent like Watson, hence he has been linked with teams like Cincinnati, Green Bay, Atlanta and Baltimore in recent weeks.
If he does, indeed, get picked in the first round, it would be off-the-charts amazing, and you can expect every sports news outlet in the UK to be putting 'Watson' and 'Elementary' in their headlines on Friday morning. In fact, my keyboard is warming up for it even now. I will have more, soon!
* The 10 Super Bowl MVPs who have worked with Tom Shaw at various stages of their careers, many in the pre-draft stages, are: Tom Brady (2), Peyton Manning, Eli Manning, Ray Lewis, Dexter Jackson, Drew Brees, Santonio Holmes, Hines Ward and Deion Branch.
Catch the NFL Draft live, Thu, midnight on Sky Sports 1HD