Surreal Super Bowl
Simon Veness reflects on the Baltimore Ravens' remarkable Super Bowl triumph in New Orleans.
Last Updated: 04/02/13 8:43am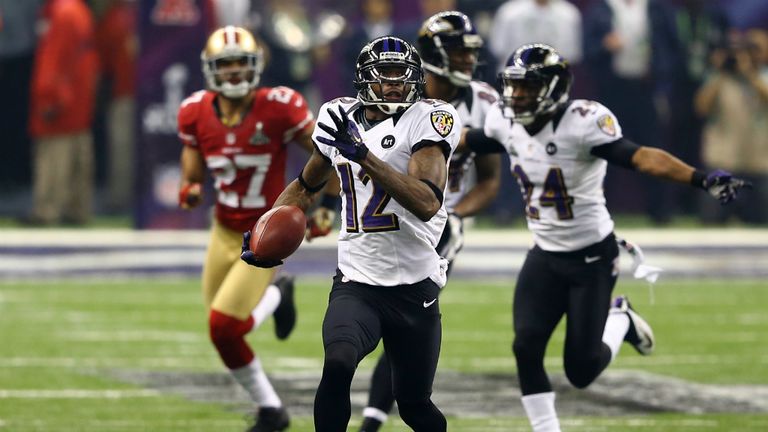 It wasn't terribly clever and at times it wasn't pretty. At times, we couldn't even SEE if it was either clever or pretty. But the 47th Super Bowl was a thing of pure amazement and incredulity. Every time you thought it couldn't get more astonishing, it did.
The first half had provided some rich fare, with Baltimore doing their best Superman impression and flying into a 21-6 lead. Beyoncé added the half-time wow factor and we sat back ready to see who could grab the momentum, as it was clear San Francisco still had plenty left in the tank.
The second half started - and suddenly we were in the sporting Twilight Zone, a realm of the impossible and the startling, where nothing made sense but everything added up to a game you simply could not take your eyes off.
It started with Jacoby Jones and his improbable 108-yard kick-off return and it finished with a Ravens free-kick that the 49ers had to try to turn into the winning touchdown, and we only truly believed it was all over when Ray Lewis - who else? - was clutching the Vince Lombardi Trophy in his final act as an NFL player.
In between, we had a San Francisco comeback that became a juggernaut; a Baltimore defence that looked out on its feet; Joe Flacco waging a seemingly one-man campaign to keep the Ravens ahead; and Colin Kaepernick doing everything except conjuring a white, furry-eared animal out of a top hat.
Oh, and there was a 34-minute delay for a power outage that had several media members checking their diaries for Monday and wondering if we would have the very first two-day Super Bowl.
We certainly seemed to have everything else. If Dick Dastardly and the Wacky Racers had roared through during the darkened period of the evening, no-one would have batted an eyelid.
Eventually, we DID get back to something that we could get our heads around as regular sporting fare - kind of - and the eventual conclusion boiled down to one final helter-skelter, harem scarem defensive stand that ratcheted up the tension to 11 on the Spinal Tap scale.
And, finally, the dam burst on a welter of facts and statistics that washed us away in a flood of Super Bowl memories and memorabilia - Lewis in tears at his successful retirement tilt at the gridiron summit; San Francisco's unbeaten Super Bowl run finally broken; a 49ers quarterback throwing an interception in the title game; Jacoby Jones and his unique double of touchdown catch and (record) Bowl kick-off return; the game's MVP not being on the field for fully 84 minutes (half-time, the start of the third quarter and then the power-cut); and two brothers meeting for a heartfelt hug at the end.
It was only the second Super Bowl (after Pittsburgh 35, Dallas 31 in 1979) to see both teams score at last 30, while Flacco's three first-half TDs also tied a record. At 4hr 14min, it was easily the longest Bowl of them all.
Shock
It had all started so differently. The noise levels early on were only deafening. And it took them about 10 minutes to reach painful. Perched up in the "auxiliary press" box, nose-bleeds were the order of the day as we were only just about inside the building, WAY up high. Telescopes and oxygen were more use than notebooks and phones. Good job the NFL isn't trying to impress the UK with their product. Oh, wait...
But no matter. We are good professionals and were focused solely on matters on the field, where San Francisco shockingly went into reverse gear from their opening play, a crass illegal formation penalty that negated a 20-yard pass to Vernon Davis and sucked all the life out of Kaepernick and Co.
The next thing they knew, they were 7-0 down and this was most definitely not the script they had so meticulously rehearsed under Jim Harbaugh. A steady drive to a David Akers three-pointer seemed to be a turning point for them, only for the Ravens to score the next 14 and threaten to take a stranglehold on proceedings.
The 49ers were misfiring badly. A LaMichael James fumble; a horrible Kaepernick interception; and several defensive penalties that gave the opposition life. Harbaugh certainly had plenty of ammunition for his half-time team talk while the Halo'd one was strutting her stuff.
Then it was time for the Jacoby Express, the Dark Side of the Dome - and a 17-point San Francisco blitzkrieg in the space of a rollicking 4min 9sec period that made it 28-23 and, for the first time (but not the last), seriously threatened my pre-game prediction.
At the end of the third quarter we were finally able to catch our breath - and try to review the manic, chaotic events of the previous 15 minutes of game time - and 79 minutes of real time.
It was starting to look more and more like a battle between Joe Flacco and the 49ers. If the Ravens quarterback could get his team back in the end zone, it would be enough. If he couldn't, well, here comes Kaepernick again.
Electric
As we entered the fourth quarter, every single play was electric, every single drop-back had the potential for drama. Flacco led another drive deep into 49ers territory. Field goal, 31-23. But that only let in Kaepernick again. Touchdown but missed two-point conversion; 31-29. Back came Joe Cool with another precision drive, chewing up 5min 38sec of clock and culminating in a second Justin Tucker three-pointer; 34-29.
But here came the 49ers again, in best basketball style (i.e. you score, we score) with the clock ticking down to the two-minute warning. A fourth San Francisco touchdown would surely win it, but, wait a minute, will they score TOO soon? There will be at least 90 seconds and three timeouts for Flacco to work with.
So they slow the game down again and now it's second and goal at the five-yard line at the 2:00 mark. With every tick of the clock, the more intense is the pressure, the more that's at stake; the sweatier the palms and the greater significance.
Ravens fans are desperately left thinking that they will now get the ball back with a chance to kick a field goal to win. The second down pass falls incomplete. And the third. Now, with the certain touchdown seemingly in the balance, it is all or nothing defensively. Kaepernick drops back, the Ravens blitz, the pass flutters into the air, and receivers and defensive backs collide in a coruscation of possibility.
This pass, too, falls incomplete, and no flags lie on the field, despite Jim Harbaugh's irate protestations. There are only 106 seconds left and San Francisco are down to their last timeout.
And now we have a Keystone Cops safety as punter Sam Koch manages to waste eight precious seconds and there are just four left and you STILL can't take your eyes off it, not after this brilliantly barmy evening. Every second counts.
In the end, the 49ers are just a handful short of being able to mount one final challenge. The clock runs out, confetti cannons boom and the Ravens take the winners' podium for the second time in their short, 17-year history. Flacco is deservedly MVP after an immense post-season run of four wins (three on the road), 11 touchdowns and 0 interceptions - just like his hero Joe Montana in 1989.
Turnovers and penalties ultimately doomed the younger Harbaugh brother to the teeth-gnashing agony of defeat, but an incandescently brilliant comeback bid almost pulled off the greatest recovery in Super Bowl history.
It wasn't to be, but no-one who left the Mercedes-Benz Superdome - or who watched on TV - is likely to forget it for a long, long time.
Can we start next season soon, please...?