Purple reigns
Simon Veness says momentum is swinging to heavily-supported Baltimore in the Super Bowl build-up.
Last Updated: 02/02/13 11:14am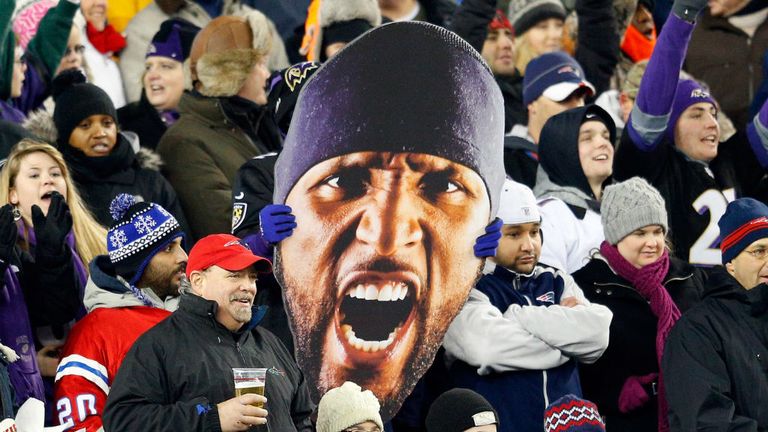 The results are in. And it is an overwhelming victory for the folks of Baltimore. I'm afraid San Francisco wasn't even close. It was a one-sided massacre, a blowout, a sporting whitewash.
The AFC team are clear winners and the margin is roughly 10-1. In fact, it may be more than that, as some of our evidence is purely anecdotal. We have heard rumours of 49ers fans in the vicinity but we have yet to see them in any number. They are simply lost in a sea of purple and black - this IS Ravens country to all intents and purposes.
OK, so just trying to judge things by the volume of fans for each team isn't terribly scientific or, possibly, even especially meaningful. It is a litmus test of the stands, almost a classic 'Who's Loudest?' contest as first one side then the other has its say. "Go 49ers!" insists one half of the Super Bowl XLVII fandom; "GO RAVENS!!!!!" bawls the other.
Clearly, it is advantage Baltimore as we approach kick-off in the 47th iteration of the NFL's big game. The followers of the Maryland city have arrived en masse several days early, outnumbering the visiting Californians by a massive percentage (although, as one colleague suggested, it's probably obvious why. "Do you know how cold it is in Baltimore this week?" he asked. "Why would ANYONE stay there when they could be in New Orleans?" And he could be right, you know).
But this little exercise in oblique judgment does serve to highlight a significant trend, I believe, in that almost everything has gone the Ravens' way in the build-up to Sunday's game (which is live on Sky Sports 1 HD from 10.30pm). Even the fans seem to sense it, mainly in the way the 49ers faithful have notably failed to show up as of Friday evening.
Everywhere I've been, from the French Quarter, to the Convention Center (home of The NFL Experience), to the famous Streetcars and even out in the charming Garden District (home of my new favourite restaurant, Joey K's - try the jambalaya and their bread pudding; absolute heaven in both cases), there have been those conspicuous AFC jerseys. The NFC team? Not so much.
And now, as we come down to the business end of the week, with the press conferences all consigned to the (many) pages of scrap paper, the coaches happily closeted away from the media, and the pundits left to interview each other, we can review the whole process of the past five days and draw some conclusions.
1. John Harbaugh's team are ready. Very, very ready. Which isn't to say his brother's outfit isn't ready. It's just that they have clearly been 'out-readied' by the Ravens in their purposeful march to the Mercedes-Benz Superdome. You get the impression anyone in a Baltimore uniform is ready to walk over hot coals in order to reach their goal. It may be a tad over-eager - like feeding espresso to the average six-year-old - but, by god, they are not going to be slow out of the gate.
As I mentioned after the mass frenzy of Media Day on Tuesday, the energy levels surrounding the Ravens were WAY up. This was a team ready for action and keen to take on all-comers, even if it was only the mass ranks of the press on that particular day. I'm not saying John Harbaugh has had them on a diet of red meat all week, but there probably hasn't been much fruit or veg on the menu.
By contrast, the 49ers were perfectly business-like and cordial on every occasion they had to perform the Super Bowl pas de deux with each media member, but there was no sense of relish about their body-language, with the notable exceptions of Joe Staley and Randy Moss, two guys who could maintain a long conversation in an empty room.
2. Jim Harbaugh is also clearly not comfortable with the intense and prolonged scrutiny of the world's sports scribes and talking heads. You get the impression a two-hour root canal appointment with Dr Drillem would be preferable for him than yet another press conference of largely banal 'brotherly love' questions.
His 30-minute two-man show on Friday with his elder sibling was alternately excruciating and touchingly amusing, but the fact he chose a businesslike tracksuit-and-hat attire while John sported a smart two-piece suit seemed indicative of one man who'd much rather be on the field while the other was happy to mix it up and play the media game, already a step ahead, comfortable and relaxed.
3. Distractions have not been high on the list of sporting issues for most of the week, but San Francisco back-up cornerback Chris Culliver gave his team exactly the kind of headlines they didn't want with his oddly homophobic outburst about "ain't no gays in our locker room." And, while Culliver is unlikely to figure prominently in the game plan, the 49ers could definitely have done without having to fight that particular quoting flare-up for a couple of days.
Ray Lewis, of course, had his own issues on the other side with the strange issue of deer-antler spray - the latest in wacky performance-enhancing drugs, or not, depending on which bunch of wacky scientists you believe - and whether he had actually used it (the most emphatic of "no's" in this instance), and the journalists still looking to dredge up what did or didn't happen outside an Atlanta nightclub in January 2000.
Either way, the soon-to-be-retired linebacker is so close to achieving the ultimate goal of riding off into the footballing sunset with his hands around the Vince Lombardi Trophy that it will take more than a few pesky questions to knock him off his purposeful stride.
It's a stride that has seen him chalk up a formidable 44 tackles in three play-off games to date and the way his key defensive compadres have closed ranks around him - notably Terrell Suggs, Ed Reed and Bernard Pollard - you have the feeling this is an armoured colossus on the move and woe betide anything that gets in its way.
4. Injury news has been astonishingly thin on the ground for a Super Bowl week, with the daily Injury Report from both teams limited to a few hints about 'probables' and the half-suggestion of a couple of key men being "limited in practice."
The Ravens have actually placed 14 on that list of probability, including Lewis (triceps), Reed (shoulder) and Suggs (Achilles, bicep), but ALL 14 played a full part in practice and there isn't even the merest whisper of a suggestion of a hint that any of them might not play.
Conversely, San Francisco have 13 'probables' but key linebackers Aldon Smith and Ahmad Brooks have both been restricted in practice, leaving that element of doubt hanging in the air that Baltimore will surely test out in the early going on Sunday.
5. The CKF, or Colin Kaepernick Factor, is the final element in our little pre-game jigsaw puzzle of prognostication. The youthful second-year quarterback has largely been a revelation inside the lines for his games to date, but a tongue-tied schoolboy for much of his media time outside them. That isn't, of course, to say it should hinder the 10th start of his professional career, but you do wonder at what point the sheer weight of inexperience might become a burden on the biggest stage of all.
Consider this 'paint-by-numbers' response to a question about the 49ers' offensive variety (which many pundits are also smitten with): "It's going to depend on the game plan. There are things that we ran at the beginning of the year that we are going to continue to run; there's new things that come up. There is a lot in this offence." Well, thanks, but no thanks, in the insight department.
Obviously, Kaepernick isn't here to provide thrilling one-liners to the press, but you would feel happier backing his part in an offensive juggernaut if he had a firmer grasp on the minutiae of the job. It is still perfectly possible he will go out and play like he did on his full debut against Chicago when he strafed the Bears for 243 yards, two touchdowns and a 133.1 passer rating, but, equally, he could turn in the 72.0 passer rating he achieved in a 42-13 defeat at Seattle as recently as December 23.
The simple fact is, Kaepernick's body of work is still so slight that it is hard to draw many meaningful conclusions (although his fumble ratio of 1 in every 8.1 carries as a runner is distinctly worrying). He has shown few, if any, sign of nerves to this point and his relative naivety may stand him in good stead in the cauldron of the Superdome.
But my gut feeling is that this Baltimore defence might just give him fits and opposite number Joe Flacco will make enough plays to keep the 49ers on the back foot instead. As I say, it's only a feeling based on points 1-5 above, but the Ravens will certainly have the support to carry it off and I have a sneaking suspicion they will still be shouting loudest at the end.
And not just by virtue of greater numbers.