Simon Veness reflects on dramatic Championship games which saw San Francisco 49ers and Baltimore Ravens progress to the Super Bowl
Simon Veness applauds the amazing achievements of the Super Bowl-bound Harbaugh brothers.
Last Updated: 21/01/13 11:06am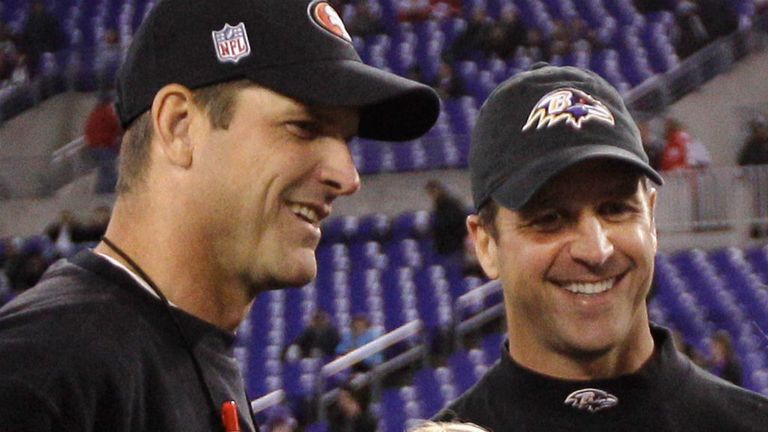 We also have the little matter of the Great Ray Lewis Retirement Party now going all the way to New Orleans - after Bostonians had the effrontery to put up a billboard proclaiming their city as its final stop. Oops, as they say.
Two games - in fact, two second halves - that defied the imagination (not to mention the pundits, in the case of the Patriots-Ravens game) have set up a Super Bowl for the ages, and the Harbaughs deserve all the credit in the world, first for masterminding an astonishing comeback win in Atlanta and then, in the case of John, upsetting the Belichickian applecart in eye-opening fashion.
In BOTH cases, neither of the Harbaugh teams allowed their opponents to score after the interval, with Atlanta slumping from a healthy 24-14 lead to a 28-24 demise and New England absolutely wilting from 13-7 ahead during their half-time cuppa to a hopeless 28-13 final score. We were goggle-eyed in disbelief.
In truth, the 49ers' outcome was only what we had suspected all along. They just had too much firepower for the Falcons, despite Atlanta's top seeding and home advantage. But what transpired in the chill night air of Massachusetts was genuinely hard to comprehend, a Belichick-Brady team simply falling apart when the Falcons turned up the heat.
After last year's epic encounter between the two, which New England edged 23-20, the first quarter produced exactly the same score as 12 months ago - a 3-0 Patriots lead - and we sat forward in full expectation of more edge-of-the-seat drama. We got it, but not at all how we expected.
Once again, Flacco did everything in his power to get the Ravens back to their first Super Bowl since 2001. Only this time, there were no end-zone passes dropped and no gimme field goals missed. They simply went out and dominated the third and fourth quarters to complete a post-season victory tour of Indianapolis, No 1 seeds Denver and then the team that topped the scoring charts this season by the little matter of 100 points.
It had all started SO quietly, though. Very little was working for the visitors early on but Flacco still put together a masterpiece of a 13-play, 90-yard drive capped by Ray Rice's two-yard second-quarter touchdown rumble and a brief 7-3 lead.
And, when the Patriots went on a 10-0 scoring run to finish the first half there was no panic from the Ravens and their ice-cool quarterback.
He simply mullered the third quarter, going 11 of 18 for 125 yards and a five-yard touchdown pass to Dennis Pitta. And, when he started the fourth with a three-yard dart to Anquan Boldin, who pulled in his fourth catch of the day at full vertical stretch, we started to think Brady's historic struggles against this defence might just be about to catch up with him in the most dramatic fashion.
In truth, the big turning point was Bernard Pollard's huge hit on Stevan Ridley that left the New England running back badly concussed - and the ball in Baltimore hands.
When the Flacco-Boldin combo turned that into another seven points and a Gillette Stadium-shocking 28-13 lead with 12 minutes to go, we really did begin to wonder if the Belichick-Brady run of AFC Championship game success (five wins in six previous attempts) was finally over. Not only that, but Brady's aura of home-field championship invincibility was about to get knocked out as well.
Sure enough, the interception by Dannell Ellerbe at 6:57 of the fourth quarter virtually sealed the deal and we were able to sit back in glorious anticipation of the Super Baugh, sorry, Bowl.
Rare
Meanwhile, in Georgia we had yet another proverbial game of two halves - a rare thing indeed in the NFL - as Matt Ryan played like Johnny Unitas in the first two quarters, and Johnny Appleseed in the second two.
It was an astonishing transformation, the kind Dr Jekyll used to pull off for the little known London Victorians in that rare gridiron era of the 1880s.
For the first 30 minutes, Ryan could absolutely do no wrong as he picked the 49ers defence apart with the ease of an expert safecracker tackling a piggy-bank. It was money for jam.
A 46-yard pass to Julio Jones for six on their opening drive; a 12-play drive to a Matt Bryant field goal on their second; a 20-yard dart to Jones for another score on their third; and then a stunning 90-second, 82-yard drive in seven plays to Tony Gonzalez's 10-yard catch right before half-time.
Jones had five catches for 100 yards inside the first 10 minutes (he would have been on course for 30 catches and 600 yards for the game at that pace!). At 10-0, the Falcons had racked up 145 yards to the 49ers' one. Ryan had 139 yards passing and a LOT of pre-game predictions were looking pretty sick.
At the end of the first quarter it was 182 to -2 (yes, that's minus 2) and there was every chance the Falcons were going to be 17-0 up and make a lot of Californians very nervous. The biggest previous comeback in NFC Championship game history was 13 points, ironically achieved by Atlanta against Minnesota in 1999.
One play into the second quarter Jones DID have his second TD catch, six grabs for 120 yards and, to all intents and purposes, the home team were over the horizon and far away. A nation sucked in its breath and wondered if the 49ers defence had got lost en route to Georgia, with a bunch of imposters taking their place.
Of course, Atlanta had been up 20-0 against Seattle the previous week, only to find themselves 28-27 down in the final 30 seconds, but San Francisco is not a team usually associated with big comebacks and the handful of pundits who had picked the Falcons for XLVII were starting to look like the second coming of Nostradamus.
Finally, on their third drive, the 49ers put it all together and, more importantly, put seven points on the board, notching up 85 yards in the process. Even better, San Francisco then got a defensive stop and gave themselves some momentum.
At 17-14, we had a genuine heavyweight fight on our hands, with punch and counter-punch, but then Dr Jekyll-Ryan went back to work and the 10-point interval difference seemed to give the Falcons a vital boost of adrenalin going into the break. If anyone had said at that point the home team would not score again, they would have been laughed out of town.
We got to half-time with a combined 457 yards of offence and Ryan exhibiting stunning figures of 18 of 24 for 271 yards and those three touchdowns. A country struggled to get its breath back. After Colin Kaepernick led another scoring drive to open the second half, the two quarterbacks had a joint line of 30 of 39 for 428 yards and four TD passes. And we still had 26 minutes to go.
Slip-ups
But we didn't know Mr Hyde had sneaked into the game on the Atlanta sidelines and, inhabiting the No. 2 jersey, he proceeded to wreck home hopes with an interception and then an awful shotgun-snap fumble that wasted good field position both times.
San Francisco had their own horrors as suddenly-fallible kicker David Akers clanked a 38-yard field goal attempt off the left upright and Michael Crabtree lost the ball in a tackle on the Falcons' one-yard line. We wondered if both teams had lost their nerve but the 49ers simply reverted to time-honoured power football.
After Tedd Gin Jr returned a punt 20 yards to the Atlanta 38, four straight runs took the ball to the 17, at which point Kaepernick unleashed a crucial eight-yard pass to Crabtree on 2nd and 2. Having run in the first score of the third quarter, the 5ft 9in bulldozer known as Frank Gore was now building up a significant head of steam and there was no surprise when he powered in from nine yards out.
There was still 8min 23sec to go, but the scoring was finished, blunted by the full force of one of the NFL's best defences reasserting itself. A 7min 10sec drive took the ball from the Falcons 29 to the visitors' 10, but that was as far as home hopes progressed. Two Ryan incompletions effectively ended the contest and 49er Nation was able to contemplate its first trip to the Super Bowl since XXIX in Miami.
Ryan finished with more-than-respectable figures, passing for almost 400 yards and those three TDs, but his second-half line was an anaemic 12 of 18 for 125 yards and 1 INT as his team was outscored 14-0. The two turnovers were the killer blows, though, wiping out the memory of that stellar first half and it's going to be a long, long off-season in Georgia.
As far as I'm concerned, I'm delighted my post-season predictions now stand at a slightly tarnished 8-2 - I had San Francisco winning by two points but Baltimore losing by four - as we now have two completely new sets of teams and stories to look forward to next week. And, with the potential for the Lewis Story to be repeated in all its detail, our keyboards may well go into meltdown.
Plus, it is New Orleans and the food and music will be fabulous. Louisiana, here we come...