Simon Veness tips Patriots and 49ers to reach Super Bowl XLVII
Simon Veness reckons Patriots and 49ers will have enough to reach Super Bowl XLVII...just.
Last Updated: 21/01/13 10:45am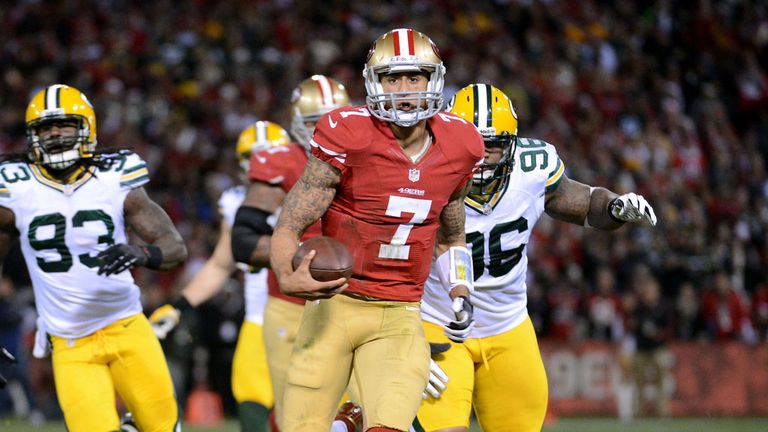 OK, so that's not THE big news of the week. It is a mere snippet, a bagatelle in the overall sporting media landscape. But it mentions New Orleans and, for four teams, the temptation to be thinking of The Big Easy this week will be agonising.
Just one game from the Big One, 60 minutes of between-the-lines action from being able to eye the main prize of a year's hard work and ambitions.
Which is why, if the two Championship games are even half as good as last weekend's Divisional Round, it will be remarkable, given the crushing pressure of being THIS close to the end game.
Of course, the four games we have most recently witnessed were seriously high on the Impressive-ometer; off-the-charts-high in the case of Denver and Baltimore and then Green Bay and San Francisco, with Seattle-Atlanta not far behind and New England's destruction of Houston a commendable fourth.
But to expect more of the same in Atlanta and Boston would be asking too much. Or would it?
Let's just review for a moment - as much of the media has done for almost every second since the dust settled on last week's Fab Four.
We have the No1 v No2 in the NFC Championship game, and two teams who have averaged at least 25 points and 370 yards per game. They are two teams who both turned on an offensive clinic at times last time out and who would have the two players of the day in Colin Kaepernick and Matt Ryan - if a certain Tom Brady and Ray Lewis weren't in the other one.
Then it's the Tom v Ray Show and a chance to see if the feisty, never-say-die Ravens can upset the applecart one last time against a Patriots team who just seem to have too many weapons for whoever turns up at Gillette Stadium. Rob Gronkowski gone? Just throw a couple of touchdowns to Shane Vereen instead. Who? You know, the back-up running back who had caught exactly ONE TD in his entire New England career beforehand.
It's a positive welter of offensive potential and, if either of those two match-ups turns into a defensive slugfest between teams that scored a combined 154 points in the Divisionals, then I will eat my proverbial titfer.
No, it may not quite reach the dizzying heights of last week, but the sheer unadulterated frenzy around these games should be worth the entry fee alone. And, if the bookies currently have the Pats and 49ers as strong favourites, well, they had Denver and Seattle in the box seats last week, too (though, I'm happy to say, I didn't in the case of the Seahawks.)
So, taking our usual View From America formula of filtering everything through the view of the media Over Here, let's review how the action should go once these two hugely appealing contests actually kick off.
Mission: Let's Crown The Boy King
First off, let's just say that the age of 25 certainly wouldn't qualify as 'Boy King' status in most arenas. But, with Kaepernick just eight games into his NFL starting career - only half a season in normal rookie terms - he ain't far off it.
But, after the way he dissected and discombobulated the Packers, there has been a rush to anoint Young Colin as the heir apparent to the throne of gridiron dominance for some time to come. It's easy to understand why after a quarterback-record 181 yards and a total of four touchdowns against a Green Bay defence you suspected were just standing agape by the end of the game.
Yet, to sound a word of caution, these were the same scribes and pundits who insisted Seattle were suddenly the Irresistible Force after the way they took Washington to the cleaners the week before. And we know now how that prediction panned out.
Therefore let me opine that to write the Falcons off - by a healthy 3.5 points according to most odds-makers - at home and with a quarterback just itching to prove his own worth may be a touch foolhardy.
Yes, the 49ers do now look the Real Deal in offensive terms to match their third-ranked defence (fourth against the pass AND the run) and Kaepernick might just turn out to be Joe Montana, Cam Newton and Fran Tarkenton rolled into one, but this is the second-biggest stage of all and, if the young tyro manages another nerveless outing there might be no hope left for the rest of the NFL as long as he wants to play.
Despite the awesome offensive potential of both line-ups, the outcome might just depend on the battle-readiness of two defensive stars, because whoever can muster the strongest opposition to these runaway points-scoring juggernauts is likely to be on the road to Louisiana on Monday.
San Francisco certainly have the regular season edge with their defence ranked third overall (fourth against both the run and the pass) and 11th in sacks, easily the best of all four teams still left in action. But a lot of their front-seven pressure is generated by lineman Justin Smith - a combination of Reggie White and Rambo - who is currently playing with a partially torn triceps tendon.
A fully fit Justin Smith commands an automatic double-team on the opposition offensive line, and frees up the likes of Aldon Smith to wreak havoc (to the tune of 19½ sacks in the first 13 games, but none since his team-mate was injured). Sunday is the ultimate test of whether the tendon-in-question is a serious issue or not.
Equally, the Falcons still have lingering doubts over their destroyer-in-chief John Abraham, who has been battling an ankle injury since the last game of the regular season. He notably sat out the second half of the Divisional Round game against Seattle - and could only watch as the Seahawks hit back from 20-0 down at half-time to take a stunning 28-27 lead with barely half a minute left.
Abraham claims to be ready to go, but a team that ranked only 28th in sacks (but ninth in overall defence) can ill afford to have one of its prime forces at less than 100 per cent against a player like Kaepernick and an offensive line as tough as San Francisco's, hence the focus on Abraham may be more intense than on Justin Smith.
I still fancy Atlanta to make a much tougher fight of it than the bookies and most pundits, but I feel the way Seattle exploited the Abraham-less Falcons in the second-half last Sunday may be the blueprint for success this week.
My prediction: Atlanta 25, San Francisco 27
Ray's Retirement Party
OK, so everyone knows Lewis is set to call it quits at the end of the season. And those cheeky Bostonian types have made it clear what they think by erecting a billboard in Beantown counting down the days, minutes and hours to the "official retirement" of arguably the greatest linebacker of all time on Sunday night.
Oh boy, talking about asking for it. If ever a whole city was heading for a black eye of a photo opportunity, with a picture of a victorious Lewis standing under that billboard...well, let's just say there ought to be a few nervous New Englanders in the build-up to this little fracas.
Everyone should know by now that any Patriots-Ravens meeting is a collision of elemental forces, a knock-down, drag-out fight of epic proportions with no quarter asked or given. Yes, they will score points, but every one will have to be chiseled out of the unforgiving granite of two defences that absolutely hate the sight of each other.
And most folks know that Brady and Co currently hold a 5-2 record against Lewis and his cohorts, underlining the bookies' thoughts of a whopping 7½-point advantage in the home team's favour. But look a little closer at those head-to-head meetings and you will see something that should make every Pats fan take heed.
In 2012, the meetings were split 1-1; New England edging last year's play-off meeting 23-20 after Billy Cundiff missed a last-minute 32-yard field-goal that would have taken it to overtime, but the Ravens winning this season's September meeting by a narrow 31-30 in another memorable encounter.
Go back to 2010 and the pattern repeats itself, only this time Baltimore won the play-off game in January (a wild-card encounter) by the little matter of 33-14 - and introducing Brady to the rare feeling of being put through a meat grinder in the process - while New England edged the regular-season meeting later in the year by another 23-20 scoreline.
That means it's 2-2 in the past four meetings, with the Ravens holding a 104-90 edge in scoring in that time. Chuck in the additional fact Brady has his second-worst quarterback rating against these very same Ravens in the past five years (covering five of his seven games against them) and things start to look a little less rosy than the predictors might think.
Ultimately, however, I do believe the Forces of Belichick will prevail, just. Baltimore, and especially Lewis, have expended such an enormous amount of energy, inspiration and adrenalin in getting past first Indianapolis and then heavily-favoured Denver, I think they will come up just short in the final Boston analysis. And those billboard people will be able to breathe a HUGE sight of relief.
My prediction: New England 29 Baltimore 25.
PS: My play-off predictions to date: 7-1. I missed out only on the big Baltimore upset of Denver. I'd be happy to be 7-3 on Monday, though!