Simon Veness reviews a record-breaking weekend of breathless play-off action in the NFL
Simon Veness reviews a record-breaking weekend of breathless play-off action in the NFL.
Last Updated: 14/01/13 8:59am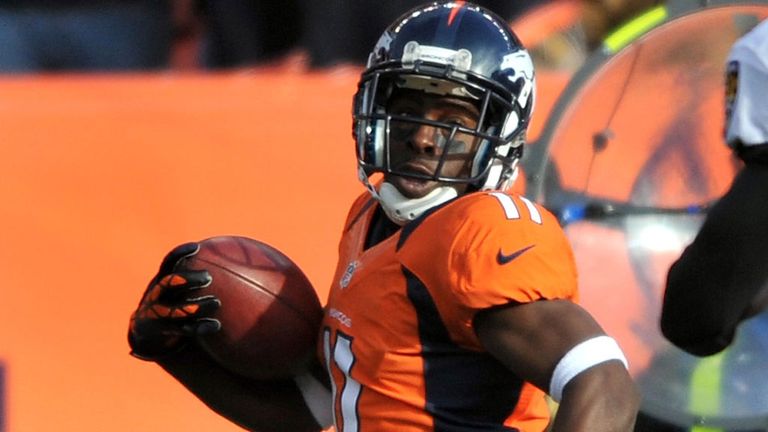 It was not just a series of keenly-contested battles on the road to Super Bowl XLVII in New Orleans, it was an epic four-course gridiron gorge-fest, featuring everything that's good about the game and a number of individual performances that will live long in the memory.
It is often the case that the Divisional Round produces the most memorable action; the four bye teams are itching to get into the action, the four first-round survivors are all battle-tested and ready for an upset, and all eight are not constricted by the sometimes paralysing emotion of being just ONE game away from The Big One, which often robs the Championship games of some of their luster.
Therefore, it's the perfect recipe for teams to bring their best attributes to the table and offer a smorgasbord of sporting talent, commitment and energy. And then some. How good was it? How about a record-276-points good? OK, so it wasn't a great weekend for defensive coaches, but that was about all you could say in the negative column.
Drama
This weekend, we saw four of the very best, highlighted by performances from Trindon Holliday, Joe Flacco, Anquan Boldin, Ray Lewis, Corey Graham, Colin Kaepernick, Michael Crabtree, Frank Gore, Matt Ryan, Russell Wilson, Zach Miller, Tony Gonzalez, Roddy White, Matt Bryant, Shane Vereen, Wes Welker, Tom Brady - and others - that absolutely took your breath away.
Throw in other memorable-but-flawed performances from the likes of Peyton Manning, Aaron Rodgers, Marshawn Lynch and Matt Schaub, and it was a Hall of Fame-calibre weekend, with records, big plays and spectacular moments galore.
I lost count of the number of catches that made your pulse race and your heart stop at the same time, while we had the pure drama of a game that needed double overtime, another decided by a second-half blitz of astonishing intensity, a third which had not one, not two, but three mind-blowing about-turns in the final 60 seconds, and finally a concluding game that underlined the massive credentials of Mssrs Brady and Belichick when it comes to anointing the Football Greats in Canton.
We had steel-nerved kickers booting long-range efforts, receivers making catches that would have graced any high-wire act, runners shrugging off tacklers like they were armour-plated and examples of some of the most admirable post-game reactions to all the on-field furore. It was off-the-charts amazing.
Sportsmanship
It all began in suitably high-octane fashion with three touchdowns in the first 5min 13sec at Denver, where we had a play-off record punt return for a score, a 59-yard bomb and a pick-six interception. And it only got better from there.
Holliday waltzed his way into a nation's consciousness with a record kick-off return touchdown to go with his punt effort but Flacco hit back with easily the most polished performance of his five-year career, inspired by the non-stop example of a certain linebacker who simply refused to acknowledge the march of time for at least one more week.
Yes, Ray Lewis may be 37 and a little past his best, but the sheer bloody-minded will to win that burns within his formidable frame remains unquenched, and it lit a Baltimore team effort of almost incandescent brilliance by the end of their 38-35 win, highlighted by two Graham interceptions of Manning that will cast a huge cloud over the Broncos' feted quarterback.
However, the final image of the game, tweeted by Ravens media director Chad Steele, came 90 minutes afterwards, with a suited Manning (and his family) visiting Lewis in the Baltimore locker room to pass on his respects for a game - and career - well played. A more sincere gesture of spontaneous sportsmanship would be hard to find.
But we had no time to sit back and admire, the second course of our weekend feast was already under way, and it was quickly clear this would also be something for fans of offensive football to drool over. A 45-point first half looked to have set things up for an unforgettable duel between the reigning MVP and the New Kid On The Block, but that soon became an awesome one-man display of gridiron prowess the like of which we had never seen before.
To be fair, his supporting cast was pretty impressive, with Gore piling up 119 yards and a score and the steel-armed Crabtree adding another 119 with a series of catches that seemed to defy physics at times. But there was no denying the NFL's newest and brightest star. Colin Kaepernick took the art of quarterback play to a whole new level, not just beating the previous record for most yards running (118, by Michael Vick) but absolutely re-arranging it to the tune of 181.
Jaws were being picked up all over the country, not least on the Green Bay sideline, as San Francisco's young tyro added 263 yards through the air and two more scores to give him four in all. He wasn't quite a one-man touchdown machine, but it was a close-run thing.
Precocity
We had just about caught our breath when NFL Nation was hit by Hurricane Matty, and Atlanta were sprinting off deep into the Georgia night against an outfit that had looked well-nigh invincible in recent weeks. Suddenly, a team was out-hustling the arch hustler Russell Wilson and a 27-7 scoreline seemed to be the precursor to a triumphant play-off coronation for Matt Ryan and Mike Smith, the quarterback and coach who were a miserable 0-3 in their post-season lives together.
As I had said in my preview, "I can definitely see Wilson having a much tougher time of things and Ryan making enough plays to White, Jones and Gonzalez to make the difference." And I sat back in celebration of my own prescience as the Atlanta trio made priceless catch after priceless catch. Only, in these NFL days, nothing is ever quite what it seems and, of course, Wilson soon had the Seahawks screaming back behind another virtuoso display of quarterbacking precocity.
Zach Miller and Golden Tate hauled in 24 catches for a combined 245 yards, Lynch battled to make amends for his costly earlier fumble and, improbably, it was 28-27 to Seattle with 34 seconds to play. In his first three play-off visits, Ryan would almost certainly have wilted at seeing a Championship game dream evaporate before his disbelieving eyes but this is 2013 and we must expect new and exciting outcomes.
With three quick-fire passes, the Falcons were back in field-goal range and another "Matty Ice," this time Bryant, had the nerve and the leg to land a 49-yarder that sailed through the uprights - after yet another of those "trying to ice the kicker" timeouts from coaches that so often backfire, as Bryant missed his initial kick but was then perfect with the re-kick after the timeout.
It was one of two blunders by admirable Seattle coach Pete Carroll, who will surely also rue his decision to go for it on fourth-and-one at 13-0 down, thereby passing up on a sure three points that would have been invaluable later on. I don't know the official figure, but I wouldn't mind betting that the incidents of got-it-on-the-re-kick FAR outweigh the missed kicks, and any coach who plays Russian roulette to this extent in future is asking for another 'L'.
But no-one should begrudge Atlanta their Championship game appearance, not least for the memory of all those amazing catches and the bull-dozing running of Michael Turner (where was HE for much of the season?) and Jacquizz Rodgers.
Overpowered
Finally, having dined far too deeply on the first three courses, we still had room for more as New England repeated their surgical dismantling of Houston, who put up a brave fight for three quarters but ultimately were left with the demeanour of a classic Muhammad Ali rope-a-dope victim in the 41-28 beatdown.
When the Texans expected the right cross (or downfield pass) they got a short left (or running play); when they shaped for the left hook (or another dart from Vereen or Steven Ridley), they got fooled into taking another sucker punch (or Brady touchdown).
In more prosaic terms, Welker had six catches for 120 yards - in the first half - while Vereen found his way into the end zone three times to announce himself as another major star-in-the-making and the Patriots just had way too much offence for the gutsy but under-manned Texans, who kept throwing punches but just didn't land them often enough in this high-scoring weekend.
But plenty of teams have been overpowered by the Brady-Belichick combination in the past and we may well be looking at the best coach-quarterback combination of all time, now with 17 play-off wins together. If they go marching in to the city of the Saints and claim title No 4, it will be hard not to come unequivocally to that conclusion.
Much of the rest of the country will be rooting for a certain No 52 in Ravens colours next week, though, and the scene is most assuredly set for an epic AFC Championship contest. The NFC version may not be too bad, either.