Simon Veness gives his view on the runners and riders in the play-offs
Simon Veness previews the play-offs - with bad news for Baltimore, Houston, Seattle and Green Bay
Last Updated: 11/01/13 11:52am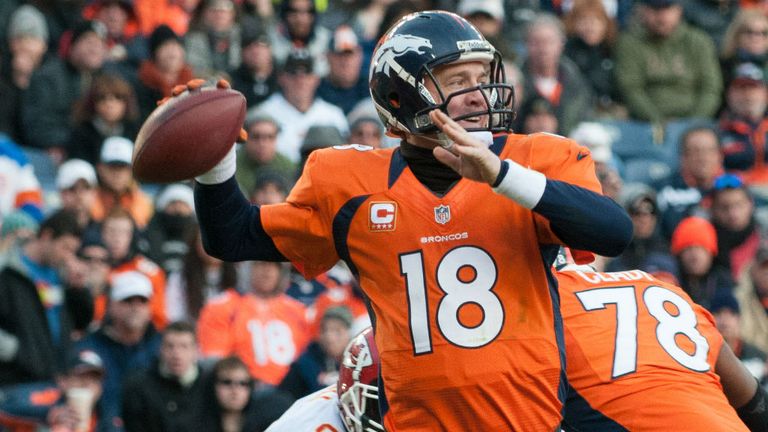 Because, when you look at how this weekend's four games are being assessed by the media over here, it pretty much comes down to that one key element of a winning experience.
Peyton Manning, Tom Brady and Aaron Rodgers have each won it all; there's no better play-off coach than Bill Belichick; Denver defensive coordinator Jack Del Rio was a key assistant on Baltimore's Super Bowl-winning defence; and Green Bay have an uncanny knack of pulling an unknown running back out of the hat and marching behind him.
What it all adds up to is two games that are reckoned to be Gimmes for the (home) teams involved, one that is a battle of the inexperienced (but which US pundits still think has a fairly certain outcome) and another that is the genuine Each Way bet.
Once again, there is a huge element of familiarity between the four match-ups and another sense of déjà vu (see also, last week's column) as three of the quartet are regular season re-matches.
It hasn't been all Divisional Round focus this week, though. In fact, there have been any number of side-shows to provide some welcome relief from the heavyweight business of weighing up the championship-game chances of the combatants involved.
First we had the ongoing Washington soap opera around Robert Griffin III, or the Battle of Wounded Knee, as it turned out. As I reported on Monday, the reckless gamble with RGIII's health against Seattle backfired badly, and the rookie quarterback sensation faces an uncertain off-season of rehab on his mangled right knee, which has now undergone significant surgery twice in four years. While the Redskins officials (and doctors) are making optimistic noises about their star man being ready for the 2013 season, several other background voices (and notable other physicians) have cast serious doubt over that prognosis, insisting he will be lucky to miss only eight weeks of the next campaign.
While Washington's woes were unfolding, we also had a truly laughable press conference out of Jetsville, where the New Jersey co-habitants "re-introduced" Rex Ryan as their head coach for another year alongside owner Woody Johnson, who looked about as comfortable with Ryan's repeated confessions of abject failure as a man who had just invited Reg Dwight to appear at his birthday bash and discovered that it was the REAL Reg Dwight, and not Elton John at all.
Then it was on to that other Keystone Cops outfit, the Dallas Cowboys, where an unwilling Rob Ryan was dragged out of the building and divested of his defensive coordinator status, with owner Jerry Jones opining that losing to the likes of Seattle and Chicago was Very Bad for his long-term employment. And possibly others as well.
Finally, we arrived at the saddest story of the week, that of the brain autopsy report on suicide victim Junior Seau, with the verdict he was, indeed, suffering from a degenerative brain disease when he took his own life. That is sure to reverberate loudly and uncomfortably in the halls of NFL HQ, while it adds more fuel to the case of the thousand-plus ex-players lined up to sue the league for maltreatment over their own concussion issues.
This one isn't going away, folks, and the fact the league still largely pays only lip-service to the problem of hits to the head remains the elephant in the room when it comes to the discussion of ANY game these days.
However, we did arrive, albeit by a circuitous route, at the discussion of this week's games, and they do fall into those three categories, so let's take the easy ones first.
The Sure Things
Sorry, Ray Lewis, it's Last Orders in the gridiron saloon for you this weekend. No-one, and I mean no-one outside Baltimore, thinks the Ravens are capable of the upset at Sports Authority Field at Mile High, due to any number of factors.
Take Manning's 9-2 career record against Lewis and Co for starters. It is actually 9-0 in the last nine, 2-0 in the play-offs, and you can also throw in the little matter of a 34-17 Denver win in Baltimore in Week 15. Plus, Denver's home post-season record is 13-3 and 4-0 when they have already beaten the same team in the regular season.
Want more? How about the fact the Denver secondary is a LOT better than the Indianapolis team the Ravens struggled against for much of last weekend's game, or that the Broncos boast the No 4 offence and No 2 defence in terms of yards per game? Put simply, it is just a question of how many the home team is going to win by, and few think Baltimore may even cover the 10-point spread.
My prediction: Denver 34, Baltimore 20
Equally, New England are absolute certs - according to every pundit I've read or heard this week - to repeat their 42-14 mauling of Houston from just a month ago.
Matt Schaub v Tom Brady? No contest. Patriots defence v The Run? Ditto. Bill Belichick v Gary Kubiak? Yes, you guessed it again; mega-advantage Surly Bill. New England are well rested and sleeping soundly in their own beds, while the Texans had an almighty struggle to get past the humble Bengals last week. And, although Houston have no major injury worries, they still listed fully 15 players on their Thursday injury report.
Of course, they DO have Arian Foster and JJ Watt, two players who are both capable of dominating a game, even if both were largely non-factors on their last visit to Gillette Stadium. But it is going to take an effort of almighty proportions from both, an error-free game in the hottest spotlight from Schaub and a vintage performance from evergreen wideout Andre Johnson to disturb the Predictive Gods on this one.
My prediction: New England 24, Houston 17
The We're-Not-Quite-So-Sure Thing
I had to search fairly hard to find many to back against the NFL's hot hand when it comes to Seattle at Atlanta. As I've been reporting pretty much all season, there just isn't much pundit love for the Falcons, despite their gaudy 13-3 record, and that largely continues when analysing the Seahawks, who arrive at the Georgia Dome on the back of a six-game winning streak, including the total eclipse of RGIII last weekend.
Many talking heads are totally smitten with Pete Carroll's bunch of gridiron marauders and smack-talkers, and can see Russell Wilson marching triumphantly all over Mike Smith's defence - a D that is 0-3 in the play-offs under the current head coach, along with quarterback Matt Ryan.
But a few more sage heads CAN be found, and they opine that playing in a truly noisy dome, against a fully healthy quarterback as opposed to three quarters against a gimpy RGIII, with the Falcons boasting proper weapons at wideout and without top pass rusher Chris Clemons makes Seattle a far less formidable proposition.
There is no real play-off experience to back either way here (unlike the previous two games) but I can definitely see Wilson having a much tougher time of things and Ryan making enough plays to Roddy White, Julio Jones and Tony Gonzalez to make the difference.
My prediction: Atlanta 20, Seattle 13
The We're-Not-At-All-Sure Thing
According to the Experience Factor, like Manning and Brady, Rodgers should carry Green Bay to victory, A) because he has a gazillion weapons to throw to, B) because the Packers have found the semblance of a running game with ex-car salesman DuJuan Harris (pretty much as they did two years ago with James Starks), and C) because he's the best quarterback in the league, OK?
All of which arguments carry significant merit, and which make this game easily the toughest of the four to call. Quite a few see Rodgers as perfectly capable of putting up enough points to ruin San Francisco's own points-scoring machine, Colin Kaepernick, on his play-off debut (there you go with the experience key again).
Mike McCarthy has also been here before, steering the Pack to road wins at Philadelphia, Atlanta and Chicago in the 2010 post-season. But, crucially, he didn't do it against the No 2 ranked scoring defence and the 7th-best in sacks. Rodgers was sacked a league high 51 times in the regular season and his O-line was repeatedly shredded by the 49ers in their 30-22 opening day romp at Lambeau Field.
With a fresh Frank Gore at running back and, possibly, a healthy Justin Smith at defensive tackle, Rodgers could face a major struggle to both get enough of the ball and then do something with it with Smith and Co roaring through to threaten GBH. It's a close one - really close - and arguably the game of the week by a distance, but I just don't see the 49ers giving up their hard-won home-field advantage.
My prediction: San Francisco 25, Green Bay 22.