Simon Veness predicts who will win through in the Wild Card weekend
Simon Veness gives his predictions for the NFL Wild Card weekend, including a win for Green Bay.
Last Updated: 04/01/13 3:38pm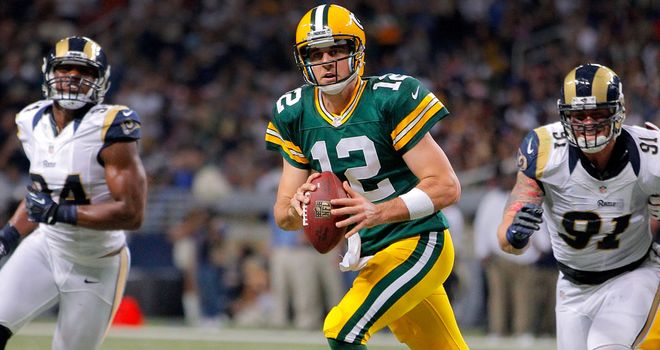 You certainly don't have to look far to justify that simile for the Wild Card Weekend, which is positively overflowing with the gridiron repeat factor as we head into the business end of the season.
The last time Washington made it into the post-season (in the Wild Card round in 2007), they ran into Seattle. The last time Indianapolis had a winning outing in the play-offs (in 2009), it was against Baltimore. The last time Cincinnati made it this far (just last year), they also made the trip to Houston. And the last time Green Bay faced Minnesota... well, if you can't remember last week, there's no quote from Berra - or anyone else - that is likely to jog your memory.
So, if there is a strong element of familiarity to the next big step on the road to Super Bowl XLVII, it's because we have seen this movie before, several times in the case of the Colts and Ravens and Packers and Vikings.
We have, and then we haven't. Because there have been quite a few seismic shifts in momentum and personnel since the previous meetings highlighted above, even from the last time we saw Green Bay and Minnesota go head to head.
So, with all the play-off ramifications firmly in mind, this is how we're seeing things Over Here as things promise to get a little unpredictable, if not exactly wild then distinctly unruly (mainly because, in six of the last seven years, one of the Super Bowl participants has started at this stage).
Cincinnati @ Houston
A little more than three weeks ago, there were few keen to argue that the Texans weren't the Real Play-Off Deal, a team ready to go rampaging deep into the post-season on the back of a shut-down defence and a potent offence led by the quicksilver running of Arian Foster, the evergreen hands of Andre Johnson and a veteran quarterback in the shape of Matt Schaub, who just wasn't making mistakes.
Back on December 3, Houston were firmly booked for the No.1 seeding, a week off to get fully healthy again and the luxury of sleeping in their own beds through to the end of the month. Road travel? Pah! That was for lesser mortals, and Gary Kubiak's men had the inside track all the way to New Orleans.
Only a funny thing happened on the road to Louisiana. The Texans' well-oiled machine developed a nasty mis-fire and collapsed to three defeats in their final four games, including back-to-back losses against Minnesota and Indianapolis. Suddenly, Big Easy Street was paved with landmines and Houston now find themselves with a repeat of this week last year, with the same visitor.
Go back 12 months and you'll find the Bengals bowing out to a team led by TJ Yates, with rookie quarterback Andy Dalton enduring a torrid time at the hands of JJ Watt and a marauding defence. This time there's a different dynamic at play and, while the home team remain favourites to progress, no-one is quite sure what to expect from them against an under-rated defence and a combination of Dalton to AJ Green that might just be Hall of Fame in-the-making.
Prediction: Houston 21, Cincinnati 16
Minnesota @ Green Bay
Anyone who genuinely saw this one coming is either a voyant of the claire-ist kind or the most rose-spectacled Minnesota fan. After Week 15, the Packers were poised to grab the second-seeded spot while the Vikings were barely holding on to the verge of the play-off picture with all of Chicago, Dallas and the Giants nipping at their heels.
Fast forward two weeks and the A-Train was rolling unstoppably down the track, ready to run away with the NFL's single-season rushing record and carry Leslie Frazier's outfit into the far post-season distance. OK, so Adrian Peterson finished nine agonising yards short of Eric Dickerson's vaunted rushing mark, but the momentum behind this NFC North bandwagon was truly immense following last week's can't-take-your-eyes-off-it game with Green Bay.
Now things are a bit different. Green Bay is at home, where they have already beaten Minnesota this season; Charles Woodson is back patrolling the Packers' secondary (and daring Christian Ponder to try anything dramatic THIS week), and the Vikings have used up a lot of mental energy in reaching this stage.
It will take a major unraveling of Aaron Rodgers and his major Lambeau Field arsenal for Minnesota to pull off the winning trick twice in a row, hence most pundits go with home advantage here (albeit, the icy wastes of Wisconsin have not been an especially happy hunting ground for the home team in recent post-seasons, winning just two of their last SIX here).
Prediction: Green Bay 33, Minnesota 17
Indianapolis at Baltimore
What chance a rookie quarterback at the home of Ray Lewis and Co, hey? Just a few short years ago, that proposition would have been akin to dangling raw meat in front of a hungry Rottweiler. Not a pretty sight but a sure bet for another Baltimore win. Only these aren't your daddy's Ravens. They backed into the play-offs with four defeats in their final five games and that Lewis-led 'D' has been less than formidable for much of the season.
There is also the sense that John Harbaugh's team is playing its own, ultimate wild card in Lewis' announcement of impending retirement once this campaign is over. It smacks of a desperate attempt to fire up the Baltimore faithful like never before in the face of the Colts' own emotional mojo, courtesy of head coach Chuck Pagano.
Somehow, this game has the feel of two highly-strung and emotive forces going head-to-head in a melting pot of super-charged passions. How Andrew Luck handles this firestorm of feelings could well decide if Indy can continue to surprise the pundits - although the majority think not.
Prediction: Baltimore 17, Indianapolis 10
Seattle @ Washington
You'd have got name-your-own odds on this match-up at the start of the season, as both teams hitched their wagon to the star potential of two rookie quarterbacks and most of the NFL said "See you in the early picks of next year's Draft."
Washington's all-in gamble on the precocious talents of Robert Griffin III was supposed to pay off a few years down the line, while Seattle's handing of the reins to little-heralded Wisconsin quarterback Russell Wilson - the 75th overall pick in last year's Draft - was tantamount to being away with the footballing fairies, especially as the Seahawks had just brought in ex-Packer Matt Flynn for the little amount of $19.5million.
We all knew Pete Carroll was carefully moulding a dangerous, young and eager defence, but no-one outside the state of Washington expected this piece of coaching alchemy to produce bronze, yet alone pure gridiron gold. But that's exactly how the season developed in the shadow of Mount Rainier, concluding with a five-game winning run that included victories over play-off rivals Chicago and San Francisco and a three-week outburst that totalled 150-30, an NFL record for a three-game span.
The Seahawks also finished unbeaten at home, the ONLY team that could boast that particular domestic advantage and, while this game obviously isn't in Seattle, the kind of momentum and self-belief that this team now boasts is hard to underestimate.
However, there is also a feel of Immovable Object v Irresistible Force in this head-to-head, as the Redskins finished with an impressive seven-game winning streak of their own. RGIII v Wilson is a match-up made in rookie heaven and would normally be derided as "too Hollywood" if we hadn't actually seen it for ourselves.
Now it remains to be seen which first-season star has what it takes in the play-off crucible, and the general consensus is that Wilson has the edge - thanks to the Seahawks 'D.'
Prediction: Washington 16, Seattle 19