Simon Veness condemns Dallas Cowboys's stance on Josh Brent
Simon Veness condemns Dallas Cowboys's stance on Josh Brent and previews a big week in the NFL.
Last Updated: 14/12/12 10:16am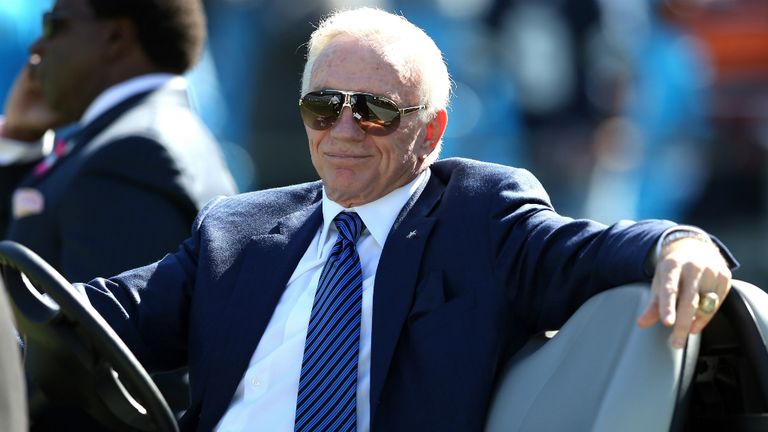 Then he really puts his foot in it, wrecks his car after another late-night drinking binge, kills an innocent party and ends up in jail. You might expect his family to be pretty upset, huh? Enough to say he deserves every punishment and stricture of the law, perhaps?
Not if your neighbour is the NFL and his 'family' is the Dallas Cowboys (although, it seems, it might be any team these days).
I've tried really hard not to join in the usual media rush-to-judgment on the subject of Josh Brent and the tragic death of Dallas team-mate and practice squad member Jerry Brown. I've waited, in vain it turns out, for the Cowboys to make some kind of statement - ANY kind of statement - expressing their disapproval of the turn of events.
Instead, what I've heard is repeated declarations of support for Brent, and multiple expressions of remorse - not for the sheer stupidity and recklessness of the act (or acts, as it's a multi-infraction event, as we'll see) but for the "unconditional support" the Cowboys "family" has for their defensive lineman.
Excuse me? Support? For someone who has not just completely disgraced the Dallas organisation (he was out until the early hours, drinking enough to stun an elephant, just hours before he was due on a flight for the game at Cincinnati, as we will discover), but committed the kind of senseless offence that sickens society in general, especially when it is perpetrated by one of the "privileged class," as all sports stars are these days.
Here's what head coach Jason Garrett said: "What we want to do as players, as coaches and this entire organisation is let him know he should feel supported everywhere he turns. That's what we want to express to him."
Not the fact that he might, just possibly, have done something detrimental to normal public life and, even more possibly, the team, but how they're keen to support him in his hour of reckless stupidity.
Owner Jerry Jones chimed in with the additional insight that: "It's just a tragedy that has happened here with Josh and we want to and are going to be supportive of him."
So that's OK, then. It's fine to go off and commit any kind of nonsense because your "family" will be there to support you.
Out of control
Meanwhile, the rest of civilised society is left with the distinct impression that a good number of our sports stars are completely out of control, enabled in their total disregard for the normal rules and regulations of society by "families" who are just there as "supporters," ready to endorse and support this kind of behavior like never before.
Do the likes of Garret and Jones KNOW how utterly, ridiculously out of step they are? Do they not realise how they consistently give the green light to the reckless drunkards and other miscreants who think playing professional sport is license to do whatever they want, whenever they want?
Forget the fact - for the moment - that Brent (and another 11 team-mates, by all accounts) was out on the lash at two in the morning on the weekend of a game (a fairly important one, by the way). You might even overlook the fact Brent had a previous major citation for drink-driving just three years ago.
But are we also expected to forget that the NFL instituted a special programme SPECIFICALLY to avoid drink-driving incidents, knowing it was an endemic problem and offering every player a tailor-made solution by providing a special designated-driver hotline?
And, instead of pointing out the total, complete lunacy of Brent's actions in disregarding every normal convention - even one set up by his league to try to avoid this very eventuality - Garrett and Jones merely say the player needs "their support."
Police reports indicate Brent was more than twice over the legal limit when he got behind the wheel of his Mercedes and turned it into a major accident waiting to happen. According to a forensic toxicologist, Brent would have to have had about 14 drinks to register that high.
Think about that. Fourteen drinks and then he decided he was fine to drive. With a previous jail sentence for drunk-driving. And a team-mate in his passenger seat. And Garrett and Jones are ready and waiting with their "understanding."
Do they just not understand that by "supporting" Brent they give tacit approval to every other potential drink-driver and rule-breaker in the league? That people will just think, well, if I'm going to get "supported," I can pretty much do whatever I want.
Did this occur to no-one in the Dallas "organisation" that is so keen to speak up in defence of the indefensible?
Ye gods. How can society ever look on these privileged, pampered, overpaid, under-policed individuals and think of them as anything other than social pariahs, a sickness that is tolerated as long as people pay to watch them?
It's somehow fitting he plays for the Cowboys, as a more reckless disregard for normal, decent behaviour is hard to imagine.
OK, now back to our normal programming...
Big week in NFL
This week is big. No, make that huge. With fully 10 games (possibly 11, as the New York Jets are officially still alive for a play-off place, although that would be "alive" as in "barely breathing") that have play-off implications, the media over here are positively salivating at this plethora of possibilities.
And, while about eight teams currently seem locked-in for the post-season, there is still a LOT to be fascinated by. And Sky Sports have two of the most intriguing (live on SS2 HD from 6pm on Sunday).
Green Bay at Chicago is not just a collision of deadly arch-rivals, it is potentially a make-or-break game for the Bears as a fifth defeat in six games would be an absolute back-breaker. The Packers are keen-eyed and desperate to deliver the KO blow but, with key injuries on both sides, it is a brave man who makes a definitive prediction. Fans of both teams may need to watch this one through their fingers and behind the sofa.
Then it's Dallas at home to Pittsburgh, and two more teams who cannot contemplate finishing in the 'L' column - especially after Cincinnati brushed aside the turnover machine otherwise known as Philadelphia on Thursday night to sit right on the Steelers' shoulders - and with a trip to Pittsburgh next on the agenda.
It's hard to imagine what kind of shape the Cowboys will be in, after all the furore surrounding Brent and their breathless, improbable comeback at the Bengals in Week 14. But you have to think they will be running on mental fumes if it's another close game, while the Steelers are so beaten up it's a wonder they can still field a competitive team.
But, if there is one team that will fight you tooth and nail come what may, it is Mike Tomlin's men, so Dallas can take nothing for granted if they are to keep their season alive.
With so many play-off issues at stake (which is unlikely to be the case for much longer), it may just turn out to be the biggest week of the season. Stay tuned, now...