Passing judgement
US-based British sportswriter Simon Veness declares the season over for some big NFL names
Last Updated: 28/11/12 10:28am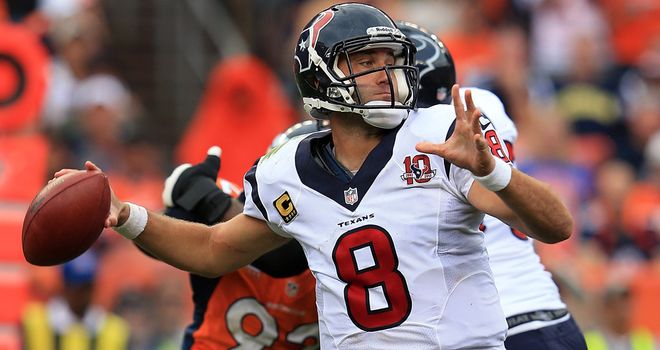 This, folks, is where fully 15 teams find themselves after 12 weeks of the season, and it could actually be more, as the gap between the 'Haves' and 'Have Nots' in the NFL has suddenly become a yawning chasm.
Check out this current Parade of Pointlessness among teams who started the season with high hopes of prosperity: Dallas, Detroit, Kansas City, New York Jets, Oakland, Philadelphia, Pittsburgh and San Diego.
Then add the following selection, who have all proved that lack of talent in the pre-season equals lack of progress in the regular season: Arizona, Buffalo, Carolina, Cleveland, Jacksonville, St Louis and Tennessee.
I'm tempted to add Miami, Minnesota and Seattle to this list as well because, while they are still technically alive in play-off terms, they certainly shouldn't be looking up flight prices to New Orleans in January any time soon.
You see, they are all Quarterbackless in the modern era, an adjective that is sure to become a sporting standard in the not-too-distant future when it comes to summing up a team's talent level, leadership skills and relevance. If your favourite outfit is stinking it up, the chances are they are quarterbackless.
Reason
In a few instances there is a very good reason for it. The team may be racked by injuries (Pittsburgh, Minnesota, Arizona and, to a certain extent, Philadelphia) or they may be feeling the pinch of previous mismanagement (Carolina, Jacksonville and Miami). But whatever the explanation, there is no disguising the fact they are down on their uppers and likely to go nowhere in 2012, apart from to their 2013 Draft board.
Of course, there are also the teams who are totally dominant in most aspects of the game, both on and off the field (step forward New England, Houston, Atlanta, New York Giants, Denver and San Francisco) and these can be said to be Quarterback-rich. They are overstocked with talent and able to take advantage of every little mis-match they find along the way. In the case of the 49ers, they are Quarterbackstuffed.
But it is the 'Have Nots' that are of most concern with fully five weeks of the season still to play out. It's not uncommon for three or four teams to be staring off into the future in the sure knowledge they are not going to be playing any part in the post-season, but FIFTEEN? That's not what the league would expect in these days of parity.
And, while things are not quite that desperate for some of our not-so-fine 15 (the Steelers, Vikings and Cowboys can certainly all turn things around with a win in Week 13), there's no doubt they are not just drinking in the Last Chance Saloon but sucking the dregs of their final beverage ten minutes after the Last Orders call has echoed around a fast-emptying bar.
The underlying reason, of course, is something we have already discussed this season - the ability of your man under centre. Find a passable passer or a lion of a leader and your team is well on the way to gridiron prosperity. But, if you lack THE prime requisite to be competitive in the modern NFL, well, you're going to need something else to get you through, a fearsome defence, maybe, or an innovative coach.
Arizona, Minnesota and Seattle all hitched their wagons to the Bandwagon of Defensive Prowess and enjoyed some success in the first half of the season; St Louis, Tennessee and Cleveland all went the route of coaching ingenuity. None of them currently look likely to feature in any games come January. Because they all lack that priceless commodity - a quality signal caller.
Requirements
This week, as we prepare for the final five-week sprint to the play-offs, there has never been a clearer indication of the requirements for success, and the No 1 building block is a quarterback who can carry a team when the going gets rough, who can come up with the unexpected; in short, who can win games almost single-handedly if necessary.
Of course, it helps if you also happen to have a killer 'D,' as they do in San Francisco, Chicago, Houston, Baltimore and Denver. But the bottom line is simple - no quarterback = no chance.
Just consider the top four teams in the current play-off positions. They are the exact same ones who have been there for the past SIX weeks, and all four will still be there next Tuesday, too, even if they all lose this week. Houston, Baltimore, Atlanta and San Francisco have created such a degree of separation with the chasing pack, you can almost line up the Conference Championship games right now.
In fact, the supremacy of the Quarterback-rich goes further than that. The next four (also division dominators) are nearly all impregnable for another week as well, with the exception of Chicago (although it's hard to see the Bears falling at home to the Seahawks). New England, Denver, the Giants and Bears are all well on the way to locking up a play-off appearance, and a home one at that.
And, with each one, the importance of the quarterback is undeniable. Yes, they are all coached with a degree of firm-eyed surety that escapes the likes of Jim Schwartz (was that the dumbest challenge flag in history against Houston on Thanksgiving Day?), Jason Garrett (a quarterback sneak on first down? Really??), Norv Turner (just three points in a half, with that offence, at home?) and Andy Reid (take your pick of any of the last seven, increasingly ignominious, outings).
Wasteland
But the inescapable conclusion of the 21st century is that no-one can get by with a 'game manager' any more. You're not going to challenge even a wild card spot unless Your Guy can drop back and put it in the hands of his receivers up to 30 times a game. Just look at the wasteland that has developed in Pittsburgh without Ben Roethlisberger and the collapse of Arizona, Oakland, Kansas City and Philadelphia.
Fewer and fewer running backs are prospering - Atlanta, Green Bay and New England are all happy to use the run as an afterthought at times, while fully 20 teams don't have a back with at least six scores - and shut-down cornerbacks are now the top currency in defensive terms (just watch the Seahawks struggle if Richard Sherman and Brandon Browner are suspended).
It is certainly a depressing thought for the Jets, Raiders, Cardinals, Bills and Chiefs, all of whom are light years away from having even a semi-proficient passer. There are big question marks right now for Miami, Minnesota, Tennessee, Jacksonville and St Louis, while Dallas, Philadelphia, Detroit and San Diego are just disaster areas of Quarterbacklessness.
It also means that our weekly Just For Fun feature is fast becoming No Fun at all. Which leads us neatly to...
Just For Fun
Here's where we look at the match-ups we'd have this week if the play-offs were about to start. And there ain't a whole lot to report, folks.
AFC: Yes, it's STILL the exact same six we've had for the past four weeks, and there's no real glimmer of change, either. The Top Six are, well the Top Six and, with the one exception of Big Ben-less Pittsburgh, under no threat at all. Cincinnati have suddenly become a possibility to snatch the final wild card spot, but that's about the only hope of anything new on this Conference's horizons. Once again, while the Texans and Ravens sit out, the Patriots entertain the Steelers and the surprising Colts travel to Denver.
NFC: There's a BIT of movement here, but it's pretty cosmetic. The Falcons and 49ers remain the top two, but the Bears creep back to the No 3 seed instead of the Packers and they would get to host the Seahawks, who are hanging on to their wild card ticket by their fingernails as the Buccaneers, Vikings, Redskins and, somehow, still, the Cowboys all vie to loosen Seattle's grip. The Giants host Green Bay in the other match-up.
But, like I said, none of the Deadly Dozen can be said to be Quarterbackless (especially if Roethlisberger returns sooner rather than later), and that isn't likely to change any time soon.