Lions hungry for win
Simon Veness previews a Thanksgiving feast of NFL and says Detroit must end their holiday hoodoo.
Last Updated: 20/11/12 9:11am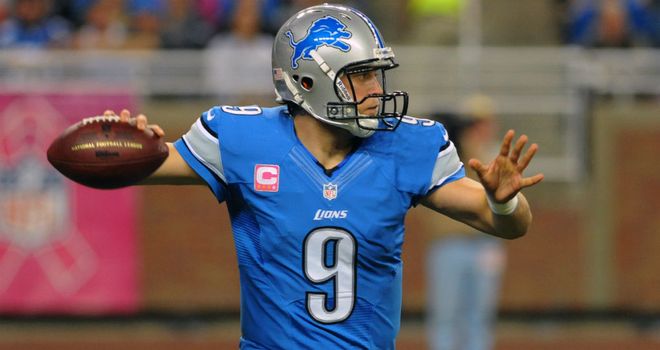 Gather round, folks, for an ages-old tale of pigskin tradition and TV lore, as related from the heart of a country that will down tools en masse on Thursday in favour of a meal the size of the average station-wagon - and a non-stop parade of football.
It probably wasn't what the Plymouth Pilgrims envisaged in 1621 when they staged the first Thanksgiving Day in celebration of a successful harvest. It probably wasn't what George Washington had in mind in 1789 when he proclaimed the first nation-wide Thanksgiving in honour of their new country.
It probably wasn't what the US government imagined when they made the fourth Thursday in November the official annual Day of Giving Thanks in 1941. But, by then, football on this national holiday was firmly established. And then some.
Because, when it comes to tradition, this is the very heartland of American sport, and they REALLY know how to turn a mundane sporting fixture into an absolute bean-feast, with all the trimmings.
So, just as your starter for 10, when do you think football first gained a Thanksgiving Day foothold in a nation's consciousness? The 1950s? Nope. Before the War, perhaps? Wrong again. Back in the 1930s, when a Midwest sports promoter was anxiously looking for a gimmick to drum up attendance? Closer, but absolutely no cigar.
Try 1874, when the Intercollegiate Football Association staged its championship game on the national holiday, and Princeton edged out Yale by the thrilling score of 6-0. Yes, that's 1874 with an 18 and a 74, just two years after the first FA Cup final and three years BEFORE Spencer Gore claimed the first Gentleman's Singles title at Wimbledon.
Not bad, hey? Who'd a thunk it, as they say in certain of these here parts.
Blockbuster
The fledgling National Football League tried it as a publicity stunt a handful of times in the 1920s but it gained serious traction in 1934 thanks to George A. Richards, the new owner of the Detroit Lions, who was casting around for a way to sell his team to a dubious public. He came up with a Thanksgiving Day blockbuster against arch-rivals Chicago - back in an era when the two cities were rivals for the title of Capital of the Midwest - and even persuaded NBC to televise his game live.
Fast forward to 2012, and half the country will be tuned in when the modern-day Lions take on Houston in the 73rd annual Thanksgiving fiesta in the Motor City (also the first of the three games live on Sky Sports 2 HD from 5.30pm).
And, while we sit back on this side of the pond with vastly distended bellies from mountains of turkey, stuffing, cranberry sauce, sweet potatoes, green bean casserole and pumpkin pie, our collective attention will turn from a culinary overdose to a sporting one.
The Lions-Texans match-up is the opening course in this three-stage repast, but it is certainly no appetiser, despite the fact the home team have lost EIGHT straight on this day in successive years, which is hardly a record to inspire the faithful.
But the Detroit men are desperate to keep their fading play-off hopes alive while the AFC South leaders - making their Thanksgiving Day debut in Motown - will be keen to show that their almighty battle to see off Jacksonville on Sunday was definitely NOT who they are.
Jim Schwartz's men poured their whole season into last weekend's 24-20 home defeat by Green Bay as they alternated some inspired football with another late-game collapse and some Keystone Cops moments, highlighted by Monday's suspension of wide receiver Titus Young for "unacceptable behavior," otherwise known as behaving like a petulant three-year-old.
For a team that started the season with such high hopes after last season's first play-off appearance since George Richards was a boy, it is win or bust for the Lions, and against a team that suddenly showed a distinct Achilles heel against the Jaguars. Anyone late from the dinner table could miss out on a treat here (which will not include my in-laws, who all hail from Michigan).
Phenomenon
Next up, we have the distinct pleasure of another chance to see the phenomenon that is Robert Griffin III as Washington travel to that Thanksgiving Day Johnny-come-lately Dallas (who made it a two-game-day tradition in 1966). Cowboys fans will also be holding their breath at what they might see from their team following a schizophrenic 23-20 overtime win against Cleveland that made Detroit seem positively normal by comparison.
Sure, the 'Boys may have scrambled back to .500 and are just a game behind division leaders the Giants, but anyone who says they can predict what Jason Garrett's team will do next is either the next Nostradamus or the biggest pork pie purveyor since Pinocchio.
Finally, our three-course treat (a tradition as recent as 2006, when the NFL added the third game) will conclude with the ultra-tasty morsel of New England at New York Jets, a clash of antipathy-loaded rivals that is not so much a football game as an invitation to a punch-up behind the bike shed.
The Patriots were last seen piling up a basketball score against Indianapolis - but also losing top tight end Rob Gronkowski to a late-game injury in what Bill Belichick critics termed 'Karmic revenge' for keeping his starters in during blow-outs.
Just imagine how THAT scenario will play out in the fevered imagination of Jets' motormouth coach Rex Ryan.
So, if your food isn't quite up to standard on Thursday, you can settle back and give Thanks that the evening's football most certainly WILL be.
Just For Fun
Our weekly look at how things would be If The Play-offs Started Tomorrow sees still no change at all in the AFC but three really eye-catching differences in the NFC following Chicago's taken-to-the-woodshed walloping by San Francisco, which surely had a legion of boxing seconds throwing white towels at the TV at half-time, such was the Bears' complete futility in the face of a rampant 49ers outfit.
So here's what we'd see in the Wild Card round...
AFC: It's still As You Were, with Houston and Baltimore sitting it out while New England play an ailing Pittsburgh team and Denver entertain Indianapolis fresh from their Patriot shellacking. Luckily for the wild card Steelers and Colts, only Cincinnati of the chasing pack moved close enough to be a threat, and even then the Bengals are still only 5-5.
NFC: Atlanta remain top dogs (somehow; did you SEE Matt Ryan's five-interception performance against the team that used to be Arizona? The only reason they escaped with a win was because the Cardinals are truly quarterbackless, a word I will define in full next week), but the new No 2 seeds, who would also earn a first round bye, are now the San Francisco Stormtroopers (49ers is surely far too mild a second name for Jim Harbaugh's super-charged men at the moment), who move up from the third seeding. Green Bay jump up from five to three and would play Seattle (still at No 6), while the Bears slump to the fifth spot and would travel to the Giants, who remain the fourth seeds.
Stay tuned now...!