Sink or swim
After defeat to the Titans, it's a make-or-break week in the NFL for Miami Dolphins, says Simon Veness.
Last Updated: 16/11/12 9:04am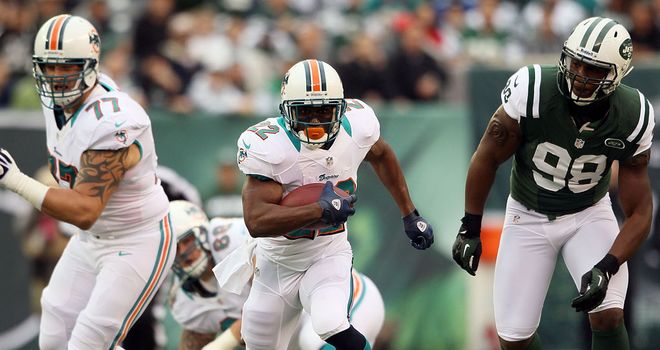 You'll have to excuse me if I have to shout to be heard this week, but the angry buzz out of Miami at the moment is threatening to drown out all forms of communication here in central Florida.
The furore of fan protest is fuelled largely by Miami Marlins followers, who are up in arms at their baseball team dealing away the only five players left on its failing roster that could actually help them out of their self-dug hole, while bringing in seven players from Toronto who are largely has-beens or wannabes (at a cost saving of some £95million).
It's a bit like Arsenal deciding they aren't going to win the Premier League this season, so they're going to ship Theo Walcott, Alex Song, Andrei Arshavin, Olivier Giroud and Lukas Podolski to Sunderland in return for seven members of the Wearsiders' youth team. Not the kind of thing to sit well with the Gunners' faithful (but don't mention it to Arsene Wenger, just in case he thinks it's a good idea).
Not on quite the same scale of fan frenzy but equally distressing was Miami's 37-3 home capitulation to no-hopers Tennessee in the NFL last Sunday, a game that had Dolphins followers in near apoplexy at the marginalising of their team.
Reggie Bush and Co can still, of course, do something positive to relieve the fan angst (starting with their trip to Buffalo, which is live on Sky Sports 2 HD at 1am on Friday), but anything less than a resounding 'W' against the Bills is likely to lead to more grief from our noisy near-neighbours.
Joe Philbin's men had been a pleasant surprise through the first nine weeks behind the play of Ryan Tannehill, Brian Hartline, Bush and a newly-robust defence - until they came a mighty cropper in every phase of the game against the Titans. They weren't even second-best for most of the afternoon.
To say they are now in must-win territory is an understatement along the lines of Neville Chamberlain saying "This Hitler fellow; he's not going to cause any trouble, is he?"
The Dolphins face New England in Week 13 but they could easily be four games behind the Patriots unless they rediscover their winning mojo pronto, and that also means not benching one of their true game-breakers in Bush (can you imagine Minnesota putting Adrian Peterson on the sidelines after just one fumble? No, I thought not).
Make or break
It also marks the start of a make-or-break week for a handful of teams who have all blown hot and cold so far this term but must now decide if they have what it takes to be play-off material - or if they are going the way of the Dodos, sorry, the Eagles (wrong dopey bird), in terms of post-season extinction.
Detroit, who take on Green Bay at Ford Field (live on Sky Sports 2 from 6pm on Sunday), will also be imbibing at The Saloon of the Last Chance after a series of performances that have baffled most seasoned watchers on this side of the pond. They had dismantled Seattle and Jacksonville in successive weeks before losing, hopelessly, to Minnesota for a second time this season.
This is a team that showed a lot of Motown moxey in 2011, reaching the play-offs for the first time in forever and promising more this time out. Their 1-3 start could have been seen as the equivalent of stumbling out of the blocks after winning three of their next four but that second Valhalla at the hands of the Vikings has raised some serious questions about the Lions' ability to hang with the big boys.
Six of their final seven games are against teams with winning records (by a formidable 41-13; only 4-5 Arizona could be categorised as a winnable outing) and, unless they show the Packers they mean business from the start on Sunday, we can also consign them to the bin containing the Republican party's presidential election hopes.
Likewise San Diego. Here is a team that has struggled in the early going in recent years to such an extent that you suspected the starting blocks were not so much an invitation to limber up as an obstacle of towering proportions.
But, in 2012, they came streaking out of the gate like Usain Bolt, galloping to a shiny 3-1 record and finally looking like a team that could keep Norv Turner in his job for at least another year. Only to turn from the Bolts to the Dolts with four defeats in their next five, including a mystifying 7-6 defeat in Cleveland.
Another entry in the 'L' column on Sunday night at Denver and Turner will officially be toast as the three-game gap behind the Broncos will effectively be four as Peyton Manning and Co will own the head-to-head tie-breaker between the two, with just six games to play.
Finally, our quartet of gridiron trapeze artists is completed this week by Cincinnati, another team who have delighted and bemused with almost equal measure. Again, they made a flying 3-1 start only to hit the ground in emphatic fashion to the tune of four successive belly-flops.
Victory over the equally confounding Giants set them back on their feet again but now they must solve Chiefs - and keep winning through Week 15, as their final two games are against Pittsburgh and Baltimore. They may well need to win one of those, too, as 9-7 doesn't look like a play-off recipe in this year's AFC.
It isn't likely to be the ticket in the NFC, either, with the two current wild card places occupied by the 6-3 Packers and 6-4 Seattle. Which leads us on nicely to our weekly...
Just For Fun
Looking at the full play-off picture if the post-season started this week, we can see that - NOTHING HAS CHANGED SINCE LAST WEEK. Gasp.
That's right, our Deadly Dozen from last week are exactly the same this time; there's not a change anywhere in the Nos 1-6 in either Conference, which has to be some kind of record (not to mention fairly intimidating for all those on the outside looking in).
That means it is, AFC: New England v Pittsburgh and Denver v Indianapolis, while Houston and Baltimore sit it out. And, in the NFC, we would still see San Francisco v Seattle and the Giants v Green Bay, while Atlanta and Chicago take a break.