Crunch time in NFL season for Philly and Dallas, says Simon Veness
Simon Veness predicts a make-or-break week for Philly, Dallas and several others in the NFL.
Last Updated: 09/11/12 10:00am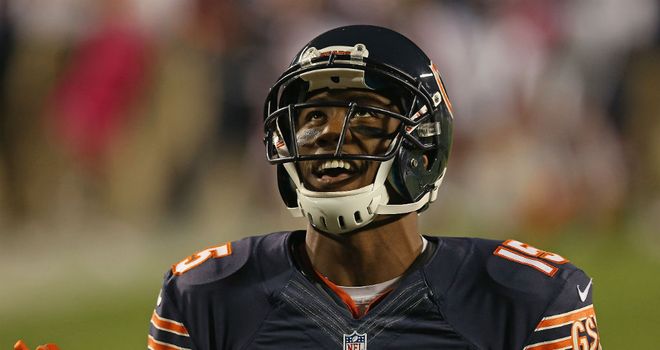 What's that you say? The Show Me state? Oh come on now, you know, Missouri, birthplace of Jesse James, Scott Joplin, Ulysses S Grant, Walt Disney, William Duncan Vandiver and, sadly, the St Louis Rams, most recently seen being hammered into the Wembley turf by New England.
I'm not actually here for the football (it's to do with an insight into Mississippi river-cruising), but it is a handy place to serve as an intro to this week's round of games.
Missouri is nicknamed the Show Me state for 1899 Congressman Vandiver, who insisted that talk and fancy eloquence were cheap and that, when it came to matters of importance, "You have got to show me." Subsequently, Missourians became known for their pragmatism, which very neatly underlines where a handful of teams find themselves at a critical point in the season.
Grip
For different reasons, all of Houston, Chicago, Atlanta, New Orleans, Dallas and Philadelphia, have most definitely reached the Show Me stage, where it is time either to prove their record is for real - or, in the case of the Saints, Eagles and Cowboys, prove that it is some kind of aberration.
With half the season to go, nothing is signed, sealed or delivered, even for the Texans and Falcons, who appear to have, if not a stranglehold, then at least a pretty good grip around the throat of their respective divisions.
And, while the winning quartet have garnered plenty of pundit plaudits in recent weeks, they have yet to receive the unanimous seal of approval that is ready to put them ahead of Green Bay, San Francisco, New England, Denver and even Pittsburgh and the New York Giants as the teams 'Most Likely' to be lining up in Super Bowl XLVII next February.
So this is their big opportunity to show the gridiron world in general - and the doubters in particular - that they are who their record says they are and to confirm they are likely to last the course. For Atlanta in particular, getting to 8-0 was the easy bit; clinching the NFC's top seeding is the tricky part. It's time to live up to Congressman Vandiver's challenge.
Contests
That means there are three major Show Me games in Week Ten, each of them pitting our Contenders (or Pretenders) in head-to-head contests that will go a long way to giving the play-off picture more clarity (see below).
In many ways, Houston against the Bears is the week's heavyweight offering, featuring two teams that have seemingly strolled to the top of their divisions so far this season.
The Texans have surprised few people, of course, as they were strongly tipped in pre-season to be the strength of the AFC South. With the likes of Arian Foster, Andre Johnson, Matt Schaub and a cast-iron defensive front, they have all the components of a genuine Contender. Seven wins in eight games suggests they are pretty much on track. And yet...
And yet, several talking heads think this is a team with a soft centre, an inbuilt aversion to gridiron supremacy. The evidence is largely centred on their resounding 42-24 defeat at home to the Packers, when they had their first chance this year to polish their post-season credentials, and came up sadly lacking.
By the same token, the Bears have been on cruise control for much of 2012, piloted by a typically bruising and opportunistic defence and on offence that has found the addition of Brandon Marshall as close to pure gold as makes no difference. And yet...
And yet, Jay Cutler's offensive line is still giving him nightmares; Cutler is still giving Chicago fans nightmares; and the injury potential of Brian Urlacher is still giving head coach Lovie Smith nightmares. Very few experts are sold on the Bears as serious XLVII fodder, so this week's match-up is a serious Show Me occasion. As it is for the Texans. We're often told that defence wins championships, but whichever of this duo shows the most offence is likely to take a major leap in the pundits' fancy.
Legendary
Perhaps more intriguing is the collision of the unbeaten Falcons and sorry Saints (live on Sky Sports 3 HD on Sunday from 5.30pm), who have limped to an anaemic 3-5 record and yet continue to display plenty of offensive firepower and winning potential - if only their defence could actually stop someone occasionally (as they did, finally, against Philly last week).
Like the Bears and Texans, Atlanta are viewed as somehow fallible, possessed of a soft underbelly that has yet to be exposed but is lurking somewhere just out of sight. They have built up the quietest 8-0 record in recent years, with victories over the less-than-super powers of Oakland, Carolina and Kansas City, and the sceptics insist they have yet to chalk up a 'signature' win. This week, victory over New Orleans would go a long way to quieting the doubters - and making their record much noisier.
Finally, the game that is likely to command most column inches and air-time 'Over Here' this week is a battle of two 3-5 teams that could well set new records for punditry scorn rather than appreciation. Dallas at Philadelphia (live on Sky Sports 3 HD from 9.15pm) is hardly a battle of offensive juggernauts; the duo have averaged less than 17 points each in their past two games and their ability to self-destruct, especially in the red zone, has become legendary.
Yet one of these two will finish the weekend 4-5 and with plenty of incentive to stay on the coat-tails of the Giants, hence the interest in this game will be intense, not least to see if either head coach has been in charge of their last game for a while.
So, when I head back for Florida before the games kick off on Sunday, I will definitely be taking a bit of Missouri along with me. And, if you hear the occasional chant of "Show me!" in the course of the day, well, you'll know I'm just channelling my inner Congressman.
JUST FOR FUN
Continuing our look at How The Play-Offs Would Look If They Started This Weekend, there is again little real change in our Deadly Dozen for play-off prosperity.
AFC: Houston and Baltimore still earn the first-round byes, while third seeds New England would now face the challenge of Pittsburgh (instead of Miami, who drop out of the top six after their loss to Indianapolis) and the never-say-die Colts would still travel to Denver, giving us a mouth-watering clash of Peyton Manning v The Team He Left Behind.
NFC: Again, our top two remain unchanged, with Atlanta and Chicago earning a week off while the others do battle. Numbers three and four San Francisco and the Giants change places after New York's surprisingly limp home defeat at the hands of the Steelers, while Green Bay remain at No.5 and Seattle are our new sixth seeds (replacing free-falling Minnesota). The 49ers would take on division rivals the Seahawks and the Giants would now be home to the Packers in a tasty repeat of last season's NFC divisional round match-up.