Hello Wembley!
Simon Veness shares the US view on NFL at Wembley and previews the Giants-Cowboys rematch.
Last Updated: 25/10/12 9:06am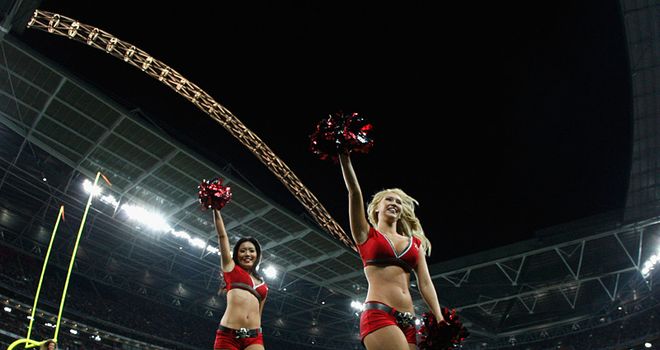 So, how are your predictions doing so far this season? I ask because the first seven weeks of the season have been so wildly unpredictable, you could easily be forgiven for forgetting how it all started back on 5 September, when the New York Giants opened the defence of their title at home to Dallas. And promptly fell flat on their collective faces.
Seeing as the Giants and Cowboys face off again this Sunday (live on Sky Sports 2 HD from 8.30pm), it seems like a worthwhile exercise to gauge how their various fortunes have fluctuated since then - and what pundits are currently sitting with a large amount of yolky substance on their mugs.
First off, the two NFC East rivals have gone in vastly different directions since that opening day face-off (or face-plant, in the case of New York). The big NFL kick-off ended in a score of 24-17 to the 'Boys; it was never really that close and set up Jason Garrett's men for an early-season title charge, right?
The Giants, meanwhile, were poised for a classic After The Lord Mayor's Show season, weren't they?
And that's pretty much where NFL 2012 went all Willy Wonka on us, throwing up more shocks and surprises than a season of Penn & Teller - with almost as much lunacy - as the Replacement Refs marred the opening three weeks with a series of baffling decisions that culminated in Seattle literally being handed a victory over Green Bay that hastened the return of the full-time officials.
Dallas and New York did go off on fairly comprehensive streaks, but in the exact opposite direction you would have expected after seeing the reigning champs get clobbered on their home patch.
Since the emergence of Kevin Ogletree - eight catches for 114 yards and two touchdowns - as an opening-day threat, the Cowboys have lost three of five. They have managed to see off the combined might of Tampa Bay and Carolina by a combined 11 points, while losing to Seattle, Chicago and Baltimore.
As if to underline the boom and bust nature of his team, Ogletree has added just another 13 receptions for 134 yards and zero touchdowns since then, but he is still the second-highest TD scorer on a team that has just two rushing touchdowns to date. TWO. No team has fewer and even New Orleans and Oakland, who have chalked up less than 500 yards on the ground TOTAL, have three scores via running back.
So anyone who backed Jerry Jones to be at Super Bowl XLVII in February is currently feeling a little ill. Equally, those who wrote off the Giants - winners of five of six since the opening day - can also feel fairly nauseous now that Eli Manning seems to have firmly rediscovered his MVP mojo since that Dallas disaster.
Several other pre-season picks can be filed under the 'Sick as a pig' heading, notably Kansas City to win the AFC West, Philadelphia to top the NFC East (yes, it could still happen but after their last two games, the Eagles and turnover machine Michael Vick look like the biggest frauds in the league) and Detroit to grab a wild card (they can't even keep a good hold of the ball, let alone anything else).
The Packers were a solid pick to return to the Super Bowl and could certainly still fulfill that prophecy, but they are going to have to work hard to overhaul Chicago, who are the surprise team in the box seat in the NFC North, along with Minnesota, who have a fascinating clash with the Buccaneers this week (on Sky Sports 1 HD at 1am on Friday).
Sitting pretty
On the other side of the coin, Atlanta and San Francisco are both sitting pretty atop their divisions - and with the pundits who had them as fairly unanimous predictions to be where they are now, only in another nine weeks' time.
Interestingly, not many fancied New Orleans to be attending their own city's party, and that is looking a pretty good forecast right now, especially with a defence giving up 30.3 points per game. Only Kansas, Buffalo and Tennessee are worse, and their post-season ambitions are all but over for another year.
Back in the AFC, the pundits are looking pretty solid - with the one exception of that dreadful flier on the Chiefs. New England, Baltimore and Houston were the trendy picks, fairly comfortably, to claim their respective divisions, with Pittsburgh as a wild card, and it won't take a wild leap of faith to see all four of those still in action come the play-offs.
The AFC West remains a major puzzle, though. Several savvy sooth-sayers (you have to love the alliteration there, don't you?) had Denver as a major contender, provided a certain quarterback was properly 100 per cent again in the neck department. And, as things stand, not only do the Broncos share top spot with San Diego - albeit with slightly anemic 3-3 records - but Peyton Manning has also played every snap.
Not many are currently ready to stick their neck out (ahem) over which one will actually finish as numero uno come 30 December, but you have to think if Manning is still fully upright at the beginning of the month, Denver could well be the team to avoid in the post-season.
Post-season predictions
My pick of Green Bay against Baltimore certainly remains alive but, the way the Texans completely dismantled the Ravens on Sunday does not bode well for at least one half of that equation long-term. But, as I said last week, predictions are a mug's game anyway.
Just for the fun of it, here is how the post-season would align if it started this week:
AFC: Patriots v Dolphins and Broncos v Chargers; byes, Texans and Ravens. NFC: Giants v Packers and 49ers v Minnesota; byes, Atlanta and Chicago.
Of those 12, Miami, Minnesota and Chicago figured in VERY few pre-season predictions and would be the only different faces in the play-offs (replacing Cincinnati, New Orleans and Detroit). But, as we have seen over recent years, there are usually five or six different teams each year, so there is still plenty of scope for someone else to break through.
And yes, that could still be Dallas, Philly, Seattle or Arizona in the NFC, or even Tennessee, Indianapolis or the Jets in the AFC. In fact, no-one is actually ruled out just yet, but you'd have to be an optimist of the most rosey-eyed kind to think any of the one-win teams (Jacksonville, Cleveland, Carolina and Kansas) could yet break out.
If any of that quartet manage even two more wins this year, it might be cause for celebration.
Wembley showdown
PS: Do I get an award for getting all the way to the end of the column before mentioning Wembley and the Patriots against the Rams (live on Sky Sports 2 HD from 4.30pm on Sunday)?
It's not that my view from Over Here refuses to take in the London scene, it's just that there has been surprisingly little comment on this annual diversion so far this week. New England rarely have much to say and their media is still beating them up over their hot-and-cold squeaker over the Jets on Sunday while St Louis have already decamped to North London where, by all accounts, they're enjoying the hospitality of Arsenal.
The US remains ambivalent (at best) at losing a regular-season 'home' game to foreign parts, but it remains a key part of the NFL's long-term strategy for spreading the gridiron gospel and next year's will be even more interesting when Jacksonville begin a four-year engagement as "London's team."
Seeing as how the Jaguars are just a couple of hours up the road from me here in Florida, I await an invitation to visit and talk about their future plans any week now!