Expect unexpected
The latest unpredictabe week of NFL action sums up a crazy season says Simon Veness.
Last Updated: 17/10/12 3:46pm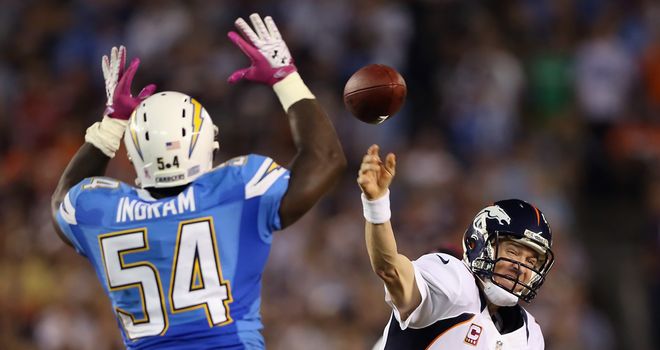 "That's why they play the games, honey!" Those words were offered to me in the matrimonial boudoir at Veness Towers at about 10 after midnight on Tuesday, after Peyton Manning had pulled off a comeback for the ages at San Diego.
I was trying to recount the events of the previous three-plus hours after a week of the inexplicable had been topped off by the kind of game that had you constantly pinching yourself to see if you were dreaming or not.
First, there was Manning the Not-So-Mighty, in the midst of some Keystone Cops special teams play by Denver, who had gone behind 24-0 at half-time and were desperately lucky to get the 0.
And then there was Manning the Invincible, accompanied by the kind of defence that seemed to have gone out of fashion among the Broncos, tearing the Chargers apart with 35 unanswered points and completing a week of upsets with one to cap them all.
Which all left me pontificating to the house in general at how unpredictable everything had suddenly become in the wacky world of the National Football League.
And which, in turn, brought the swift retort from Mrs V, in the kind of common-sense terms that you wish you could have thought of first. "Of course it's unpredictable. That is what sport's all about, isn't it? If it was predictable, why would they even bother playing the games?"
Typical female response to a problem, using logic.
But the thing is, she was dead right. Since when has 'predictable' had anything to do with sport? Isn't that what we admire most about the games we watch, the cut and thrust, the unexpected play, the big finish and, most of all, the random element of surprise?
And, in 2012, the NFL has it in spades. And diamonds, clubs and hearts, come to that. This is now officially Unpredictable Central. It's more fickle than a celebrity wedding.
No-one - and I mean not a single pundit, commentator or talking head - had the combination of Tennessee, Detroit, Buffalo, Seattle, New York Giants, Washington and Green Bay as winners in Week Six. Many didn't fancy the likes of Miami, the Jets and Tampa Bay for wins, either, while each of Atlanta and Baltimore could easily have lost in see-saw games.
Then things went absolutely plum nutty in the Monday Night game as Dr Jekyll and Mr Manning went to work, leaving those of us who are paid to prognosticate over the sport tearing our hair out (and getting lessons in basic logic from our other halves).
So where does that leave us as we look ahead to another week of games that see two sets of 4-2 teams go head to head, both 5-1 teams facing off, two match-ups of 3-3 outfits, and the likes of Dallas, New Orleans, Detroit and Pittsburgh - four highly-tipped teams in pre-season - fighting for their post-season lives less than two months into the season?
Rules for this NFL season
Perhaps with a new set of rules for this season, as follows:
Rule No 1: No team is favourite to win any particular game on any particular day. Ever.
Rule No 2: A winning record counts for nothing (see Buffalo 19-16 Arizona; Cleveland 34-24 Cincinnati; Detroit 26-23 Philadelphia; Washington 38-26 Minnesota; and, most remarkably, Green Bay 42-24 Houston).
Rule No 3: A big half-time lead counts for nothing.
Rule No 4: A big fourth-quarter lead counts for nothing.
Rule No 5: If you have a big lead after the final second ticks off the clock, double-check to make sure the Replacement Refs haven't come back.
Rule No 6: It's not over 'til it's over (another lesson courtesy of Mrs V).
Not terribly helpful, I'll admit, especially if you like the occasional trip to the bookies. But the New Reality of the NFL insists we look at every game - yes, even 1-4 Carolina at home to 2-3 Dallas and 2-3 Detroit at 4-1 Chicago - with no preconceptions and no baggage, even if that means ruling out the evidence of the previous week.
Heck, in the case of Denver, it means ruling out the evidence of the previous 30 minutes.
Instead, we go play by play and quarter by quarter. We don't call for a new head coach when a team is 24-0 down and we don't book flights to New Orleans when a team is 23-10 ahead (has that got your attention, New England fans?). We watch and we react accordingly. Go back to Rules 1 and 3.
For instance, a Detroit team that gave Denver a run for their money in the first-half futility stakes was not a write-off at any stage, and not just because the Eagles are prime candidates to blow a fourth-quarter lead at the drop of a helmet. Go back to Rules 4 and 6.
Parity
And it all comes down to that one dreaded word - Parity. There is now so much talent spread throughout the league, especially among rookies, that teams like Seattle, Miami and Washington can be genuine contenders even with a first-year quarterback, something that has hardly ever happened in the past.
Raw signal-callers usually sat for a season or two, learning the trade behind a seasoned pro and, if they were lucky, getting some mop-up duty at the end of blow-outs. Or they took their lumps with poor teams, being pounded to a losing record like David Carr, Alex Smith, Brady Quinn, Sam Bradford and even Manning, P, in his first year.
Now, however, the talent level is such that Russell Wilson can out-duel Tom Brady; Brandon Weeden gets the better of Andy Dalton; Ryan Tannehill out-performs Bradford, now two years past his rookie battering; and each of Andrew Luck and Robert Griffin III have looked like seasoned veterans at times.
It all adds up to that New Reality, where up can easily be down and victory and defeat can look awfully similar. In all likelihood, we won't be 100 per cent sure of this year's champs until long after the dust has settled in New Orleans.
But, for this week at least, the reality is this: no team is definitely out of the running, even the sextet of one-win outfits, and no team can expect to turn up and win, even those with a two or three-game division lead (or especially those, to judge from last week's performances by Houston and San Francisco).
Sky Sports viewers have a true grandstand seat for this week's action, with Friday morning's Seattle-San Francisco match-up (two of the 4-2 teams) likely to be a major test of their play-off potential (live on Sky Sports 1 HD at 1am). One team is seriously hyped up (that would the Seahawks), while the other is licking some big wounds for last week's dismantling by the Giants.
Equally, Sunday features two similar heavyweight head-to-heads, starting with another team nursing the hangover of a heavy and unexpected defeat (that would be the Texans) against one that some feel played their Get Out Of Jail Free card in their two-point win over the Cowboys (that's Baltimore).
That is live on Sky Sports 3 HD from 5.30pm and is followed by potentially the wildest game of the lot as the Jets travel to another team with a lot to prove (that would be the Patriots). If anyone could honestly divine what to expect from Rex Ryan's men, they deserve some kind of Mystic Meg honour while, equally, no-one can genuinely foresee if the Pats will come out with all guns blazing - or get picked apart in the fourth quarter again.
Me? What, you expect me to make a call? Can I just refer you back to Rule No 1....?