A real arm-wrestle: Simon Veness says quarterbacks will take centre stage again in this weekend's NFL action
Simon Veness predicts a critical day for several NFL quarterbacks, including Michael Vick, in Week Six.
Last Updated: 11/10/12 6:43pm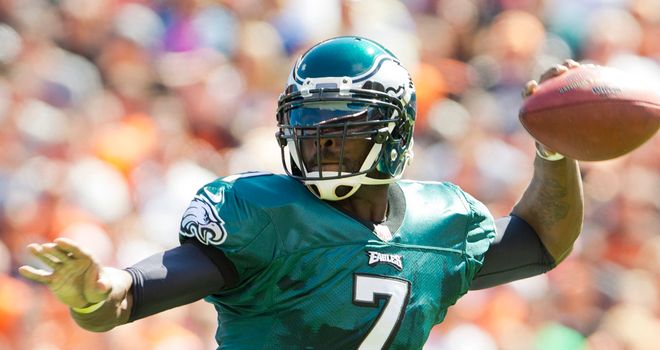 Our TV-viewing pleasure is largely determined by strong-armed passers hurling the ball into the end zone with all the regularity of a high-fibre diet.
Sure, the occasional runner can still get into the act. San Francisco's Frank Gore is the man to watch for rushing touchdowns (five), but only three other backs currently have more than three (Stevan Ridley, Trent Richardson and Alfred Morris, four each).
Contrast that with ELEVEN wide receivers* who have four or more TDs and you immediately see the modern disparity in the run-pass difference when it comes to scoring.
Put simply, you are twice as likely to see a passing score than a rushing one, and the numbers are pretty startling. Through Week Five, we have had 117 rushing TDs and an amazing 235 through the air. That's a staggering 47 successful aerial assaults of the end zone each WEEK. In 1960, the most prolific offence in the league, Green Bay's, managed just nine all YEAR.
I mention 1960 as that was the year in which Johnny Unitas set his mark of 47 successive games with a touchdown, a record finally eclipsed last weekend by Drew Brees (and with Tom Brady already fairly hard on his heels with 36).
So, this is undeniably, unarguably, unmistakably a passing era, an age of footballs flying through the air thicker than love-bugs stuck to my windscreen here in Florida, which is to say, quite a lot at this time of year - about a two-inch layer, and counting.
If you don't have a quarterback who can wing it into a receiver's hands at regular intervals, you can pretty much say bye-bye to the post-season and concentrate on less weighty matters, like what chance the Orlando Magic have this coming season without Dwight 'Superman' Howard (current estimates vary from 'Don't bother turning up' all the way to 'Bwahahahaha!').
To a large extent, that explains the struggles of the likes of Kansas City, Cleveland, Carolina and, surprisingly, Detroit, while the jury is still out at places like Dallas, Philadelphia, New York Jets, Seattle and Tampa Bay.
Fully six passers are already in double figures for TD passes and, of the 11 teams either in first place or with a share of top spot going into Week Six, nine have a quarterback with at least seven passing touchdowns (Philly's Michael Vick and Minnesota's Christian Ponder being the 'odd men out' with just six).
Vaunted
That therefore puts the spotlight firmly on the men under centre when it comes to the three games lined up for Sky viewers this week, and you are likely to hear a lot about the respective signal callers in all three.
Just to start with, the midweek outing of Pittsburgh at Tennessee (live on Sky Sport 1 HD at 1am on Friday) will show if the Titans can expect to have any hope at all this season with veteran Matt Hasselbeck subbing for the injured Jake Locker.
In all honesty, Locker hadn't exactly given Mike Munchak's men a flying start and the 37-year-old Hasselbeck certainly hasn't been an upgrade so far. Taking on the vaunted Steelers' defence is usually not conducive to good QB numbers (or health), hence it is going to take a solid all-round game to keep the Titans from being the early-season No.1 draft pick favourites.
Conversely, Pittsburgh know exactly what to expect from Ben Roethlisberger, provided their offensive line can put together at least a semblance of security, which isn't always a given for the black-and-gold.
Nine TDs and only one interception tell the Story So Far for Big Ben, and you have to think the Tennessee defence - who have already given up 12 passing scores (only Washington are worse, with 13) - could be in for a torrid time.
Come Sunday, two of the teams currently in the 'Quarterback Quandary' mode go head to head as the Eagles host the Lions (live on Sky Sports 4 HD from 5.30pm), and something simply has to give here.
Either, Vick will re-establish himself as Fantasy Football's greatest asset, OR he will give the Lincoln Financial Field faithful - a fickle bunch at the best of times - more reason to utter their new battle-cry of 'Let's get ready to fumble!'
And either, Matt Stafford will remember to start putting the ball back in the hands of the NFL's biggest wideout weapon in Calvin Johnson instead of the opposition's (Stafford has just THREE TD passes, as against four INTs), OR the Lions are going to have a significant quarterback controversy just a quarter of the way through the campaign.
It is a genuinely fascinating prospect, as both QBs are currently way below their best, and they just cannot afford to go on playing like it's the pre-season and the games don't really count.
Amazing
Finally (also on Sky Sports 4 HD from 9.15pm), we get a look at a truly stellar match-up that could well be a preview of January. As, indeed, it was earlier this year when New York Giants travelled to San Francisco en route to another amazing Super Bowl success.
This time around, however, the 49ers are the offensive juggernaut and the Giants are wondering what they will get from an offence that has alternated hot and cold in successive weeks.
Jim Harbaugh currently has his team playing with a chip on their shoulder the size of California, and their 79-3 combined romp over the Jets and Bills in the past two weeks is testament to a well-coached, well-grooved and well-prepared bunch, led by a quarterback in Alex Smith who is the No.1 for passer rating and No 3 for completion percentage, as well as the owner of a gaudy 8-1 TD-INT ratio.
Faced by a passer in the shape of Eli Manning who is on course to throw more than 30 touchdowns this season, we can expect to see something of a passing clinic by both teams, albeit one that will also have a significant defensive component in the shape of the No.2 overall defence (San Francisco) and the joint No.3 for interceptions (the Giants).
If you had to pick the team most likely to be representing the NFC in New Orleans next February, most pundits would nominate the 49ers, but their loss at hard-tackling Minnesota served notice to the rest of the league that they CAN be stopped - although clearly the Jets and Bills didn't get that particular memo.
This kind of game tends to bring out the very best in Tom Coughlin's men, but, if they can't put a serious dent in Smith and Co, it is going to give the bookies plenty of incentive to ink San Francisco as the conference's top seed come January.
And, the player who was the No 1 draft pick way back in 2005 will finally get his due as a pretty decent choice after all. Confirming, once and for all, quarterbacks really DO make the NFL world go round.
*The Magnificent Eleven with four or more TD receptions so far are: James Jones and Victor Cruz with five each, and then Scott Chandler, Marques Colston, Vernon Davis, Tony Gonzalez, AJ Green, Julio Jones, Heath Miller, Andre Roberts and Kyle Rudolph all with four.