Bring on the 'ball
Uber-talented QBs and multi-faceted running backs... Simon Veness expects a spellbinding NFL season.
Last Updated: 04/09/12 11:23am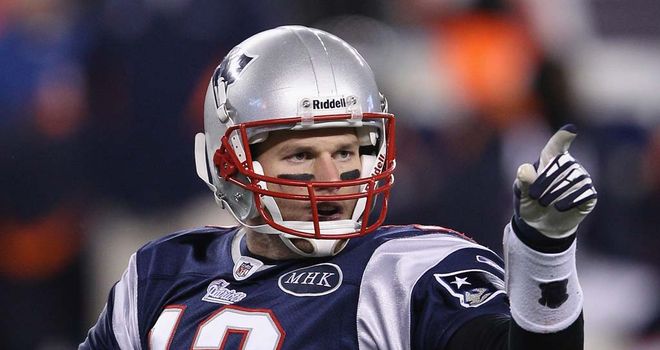 Ladies and gentlemen, welcome aboard Gridiron Airways Flight 2012 to New Orleans, Louisiana.
We will be flying at an altitude of 6,000 passing yards and our route will take us over Green Bay, New England, San Francisco, Houston, Philadelphia, Baltimore and Atlanta.
Your chief flight attendant is Mr Aaron Rodgers and he is ably assisted by the rest of our cabin crew: Mssrs Tom Brady, Drew Brees, Matt Schaub, Joe Flacco and Peyton Manning.
So please, sit back and relax for the next five months as we take you to Super Bowl XLVII via the biggest exhibition of passing the world has ever seen...
Yes, folks that is the scenario-in-waiting as we sit in the departure lounge prior to this year's NFL flight of fancy. It is a positively intoxicating proposition of quarterbacks airing it out, big-play wide receivers hauling in touchdown after touchdown and defences running for cover against the aerial assault.
Pretty much everywhere you look these days, predictions and prognostications are all based on this being The Age Of The Passer, where the QBs are the de facto game-winners and, if you don't have a quality arm under centre, your chances of getting anywhere near The Big Easy next February are slightly less than nil.
Just look at the main forecasts for those who are likely to be the XLVII contenders - step forward the Packers, Patriots, Falcons, Ravens, Eagles and 49ers, with strong outside bets also cast for the Broncos, Cowboys, Saints and the Lions.
In each case, there is a stud QB (Rogers, Brady, Brees and Manning), one who seems finally primed to fulfill their passing destiny (Matt Ryan, Michael Vick, Tony Romo, Matt Schaub and Matthew Stafford) or one who has been handed the keys to a shiny new air-it-out arsenal (Flacco and Alex Smith).
Virtually every scribe and pundit points to the fact last year's offensive numbers were off the charts, with no less than three QBs topping 5,000 yards and Eli Manning - of the New York Giants, lest anyone forget the massively-overlooked reigning champs - Philip Rivers and Rodgers all threatening that mark.
Considering only ONE previous player had ever topped 5,000 before - and absolutely no prizes for knowing it was Dan Marino - last year's aerial outburst was a deluge of which Noah himself would have been proud, and the end zone rain of footballs shows no sign of slowing down. Predictions of a 6,000-yard passer are already floating in the pigskin stratosphere.
After the catching exploits of Calvin Johnson, Victor Cruz, Jimmy Graham, Rob Gronkowski and Jordy Nelson in 2011, MORE is expected of them, along with the likes of Brandon Marshall (now reunited with Jay Cutler at Chicago), Andre Johnson (restored to full fitness in Houston), Vincent Jackson (the new main man at Tampa Bay) and up-and-coming speedsters like Torrey Smith (Baltimore), Antonio Brown (Pittsburgh) and Julio Jones (Atlanta).
Bombs-away
When you then consider Brady has a new deep threat in the shape of Brandon Lloyd (with a gaudy 15-plus career yards-per-catch average); Peyton Manning has two new stars-in-the-making in Eric Decker and Demaryius Thomas; Smith's additional weapons include Mario Manningham and Randy Moss; and we haven't even mentioned Wes Welker, Roddy White, Dez Bryant, Greg Jennings, Marques Colston, Aaron Hernandez and DeSean Jackson; then things get SERIOUSLY pass-heavy.
Throw into the mix the fact the tight end position is now no longer just a big body who blocks (Graham and Gronkowski blew that idea WAY out of the water), and things are even more in favour of the bombs-away approach that has been on the rise since 2004. Clear-air turbulence? You ain't seen nothing yet!
Add in the new era of pass-catching running backs - both specialists like Darren Sproles, Reggie Bush and Dexter McCluster, and safe-hands experts such as Arian Foster, Ray Rice, LeSean McCoy and Chris Johnson - and you have the formula for as explosive a passing mix as has ever existed on Planet Football.
Now I'm going to offer one further factor for this light-the-blue-touchpaper-and-stand-well-back state of gridiron affairs - the no-huddle approach.
According to Sports Illustrated super-sage Peter King, the growth of teams eschewing the use of a traditional huddle before each play has been almost exponential in recent years, with the Packers reverting to the no-huddle on a whopping 27 per cent of plays in 2011.
Buffalo, Miami, Baltimore and New Orleans are all said to be planning more of these fast-forward plays this season, which figures to put even more defences on their heels, gasping for air and watching passes drop out of the sky at over-manned cornerbacks and safeties.
Glean
So, if all that is the Big Picture stuff, what can we expect in the smaller-window view, especially as it refers to each team?
Just to start with, it is no use referring to the pre-season scrimmages in terms of results. The AFC East went a combined 1-15 for the warm-up period while teams like Jacksonville, Tennessee, Seattle and Chicago would all be flying high in the Prediction Stakes if we took any notice of Ws and Ls in August.
If anything, there is even LESS we can glean from the pre-season than usual, especially with injury doubts hanging over the likes of Dallas (Jason Witten, Jay Ratliff and Mike Jenkins), Minnesota (Adrian Peterson), the Giants (Hakeem Nicks and Prince Amukamara), San Diego (Ryan Matthews) and Pittsburgh (most of their "new-look" offensive line).
But, if we lean (heavily) on the new QQ rating - the unofficial Quarterback Quotient that says a team MUST have a genuine gunslinger under centre, with a full set of weapons - then we can definitely divine a pattern for this year's post-season.
The QQ says quite clearly the aerial route is the assured flightpath to a date at the Louisiana Superdome, although it is no recipe for success if one of your marksmen is Billy the Kid and the others are Billy Bunter and Billy Joel (step forward Indianapolis, Tampa Bay, Carolina, Washington, Cincinnati, Tennessee, Minnesota and San Diego).
Equally, those without a proven Wyatt Earp or Jesse James at all can start looking ahead to next year's draft and planning accordingly - namely, Jacksonville, Miami, New York Jets, Cleveland, St Louis, Buffalo, Arizona and Oakland.
The Nearly Men in this year's sharp-shooting class are generally reckoned to be Chicago, New Orleans, Seattle and the Giants, with a special mention for the Seahawks under the title of 'Most Intriguing' for their selection of Russell Wilson at quarterback and the inevitable mini-frenzy over the idea of Russell-Mania (groan).
Candidates
This leaves a landscape of exactly a Deadly Dozen to scrap it out in January and February.
In the heavily-favoured NFC, it will be Green Bay, Atlanta, Philly, Detroit, San Francisco and Dallas, while the AFC candidates are reckoned to be Baltimore, New England, Pittsburgh, Kansas City, Denver and Houston.
At least half the pundits push mightily for the Packers to be back in the title game, while the AFC 's vote is split between Baltimore, New England and Houston.
For my money, I can definitely see Rodgers steering the men in green-and-gold to a second Vince Lombardi trophy in three years and the Ravens could well be there to give them a heck of a game.
But, if a certain Manning DOES manage to disprove a variety of doubters over his neck-and-fitness worries, I equally wouldn't be surprised to see the Broncos airing it out in N'awlins.
But whoever does eventually fight their way to the top of the heap, I think we can be pretty sure they are going to put on a heck of an aerial demonstration. And those of us along for the ride can definitely expect to be flying first class.