Learning process
Simon Veness looks at what gridiron fans can glean from the early encounters in the NFL pre-season.
Last Updated: 15/08/12 11:03am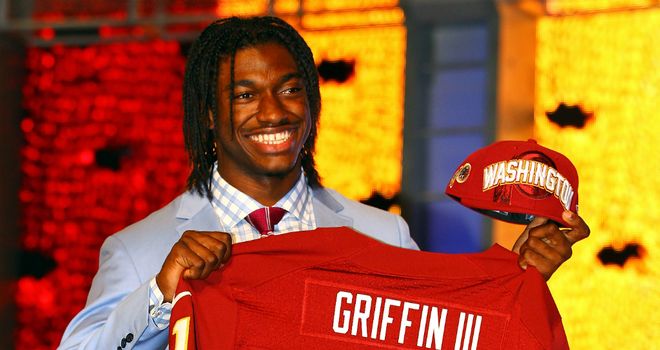 Just as you should never set any store by our local weather forecast here in Florida (which is wrong about 80 per cent of the time, by my calculation), trying to make sense of pre-season form is equally a fool's game.
But, in just the same way as Miami were initially happy to take a chance on Chad Johnson (just remind me how that worked out, Dolphins fans?), I'm ready to take a few wild swings at what we learnt from the opening round of warm-up action - and where several teams are likely to go from here (which is probably nowhere at all in the cases of Oakland, Chicago and St Louis, who all redefined the word 'inept' in their first games).
First of all, fans in Indianapolis, Washington and, to a lesser extent, Denver probably need a lie-down in a dark room to recover from the giddy feeling of seeing their new quarterbacks in stellar form from the word go.
We've already heard a lot this week from the media over here comparing Andrew Luck's first-pass, first-touchdown outing for the Colts to that of Peyton Manning (one pass, one TD on his debut 14 years ago), but here are a couple of gentle reminders of the let's-keep-our-feet-on-the-ground variety.
First of all, Luck's 63-yard touchdown to Donald Brown actually went about four yards through the air and the rest on the ground as the Rams defence staged a Lord Lucan act of amazing proportions. And the fact that St Louis managed to put even three points on the board (as opposed to the 38 Indy piled up) surprised some observers.
Also, the Colts' 2-14 record of recent memory is nothing to gloss over. The team still lacks proven wide receivers and offensive linemen, while linebacker Pat Angerer - the signal-caller on defence - broke his foot and will be out for at least six weeks.
But Luck certainly looked cool and smooth enough and, if new head coach Chuck Pagano can keep his No 1 draft pick in one piece, there is certainly hope that the team can be competitive in a division that lacks a clear pre-season favourite right now.
Impressive
Equally, Redskins followers are in Roman numeral heaven after the first action for Robert Griffin III, who looked every bit a proven NFL performer in his 14 plays of action, while the defensive side of things looked, if anything, even more impressive in restricting highly-touted Buffalo to just six points, and only three with their starters in the game.
A sobering thought for Washington fans, though, is that they won their opening two pre-season skirmishes last year by a combined 30-10 - then won just five games in the regular season.
The long-awaited return to action of Manning, P., was just about the only thing anyone wanted to talk about in the wake of the Broncos' impressive 31-3 demolition of the Bears, despite the fact the ex-Indianapolis star was just four of seven for 44 yards and one interception in his orange-and-blue debut.
Just seeing the four-time league MVP on a field at ALL was a bonus for many, though, and, while he freely admits he still has a lot of groundwork to catch up on in Mile High Ville, there is enough cautious optimism in Colorado right now to think their decision to place their future entirely in his hands may not be as big a gamble as it seemed last March.
It was also helped by the rest of the team absolutely neutering the Bears, to such an extent that the three points the home side did eventually score came as a major surprise.
Chicago fans can comfort themselves (to some extent) with the fact none of Jay Cutler, Brian Urlacher, Julius Peppers and Matt Forte made it on to the field at any stage, but Lovie Smith is going to want to see an awful lot more of his men in scoring terms this week at home to RGIII and Co.
Offensive
And what of the Jets, I hear you ask? At least, I'm sure I would if I could hear anything over the incessant Big Apple media babble about anything to do with the men in Kelly green.
The local punditry's fascination with the ongoing Tim Tebow-Mark Sanchez hype still goes all the way up to 11 and there is little sign it will be cooled off by the meagre pickings of the Jets' 17-6 opening loss at Cincinnati, when the two quarterbacks managed just a combined 48 yards on FOURTEEN (count them, 14) passing attempts.
Offensively, the Jets were, frankly, just that - offensive. But - and whisper this quietly in a city that has eyes only for the quarterback situation - Rex Ryan's defence was actually pretty good and rookie defensive end Quinton Coples fully justified his first-round draft pick. If the offence ever catches up, a New York resurgence may not seem quite so daft.
Equally prominent in the not-do-daft stakes (and a surprise for the likes of Yours Truly, who was genuinely baffled by this pick), Miami first-rounder Ryan Tannehill looked immensely comfortable as he led the Dolphins for much of the game against Tampa Bay.
The Fish still lost - 20-7 - but they looked much more composed and capable with Tannehill at the helm than with either of last season's starter Matt Moore or fellow rookie Pat Devlin. The team's 'Hail Mary' acquisition of David Garrard in the off-season may even be an after-thought if the big Texas A&M product continues to develop at fast-forward pace.
Lethargic
Finally, for Dallas, the 3-0 'winners' of their opening scrimmage, and Oakland, the losers in every possible sense, there is definitely a hugely sobering effect to being out-scored by most baseball teams on the same night.
Both teams looked horribly lethargic and their inability to move the ball at all for long periods suggests there are a LOT of coaches who will be burning the midnight oil before September 5.
If anything, this 'game' merely underlined the necessity to play most pre-season outings behind closed doors, and probably in the dark as well, if possible.
Very few teams do anything more than knock off the rust and go one or two pages into their playbook in Week 1 of the warm-up phase, but to record a big fat zero is a bit of an eye-opener (or eye-closer, if you're just a casual fan).
So, with that in mind, we edge cautiously into Week 2 in the hope that things can only get better (at least for the Cowboys and Raiders). And hopefully, just hopefully, we might see a real game or two.