Major test
Simon Veness details the conditions and contenders for this week's USPGA Championship.
Last Updated: 08/08/12 4:39pm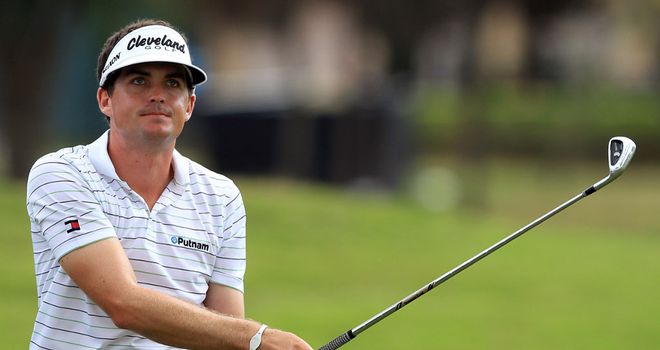 Hold tight, folks, for the final twists and turns of this year's golf roller-coaster.
It will be a ride unlike anything we've seen even in topsy-turvy 2012 (or the Bummer of a Summer as one wag of a pundit has dubbed it over here after yet another final-round collapse by a leader, this time Jim Furyk, in last Sunday's WGC-Bridgestone Invitational).
Sure, there is still that Olympiad thing going on in east London, but re-tune your geographic dial about 4,000 miles to the west for four days from this Thursday and I guarantee the sporting action will be every bit as compelling. And unpredictable.
To get a proper handle on things this week, I decided to do what the pros do, and consult a teaching guru. And not just any teaching guru.
Here in sunny Orlando we are lucky to have the state-of-the-art Brad Brewer Golf Academy, run by the former PGA tour pro of the same name - a 28-year associate of Arnold Palmer, inspirational tutor for any number of young pros from Venezuela to Japan (I said it was high-tech) and author of a wonderful golfing book*.
I figured if Brad could coach me into hitting the ball straight (ish), he could also give me the inside track on how things might unfold at Kiawah Island Golf Resort's Ocean Course, home of the infamous 'War On The Shore' in the 1991 Ryder Cup and the kind of course to send hardened pros screaming for a darkened room.
Monster
For those who remember that fateful Ryder Cup location back in the days when we were still trying to come to terms with three successive European victories, it was a brand new course on the South Carolina shore that, with the merest gust of wind, became a 7,700-yard monster with wicked fangs and impossible-to-read greens.
While the local media - with the aid of a confrontational Corey Pavin - played up the 'War' angle, the lasting image was of a stunned Bernhard Langer inadvertently handing the Cup to the home team with a missed six-foot putt that would have won his singles against Hale Irwin and denied Pavin and Co their richly-celebrated first win for eight long years.
In the intervening time, the aptly-named Ocean Course and its capricious winds has played host to the World Cup of Golf twice and not a lot else. Few of today's pros have ever played there and its reputation as a sand-and-swamp-infested beast with a tough front nine and a truly nasty inward series is well deserved.
It was named the toughest course in America in 2010 for its large slopes, numerous bunkers (or 'waste-sand' as they will be termed this week, meaning players CAN ground their clubs in them and even, oh horror!, take practice swings) and those vicious direct-from-the-Atlantic breezes that can gust from 0-45mph at the drop of a six-iron.
So, after Brad had coaxed the best series of medium-irons out of me in my brief hacker life (plus several four woods that brought a startled response of "Where the heck did THAT come from?!" or similar from Yours Truly), we settled back in the clubhouse afterwards with a couple of products of the Blue Moon Brewing Co of Golden, Colorado - highly recommended, by the way - for the key question:
Who will sail home this time on the Ocean Course?
Rarity
Brad confided: "First of all, they are playing a great golf course. The fairways are generous and there is really no rough - just sand and swamp. It really has the 'Wow!' factor and will suit the bombers like Bubba Watson and Keegan Bradley.
"But watch out for the winds. If they blow even mildly, it produces conditions unlike anything most players are used to and the back nine is a real challenge. It will play at least its full 7,700 yard length and even Tiger is going to be hitting some six irons
"There is a Bermuda grass called paspalum on the greens, and you'll hear it mentioned a lot. It's a rarity on the tour these days and takes some reading (As Bernhard Langer can attest only too well, sadly - SV), while some players will just not know how to play some of the shots required here when it blows.
"The final four or five holes can be a disaster, so we may well see some interesting sights during the course of the tournament."
While Watson and Bradley already have Majors to their name - the latter at last year's US PGA in Atlanta and the former most famously at Augusta in April - Brewer is also prepared to admit the current amazing run of 16 different consecutive winners of golf's big titles could well continue.
He told me: "Lee Westwood is just too good to go on just missing out while Dustin Johnson is also ready to break through and I would love to see Adam Scott make up for his heartbreak at The Open last month.
"But, as good as he is, I can't see Luke Donald hitting the ball long enough to be really competitive here. It is going to take muscle, perspiration - and a little luck."
Warrior
Of course, the name of Tiger Woods has to crop up in any conversation about Majors, even though our former local resident (now moved to the Florida coast in the quaintly-named Jupiter) has not added to his total of 14 since June 2008.
Brad insisted: "Tiger is completely fixed on Jack Nicklaus' total of 18 Majors - it is his big motivation and he is close to being back to his best. He has been dealing with a lot of frustration but you can see his game coming back together and Kiawah is almost tailor-made for him. The guy is just a flat-out warrior and the US PGA set-up seems to suit him, so he's likely to be firmly in the mix on Sunday."
As a fitting sign-off to our friendly golf chat, Brad offered a key secret of golf's greatest teaching gurus. "We call it unconscious competence," he explained. "It's the ability to repeat good habits without actually thinking about them.
"The great Malcolm Gladwell once said it takes about 10,000 repetitions to get into the realm of unconscious competence. In the past, that used to take pros into their 30s before they were really in that 'zone.'
"But now you are seeing the likes of Rory McIlroy and other younger players - like Bubba and Keegan - showing they have mastered that idea at a much earlier age, and we are into a whole new realm of golfing expertise. It is great to sit back and watch."
And, believe me, I will be doing just that this weekend when the title will be on the line - and Kiawah Island can be as beastly as it likes.
* 'Mentored by the King' by Brad Brewer is as good a sporting inspiration book as there is, combining unique insights into the life and times of Arnold Palmer as well as valuable life-lessons for the golf course - and beyond.