Football fantasy
US-based British sportswriter Simon Veness is sceptical of the NFL's bid for the Olympics...
Last Updated: 06/08/12 8:50am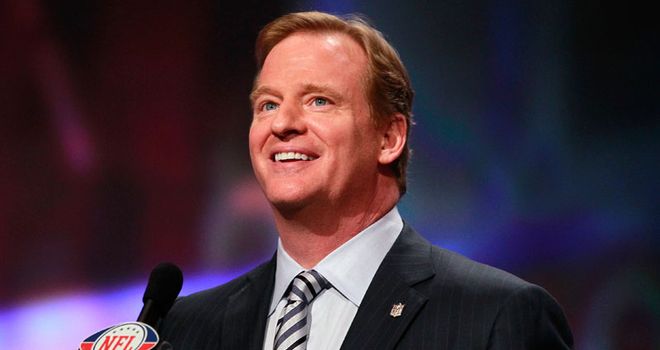 OK, now we know he's away with the fairies. NFL Commissioner Roger Goodell has a lot of fine points - steering the league through last year's minefield of the player lockout being a prime example - but suggesting, as he did last week, that American football should be in the Olympics is tantamount to calling for the men in the white coats.
At a time when the NFL is pretty much being assaulted on all sides by all manner of off-field issues - let's just START with the thousands of former players currently suing over the concussion problem, then add in the farce over bringing in replacement refs for the pre-season and top it off with the legal mess over the Bounty-gate suspensions at New Orleans - you'd think they might want to keep a low profile, especially in the file marked 'Fruit Loopy.'
And yet there it was, large as life on radio's Dan Patrick Show last week, insisting football "should absolutely" be an Olympic sport.
"Huhh?" And "Whhaaaaa???" To paraphrase a certain JP McEnroe - you cannot be at all non-jokingly somber-minded.
Now, you won't find many bigger fans and supporters of the gridiron game than me. I was a reporter when the World League kicked off in 1991; I've covered football for all of the intervening 21 years, including 14 Super Bowls. I've been there, done that and bought copious amounts of NFL-logo'd T-shirts.
I've argued for years that football needs more coverage in the UK as it has a small army of devoted fans here, it draws rabid support right across the country and it could sell out the annual London game several times over.
And even I think the idea of "football" anywhere other than the United States is certifiably insane.
In case The Commish hasn't been paying attention, the NBA - sorry, the USA Olympic basketball team - just destroyed Nigeria by around 500 points (OK, it was "only" 156-73, but it was a record by some distance) and no-one else is likely to get close to Kobe Bryant, LeBron James and Co at this Olympiad.
What does he want? The USA football team to score MORE than 156?
Because that's what you'd get if anyone actually bought into this sporting fantasy, this contest of insane ideas.
It would be the biggest flight of fancy since Icarus waxed feathers to his arms and said "Hey boys, how about a little jaunt across the Mediterranean?"
Delusion
Here's what Goodell actually said during his radio delusion: "We're already taking steps to gain IOC recognition. We have, I think, 64 countries that are playing American football now, and that's one of the requirements. That's been growing dramatically. I think it was 40 just five years ago."
No, Roger, that is 64 countries that have HEARD of American football. If you're lucky. You couldn't put together a football team to play the USA from the rest of the WORLD.
He went on: "Our point is just to keep growing the game. We're having a tremendous reaction in London and the UK for the game of football, our regular season game over there is sold out again this year, we are seriously contemplating, as early as 2013, playing two NFL games there next season, and I think we'll do that."
Well, that's OK then. We can have the Wembley crowd take on the USA at the next Olympics. As long as we can play all 80,000 of them at the same time, we MIGHT just hold the American team under three figures.
But Roger had more: "It's a response to the tremendous fan reaction and the growth of the game. If we can continue to grow the game there and have the fan reaction that we have, there very well may be a franchise in London."
Yes, and it will still be 100% American, give or take the odd Brit that might get into the team as a kicker or receiver. Oh, wait. Germany has a player in the NFL. Perhaps they can build a team around New England's Sebastian Vollmer, as long as he can play on offence and defence, and probably special teams as well.
And then there's American Samoa. They have several dozen players in the league, and Troy Polamalu would make a great captain (provided he can shake off that concussion thing). There are all of five American Samoans at the current Olympics, but surely they could scrape up another 45 to field a football team?
Absurd
But then there's that whole 50-man team snag. With the Olympics already bulging at the seams with more than 14,000 athletes, the idea of adding, say, another 12 teams and 600 extra competitors is borderline absurd.
Anyone unlucky enough to be in the USA's group (and there would have to be qualifying games, of course, unless the IOC just had a competition to decide who plays America for the gold medal, which wouldn't sit well with the whole Olympic ideal) might also need to bring a couple of hundred replacements for the unfortunate souls who would get the 'privilege' of going up against the NFL's finest - along with a one-way ticket to the nearest intensive care unit.
If you thought The Longest Yard was brutal, it would be nothing compared to Olympic football, with players from, say, Lithuania and Nigeria (two of the current London basketball crop) going up against the likes of Mario Williams and Terrell Suggs.
And, unless you expected the teams to be able to turn around and play something like eight games in 14 days like the basketball and soccer schedules, an American football tournament could easily need six to seven weeks to complete, which would be patently absurd.
Nonsense
The ultimate nonsense, of course, is the real giveaway right in Goodell's own quotes, where he makes the 24-carat mistake of calling it "American" football.
It is an American sport, played professionally exclusively in North America (i.e. the USA and Canada), along with significant armchair followings in Britain and Germany and a handful of other European countries, plus, to a lesser extent, Mexico and Japan.
Yes, that's right, of the 205 countries represented in the current Olympics, only TWO could actually field a team for "American football," and that's hoping Canada could re-train its players for the smaller field and other rules that would presumably need to be implemented for the "American" game.
And, as good as the London Blitz (the reigning three-time Brit Bowl champs and arguably the best team outside North America) might be, it would be generations before they could even hope to be competitive against any unit drawn from the NFL, although team GB against any of the Netherlands, Serbia, Finland, Denmark or Germany might be a decent contest.
Perhaps that's the answer. We CAN have American football in the Olympics. As long as America doesn't play.