Signs of the time
As the NFL pre-season period begins, Simon Veness assesses how each team is shaping up.
By Simon Veness
Last Updated: 27/07/12 9:27am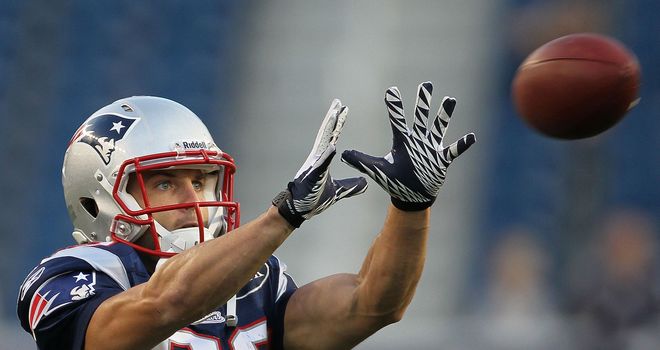 If sporting omens took the form of traffic lights, there would be some big, bright - and urgent - reds flashing this week as the NFL finally gets back to doing what it does best, playing football.
OK, so it's only the start of the six-week pre-season period, but there are enough danger signals for some teams - not to mention the league itself - that you feel their warm-up campaign will be not so much red-hot as hellish.
Take Detroit, for example. After eight - count them, eight - player arrests in the off-season, the Lions finally decided to make an example of multiple miscreant Aaron Berry, cutting him from the team in a desperate bid to avoid being known as the Detroit Lags (or having more players in court than the Pistons).
With that in mind, I decided to view the opening week of pre-season through the traffic light lens - with teams in Green, Amber or full-on Red-light conditions. Let's start with the Good News outfits.
Green Lights
New England - it's virtually all good news for the Patriots, although getting Wes Welker signed to a long-term deal would be the icing on the cake. In many ways, the offence should be even BETTER than the potent 2011 version while the return of a fully fit Andre Carter will be key for the defence.
Buffalo - yes, another AFC East team has had a great off-season and is well equipped to make some moves this year. Now, can Mario Williams REALLY make a difference to the Bills' D? If he gets them going in pre-season, this could be a banner year in upstate New York.
Cincinnati - the Bengals have cleaned house in a thoroughly promising way and, while there is still a green (as in untried) look about much of the team, their blueprint for success looks much more sound than recent versions.
Also looking good - Philadelphia (as long as Michael Vick doesn't get injured - which may well be wishful Philly thinking); Carolina (great addition in the form of San Diego running back Mike Tolbert); San Francisco (some distinct upgrades to an already play-off calibre team); Green Bay (adding centre Jeff Saturday and Michigan State's beastly defensive lineman Jerel Worthy could be huge); and St Louis (well, the only way for the Rams is up, isn't it?).
Amber Lights
Atlanta - nothing really to worry about here. Except the Falcons have failed to upgrade an offence that completely melted in the play-off heat last time out. They will be NFC South contenders but will they have what it takes come knockout time?
Baltimore - it's hard to see the Ravens not being competitive as soon as arch-rivals Pittsburgh show up on their radar, but how do you replace players like Terrell Suggs, Jarrett Johnson, Ben Grubb and, possibly, Ed Reed? Those are some mighty big holes to fill and, if the D doesn't help keep their team in it, you can see Baltimore struggling against the likes of the Eagles, Patriots and Cowboys.
Chicago - best case scenario? Brandon Marshall clicks with Jay Cutler and the two create all kinds of Bears passing records. But then there's the OTHER possibility - that Marshall causes the same kind of disruption as at Denver and Miami, and the words "Pram", "toys" and "thrown out of" crop up regularly.
Dallas - the Cowboys are overdue a season when all the parts come together and the defence matches up to the offence's potential. But why do I keep having visions of Tony Romo under pressure - and his miserable pass completion ratio when that happens?
Kansas City - pundits are really high on new defensive tackle Dontari Poe but the big question marks remain over last season's injured trio of Jamaal Charles, Tony Moeaki and Eric Berry. If they return at 2010 level, the Chiefs could be legit contenders. If not...
Also either/or - New York Giants (a nice, low-key off-season, but can they cope with the loss of Mario Manningham, Brandon Jacobs and Aaron Ross?); Pittsburgh (some big-time veteran losses but no sense of panic from the Steelers' front office); San Diego (losing Vincent Jackson could be huge but landing Robert Meacham might not be a bad bit of business); Tampa Bay (SO much that needs to be done, but the rebuilding is under way); and Seattle (again, hard to go in reverse).
Red Lights
Denver - yes, it all hinges on No.18 and The Neck. A fully-fit, fully charged and fully firing Peyton Manning passing to the likes of Demaryius Thomas and Jacob Tamme could be an overpowering combination for the Broncos. Unless he's not fully fit. Or able to adjust to his first new team since forever. Or without the weapons he's used to. Like a gambler putting it all on black, Denver just can't afford it to come up red this season.
Indianapolis - meanwhile, the Team He Left Behind have almost more questions than positions on the field. If Indy fans thought 2011 was grim, 2012 could be even worse.
Arizona - getting a genuine one-two punch at wideout (Larry Fitzgerald and Michael Floyd) pales into insignificance behind the gaping holes in the O-line. Get ready to run, Kevin Kolb, run!
Miami - if Indy fans are worried about how this term might pan out, Dolphins followers have to be even more concerned. Without a proven quarterback, receiver or safety, not only might they struggle to put points on the board, it's hard seeing how this team will stop anyone.
New Orleans - just read any of my columns of the past two months. The off-field circus around the Saints has been pure soap opera material, and the on-field possibilities may not be much better.
New York Jets - the local media insist the calls for Tim Tebow at quarterback will be heard with Mark Sanchez's first incompletion. In practice. If Sanchez survives with his sanity intact come the end of the season, let alone a winning record, it will be a minor miracle.
Also showing danger signs - Cleveland (a team needing a LOT of help after last term is still waiting), Houston (that defence suddenly looks awfully thin without Williams and DeMeco Ryans), Jacksonville (see under 'Miami', above), Minnesota (horrible on offence, horrible in the secondary; what's to like?), Oakland (SO many losses, SO few high-calibre arrivals), Tennessee (again, paper-thin on 'D'), Washington (faith, thy name is Robert Griffin III); and Detroit (see "arrests," and "a lot of" above).
So the lights are now green for some genuine footballing action over the next few weeks, starting with the Hall of Fame game between New Orleans and Arizona on August 5.
But they could turn red for any of the 32 at any moment, with the dreaded fear of a season-ending injury before the season even begins for real. All revved up now...?