Law and disorder
The fall-out from the New Orleans Bounty-gate scandal is all too familiar, says Simon Veness.
Last Updated: 12/07/12 4:20pm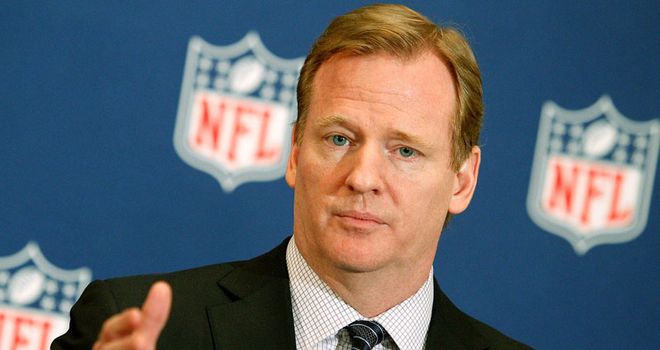 A wiser man than me (but hopefully not as witty*) once said: "It is the trade of lawyers to question everything, yield nothing, and to talk by the hour."
If that is still the case today (which I would certainly endorse), the NFL is in for a whole lot of talking - and even more nothing - in the next few months.
And it truly makes your heart sink. It's like no-one has learned anything from the bloody but pointless stand-off between the owners and players last year when both sides maneuvered behind their lawyers and achieved precisely nothing in real terms.
The current situation is at once completely different and depressingly familiar, as the fall-out from the New Orleans Bounty-gate scandal rolls on and on.
Summary
Here's the latest summary in a nutshell: Saints defensive coordinator Gregg Williams implemented a pay-to-maim scheme from 2009-11 that placed various 'bounties' on the heads of opposition players like Brett Favre and Kurt Warner.
Drew Brees and Co promptly won Super Bowl XLIV, leaving a battered and bloody Favre and Warner in their wake.
Everything was happy and rosy in The Big Easy. Until the NFL found out. And The Commissioner got mad. Like really, REALLY mad.
Everyone involved on the Saints team was banned for, you know, AGES and told not to do it again.
The Commish singled out four New Orleans men as, like, the really bad player dudes, and said they weren't going to get paid. At all.
The four really bad player dudes called in their lawyers. And the NFL Players Association lawyers. And the lawyers for their lawyers. And some other lawyers who were just sitting around doing nothing.
And they sued the NFL for, like, saying nasty things about their clients and not being able to prove any of it. Apart from the 10,000 pages of evidence. Which the league refused to let the players see.
Now The Commish has counter-sued one of the bad player dudes, Jonathan Vilma, for his defamation law-suit, which is just one of THREE pieces of litigation (it may be four; it's hard to tell) being levelled at the league by the Dudesome Four.
So there you have it.
Litigious
The NFL penalised the Not-So-Fantastic-Four, including Vilma as, like, the Really Rotten One. But Vilma's lawyers go, "Uh-uh, not so fast. Here are a bunch of legal reasons why you can't do this." And The Commish's lawyers go, "Oh yes we can because we're the league and we're governed by the Central Bargaining Agreement, which the NFLPA signed, so you're stuck with it."
Now everyone is suing everyone else, including, possibly, three perfectly innocent by-standers who just happened to be near the federal court in New Orleans, and no-one has any idea how it will all work out, except that a whole bunch of lawyers are going to get even richer.
The whole thing is so cross-eyed cock-a-mamie that you wonder how on earth we got to Here.
And seeing as how Here just happens to be in the middle of the most litigious country on earth, you just know this whole argument isn't going away anytime soon.
The Saints could conceivably, be without two of their top defensive stars for the start of the season, including Vilma for the whole campaign. Or they might not, if a judge rules in favour of the NFLPA's bunch of lawyers.
How New Orleans are supposed to be preparing for the season with all this legal craziness resounding from the highest rafters is anyone's guess. They already have the ongoing pantomime of Drew Brees' new long-term contract and the fact half of their coaches are also banned, including head coach Sean Payton for the year (the same Sean Payton who is also filing for divorce from his wife Beth, who is counter-filing for full custody of their children).
If anyone remembers the 1970s comedy series Soap (that made a star out of Billy Crystal, among others), the catchphrase "Confused? You soon will be" rings loud and true at NFL HQ right now.
Commissioner Roger Goodell must be wondering who is lining up to sue him next, and he probably wishes the season was already over, especially as it will, of course, conclude in - New Orleans.
If the lawyers let them.
* It was Thomas Jefferson, principal author of the Declaration of Independence.