Positively negative
Concussions, suspensions and contractual disputes. Simon Veness looks at the NFL's growing problems...
Last Updated: 18/05/12 3:37pm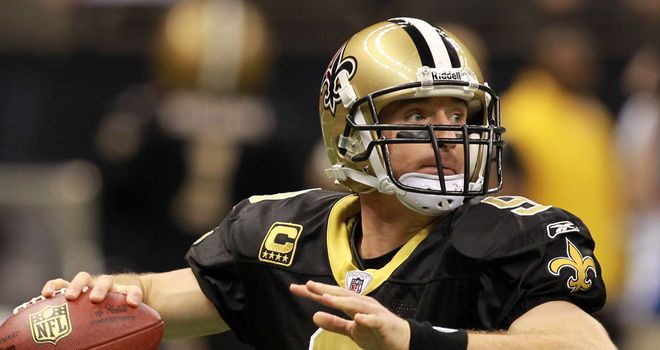 There must be times just now when NFL Commissioner, Roger Goodell, really wishes there WAS an off-season.
You know, a time of year when the spotlight is elsewhere, the players are largely anonymous and league life is conducted behind closed doors.
There certainly was a time in recent memory when the period from March to July was largely unmarked by football news and, instead, the media obsessed about the NBA's fulminating play-offs, the imminent battle for the Stanley Cup and the summer pursuit of America's sport; you know, the one with the bat and ball.
But that was Then and this is most definitely Now.
And the league - and especially The Commish - are firmly in the cross-hairs of a growing storm of controversy and sheer bad news that they can neither control nor avert.
As I reported a couple of weeks ago, the league's decision to suspend the four so-called ring-leaders of the New Orleans Bounty-gate scandal has not gone down at all well with the quartet in question, or the players union.
In fact, it's about as popular as a rattlesnake in a lucky dip, to quote a famous Fosters advert from a period when there was an NFL off-season.
Message
Goodell will obviously retort that he's not in this business to win any popularity contests.
Player safety is item No. 1, 2 and 3 on his agenda right now, and he is determined to knock that message into the thick skulls of the players themselves.
Oops, bad choice of words. Because it really IS all about the issue of head injuries, concussion and long-term brain trauma.
The recent beyond-tragic suicide of Junior Seau has set NFL nerves jangling like never before, with more and more players starting to question their chosen profession and admit that, just possibly, they wouldn't want their kids taking part.
At the same time, we have the Bounty Four and Goodell's determined mission to wipe the pay-to-maim issue off the league landscape once and for all.
Somehow, the two spiraling concerns - the seriousness of concussions and the Saints' shame-fest - have becoming inextricably linked, and the blue touch-paper is now alight to a potentially explosive confrontation.
The latest act that heaps kindling on the already smouldering powder-keg is a lawsuit from Jonathan Vilma - identified by Goodell as the bounty-artist-in-chief, and handed a whopping one-year ban - directly to The Commish himself, alleging defamation.
It is a message of defiance akin to Fletcher Christian setting HMS Bounty skipper Lieutenant Bligh adrift in a longboat in the South Pacific. Not only does Vilma not accept the punishment handed down, he denies any shred of involvement and, by golly, if he isn't about to start his own mutiny, too.
As we all know, the only winners when the writ hits the fan are the lawyers, who are currently rubbing their hands with glee at the prospect of this little tete-a-tete being settled in the courts, or, at the very least, in an arbitrator's office.
Of course, if the Saints linebacker Christian, I mean Vilma, and his fellow Bounty cohorts have been dealt with unfairly, they certainly need a fair hearing, but you have to feel that going for the nuclear option of litigation, effectively bidding to blow up the whole process, is not going to help anyone, least of all the way many fans currently feel about the game.
Make-or-break
If that was the only negative headline the league had on their plate this week, you might be inclined to think they could still weather the gathering storm, but the bad news has come thick and fast, one storm-front after another, and you have to wonder which one will be the straw that breaks The Commissioner's back.
New Orleans themselves are facing a make-or-break negotiation with quarterback Drew Brees that is not going at all well, with the Super Bowl MVP making the kind of noises that are usually followed by headlines with the phrase 'Hold-out' in them.
The Saints, of course, need one more headache like the European currency needs another Greek bailout, but they seem powerless to prevent things drifting into deadlock.
Wes Welker, meanwhile, has pronounced himself distinctly dis-chuffed with his contract position at New England, which, in Patriots terms, is a tantrum of epic proportions.
You feel it is unlikely to upset Bill Belichick's apple-cart to any significant degree, but it adds to the general players-not-happy-with-their-lot rumblings that seem to be surfacing with alarming regularity.
If the league thought they had achieved long-term labour peace with last year's lockout solution, they are probably in the business of re-thinking their position fairly urgently.
And then you add on things like Oakland linebacker Rolando McClain being sentenced to 180 days in jail for assault and firearms offences, and New York Giants defensive lineman Osi Umenyiora having to apologise for a sexist remark that he Tweeted on Mother's Day.
Don't forget Baltimore's Ed Reed indicating he may not be ready to play again at the age of 33 over health concerns, and we have come back full circle to the underlying issue of how safe is the NFL, anyway?
None of it makes good reading in head office and none of it looks like being resolved anytime soon.
It's certainly enough to make The Commish yearn for the days when the NFL wasn't a hot news item at this time of year. But, like Lieutenant Bligh, he has a long paddle to get back to solid ground.