Bad winds of change
Simon Veness explains why he thinks there could be even darker days ahead for the NFL.
Last Updated: 04/05/12 11:03am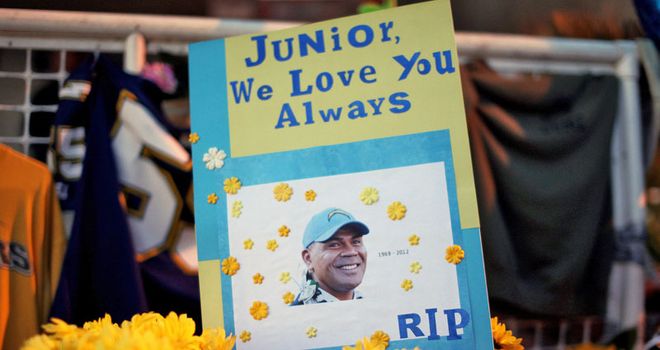 Did I mention a cloud last week? How about a whole great, sweeping thunderstorm that casts a giant pall over the sport, one that is gathering momentum by the day and threatening to blot out all joy and anything positive in our gridiron world?
It is a double-headed storm system, too, building up on two vastly different but somehow inextricably connected fronts, a pincer movement of potential doom that is both hard to get your head round but also starkly obvious.
For those who can cast their minds all the way back to last week and the build-up to the Draft, they will know the annual new-player jamboree was conducted in the wake of yet more off-field wrangling and allegations, the kind of thing that keeps officials up all night - or gives them nightmares if they do manage to drop off.
Distraught
Much of this bad wind of change centred on the perpetual bad news story of New Orleans, where the Saints just can't seem to stop tripping themselves up.
The feel-good factor of the Draft lasted about 10 nano-seconds before the latest round of heavy weather moved in. And it is not the kind you shrug off in a hurry. In fact, for those who really care about the game, it may not be possible to shrug it off at all.
That was the feeling as I sat and watched the late-night coverage of the tragic, shocking suicide death of former San Diego colossus Junior Seau, the ferocious, non-stop, iconic linebacker who not only redefined his position in 13 years with the Chargers (not to mention another seven with Miami and New England) but inspired a city with his drive and energy off the field as well as on it.
Seau was a one-man charitable whirlwind, someone who championed multiple causes and created oceans of good-will and generous support. Many players were awed by his beneficence and positive character, and he had fans by the legion - and not just from the teams he played for.
But there, in the bitter eye of TV on Wednesday night, was his distraught mother Luisa raising her eyes and tears to heaven and pleading for knowledge, understanding, something to make sense of the senseless.
Former team-mates and coaches lined up to shake their heads and wonder at the un-wonderable. A giant of the gridiron world had been suddenly and inexplicable torn from the sporting firmament and every star now seemed dimmer and less substantial.
But there was the evidence, cold-hearted, implacable, relentless. Seau was just 43 and only three seasons removed from a playing career you won't hear anyone say a negative word about. And yet this father of three - three children to whom he texted the message 'I love you' shortly before committing his fatal act - still felt moved to an action of such sudden violence it makes all thinking people feel like they have been physically assaulted at the very mention of it.
And the media are now stitching together a pattern of events that just could - I emphasise, could - be the undoing of the whole sport itself.
Nightmare
The immediate leap of journalistic pattern-weaving is to link Seau's tragedy to that of former Chicago safety Dave Duerson, who also shot himself in the chest last year. Duerson left a note detailing that his brain should be examined by specialists in traumatic brain injuries, specialists who later confirmed the ex-Bear had the brain tissue of an 85-year-old with senile dementia. At the age of 50.
It also comes hard on the heels of the death-by-suicide of former Atlanta star Ray Easterling only last month, a 62-year-old apparently unable to live with the effects of depression and insomnia linked to chronic traumatic encephalopathy - which he claimed was a result of multiple concussions from his playing days.
You can already see where this is going. Even without any kind of note or medical instructions, Seau's death is pointing a grim and unrelenting finger in the direction of the NFL's nightmare scenario - the concussion syndrome.
With more than 1,000 players already united in legal action against the league for punitive damages for what they claim were improperly-treated concussions in the 1970s, 80s and 90s, it is a gathering storm of immense implications.
Which is what makes Part 2 of our storm-front even harder to comprehend.
'Injustice'
The announcement of punishments for the four New Orleans players (two of them currently ex-Saints) involved in the 'Bounty-gate' scandal has caused a potential major rift with the quartet in question and, more notably, the Players Union.
The NFLPA is suddenly front-and-centre of an appeals process that threatens - as I hinted at last week - legal action of the most bitter kind.
The players themselves - let's call them the Bounty Four - feel unfairly singled out and massively over-punished. Jonathan Vilma, who copped a full-season ban, stands to lose some $2.2million in wages, and has insisted: "I intend to fight this injustice, to defend my reputation, to stand up for my team and my profession, and to send a clear signal to the Commissioner that the process has failed."
It is fighting talk of the most ardent and strident kind, spoken with the full backing of the union, who have made it clear from the start they have yet to see any 'evidence' of players' wrong-doing, irrespective of the fact the four coaches and front-office staff already suspended have accepted their punishments and, presumably, know chapter and verse who was involved, and how.
The NFL have strengthened their legal position by bringing in an expert independent attorney to view their case and ensure it is water-tight. But the clear suggestion is they are reinforcing their position for a judicial battle royal.
And all on the subject of illegal hits, or illegal payments for hits. The kind of hits that Junior Seau embraced throughout his stellar career - and which much of America now believes led to his suicide.
It is a bitter and rapidly darkening position, a lose-lose situation that can do nothing but make the tragedy of his passing even more somber and unfathomable.
You'd like to think that both sides, and especially the Bounty Four, could see these gathering storm clouds and put their differences to one side in a concerted effort to give us what we really need, answers to the brain injury questions and solutions to eradicating them.
Sadly, the way the stars are aligned right now, you have to think the sport is heading down a grim one-way path that, ultimately, could lead to its total self-destruction.