Luck of the draft
Andrew Luck is Colts bound, but Simon Veness reveals the likely destinations for the rest in the NFL draft.
Last Updated: 26/04/12 9:27pm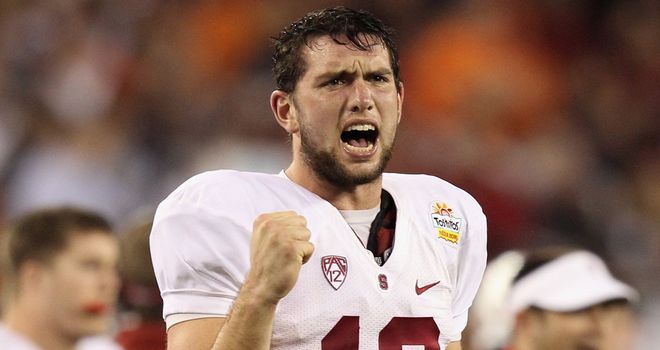 If ever an event was taking place under a cloud, it is this year's NFL Draft, dogged as it now is by new rumblings around New Orleans, with allegations of wrong-doing against general manager Mickey Loomis (already facing an eight-game suspension for half the coming season).
With Commissioner Roger Goodell also still wrestling with the thorny problem of fines and/or bans for various numbers of Saints defensive players for 'Bounty-gate', you get the feeling the league would like the earth to open up and swallow The Big Easy whole just now.
The bottom line, of course, is that absolutely nothing has been proven against Loomis and the allegations of some kind of wire-tapping of opposition coaches from 2002-04 really are as wild as they sound.
Many commentators over here already have the embattled Saints GM signed, sealed and delivered to the executioner's chair, such is the vitriol aimed at the 2010 Super Bowl champs.
To be honest, I just can't get my head around the idea that any front-office official would try anything as outlandish or hard to manipulate as the 'live eaves-dropping' leveled at Loomis. How any non-coach would benefit from something like that is just hard to fathom.
But that's not the issue facing the NFL on the eve of their second-most prestigious event (and something that actually commands more live TV coverage than the Super Bowl itself).
No, the simple matter that their focus is being dragged back to disciplinary matters once again is the very last thing The Commish wants to deal with while he's enjoying the delights of New York - always assuming he does get to leave Radio City Music Hall at some stage.
And this time we've got the FBI involved, the Louisiana district attorney, local police and, very possibly, CSI Miami and NCIS as well. Quite frankly, it's a mess, and it casts a shadow over half the footballing country.
Draft
Hopefully, we WILL get to the first round of the Draft without any more allegations of skullduggery emerging from the Bayou woodwork (although it might be interesting to see if League HQ were to implode with just one more hint of something untoward. It's been that kind of off-season so far).
There is very little intrigue in the early going on Thursday night, too, although the confirmation by Indianapolis that Stanford quarterback Andrew Luck will, indeed, be their choice to fill the immense void left by Manning, P, has surprised absolutely no-one.
Few doubt Luck's ability to have a stellar career in the pro ranks, but he is going to face an enormously steep learning curve with the talent-stripped Colts. If he finishes the season with all his limbs intact, that could represent a major success in the heart of Indiana.
With the son of the former World League president (yes, Oliver Luck is still remembered in those fond terms by many UK aficionados) already off the board, we also know fellow QB phenom Robert Griffin III is destined for the No 2 spot and the Washington Redskins.
By the same token it would be borderline startling if Minnesota don't snag Southern California tackle Matt Kalil, who many rate as the best offensive lineman in the mixer for several years and, boy, do the Vikings need someone to protect Christian Ponder.
Interesting
But then things start to get interesting and, around half-an-hour into proceedings we can expect to see some furrowed brows and sweaty palms on the part of Cleveland, Tampa Bay, St Louis, Jacksonville and Miami, and a whole gaggle of possible picks at numbers 4-8.
All five teams finished the 2011 season in such disarray in so many positions, none of the pundits can agree how they best look to fill all the holes.
It is pretty certain that Cleveland would LOVE someone to offer to take the fourth selection off their hands, in return for more picks slightly lower down (less money to pay out, and more ways to meet their needs), but it seems highly unlikely anyone is ready to pay the price to move up, especially as the proven game-winners are much harder to predict after Luck, Griffin III and Kalil.
Many talking heads are convinced the Dolphins are desperate enough to make a bid to jump a few places for Texas A&M's converted quarterback Ryan Tannehill - a player who started his college career at wide receiver and started only 18 games under centre. Yes, he COULD be a real prospect - but a top 10 pick? That's too much of a stretch for many.
Miami fans will know just HOW desperate their team is to avoid starting the season with Matt Moore if either Cleveland or Jacksonville cede their position to the 'Fins. And get ready for some hefty boos from South Florida if that is the case.
Intrigue
If that should provide the top 10 intrigue, get ready for a defensive lineman jamboree from the ninth pick onwards, with as many as six human run-stuffers likely to figure from Nos. 9-20. It may not be terribly glamorous, but that stage is sure to take one hell of a beating with almost one ton of DTs and DEs lining up to tread the boards before the end of the first round.
Look out in particular for one of the biggest of them all, 350lb (that's 25st in old money) Memphis lineman Dontari Poe, who is predicted to be picked at No 16 by New York Jets. Some believe he could be the next Haloti Ngata, the freakish Baltimore DT, but he could equally be the next Albert Haynesworth, i.e. someone who's more likely to eat an opposition running back than stop him.
Wide receivers could also be reasonably thick on the ground in that first evening, but don't expect many running backs to show up. Alabama's Trent Richardson is the only consensus choice among the first 32, meaning virtually everyone is looking for a 'hidden gem' in the lower rounds this year.
Need a real wild card to watch out for? The oldest player in the Draft will be 28-year-old Oklahoma State quarterback Brandon Weedon. He has already been drafted once - by the New York Yankees as a pitcher in 2002. He even lasted five years in the MLB before deciding baseball wasn't for him and going back to college.
He impressed a few people at QB, too. He beat Luck in the 2012 Fiesta Bowl, throwing for 399 yards and four touchdowns. He'll be 29 in October, six years older than Luck and seven older than Griffin III.
Matt Moore is still only 27 (28 in August) and you have to wonder about how he would feel to find himself with a new college team-mate - who's older than him. Ready for some Draft fun, now?