Drafting the drama
US-based British sportswriter Simon Veness looks ahead to the media circus of the NFL Draft.
Last Updated: 22/04/12 8:51am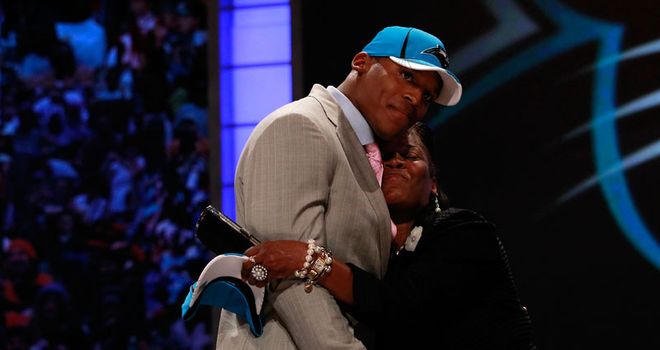 Radio City Music Hall is warming up and the Mock Draft brigade are in overdrive with version 6,362 of their 'predictions' of how the NFL's big annual player share-out will go.
The chosen 26 players who have been invited to be the 'special guests' at the first day have all gone out and bought their smartest new suits and the agents are dusting off their calculators to work out if they will be able to afford another Ferrari or three.
But, as we all know from years past, the prediction business when it comes to the Draft is a fool's game, yet there they all are again, with their mock 'boards' and breathless forecasts on what we will see when the famous New York venue hosts the 77th edition of this unique sporting shindig from April 26-28.
Considering there is nothing in British sport that even approaches the wacky sport-as-entertainment approach of the Draft (and the twice-yearly Premier League Transfer Window does not even come close), it is hard to get your head around the whole idea of apportioning out the newly-available college talent.
It's a bit like the old playground idea of two 'captains' picking from a whole gaggle of eager schoolkids, but with much bigger 'kids' - and a whole lot of money.
Dozens of instant millionaires will be created, before they even strap on pads and helmets, and teams will be deemed to be 'winners' and 'losers,' even though it's still more than three months to the first pre-season game.
Madness
When you break it down to its constituent parts, it's just plain crazy.
But it is how the NFL does business with its 'new blood' and it makes for compelling TV, sporting drama of the soap-opera variety and a key component in the year-round headlining of a league that actually has only a four-month regular season.
And it keeps the media over here simmering nicely as we bounce around all four major sports at once, with the baseball season now two weeks old, the NBA getting ready for the play-offs and the NHL - or is it MMA? - at its most pugilistic now the Stanley Cup action is firmly under way.
As a quick aside, it's amusing to see the shock-horror approach of many writers and talking heads at the current state of ice-hockey's goonery, where the league has given free rein to the thugs for so many years - notably in a poorly officiated Finals series between Detroit and Pittsburgh in 2009, when the petulant Penguins and their irritant-in-chief Sid 'The Kid' Crosby were seemingly deemed untouchable in the league's desperation to create a new 'hero' - that it is in danger of descending into Rollerball-on-ice (but without a James Caan figure to rally around).
But the NHL is fast becoming an irrelevant side-show in American sports terms, hence it makes the headlines for a minute or two before attention returns to the big-money earners of baseball, basketball and, overwhelmingly, football, where even the announcement of the 2012 schedule makes prime-time viewing.
Box office
Which brings us back to the ever-building focus on the Draft, and where the big names of the college system will end up after the first round (remembering, of course, that round 1 is now the stand-alone Main Event on the Thursday evening, with rounds 2 and 3 on Friday evening and the final four rounds on Saturday, ensuring this bloated monster consumes three separate chunks of TV time).
In real terms, this is the season of mis-information and mis-direction, with teams desperate to make their rivals think they are coveting Player X when they really want Player Y. The rumours and counter-rumours fly thick and fast and the media laps it up, happy to circulate every hint and whisper of Draft-speak.
And then there are the players, who have already been put through a battery of tests at the Player Combine, taken part in the ubiquitous 'Pro Days' at their various colleges and even given special workouts and previews of their talents in behind-the-scenes rehearsals for various teams.
Of course, there is no such thing as a 'sure thing' in Draft terms, even though everybody insists Andrew Luck is a 100 per cent sure thing in terms of being the most NFL-ready player since Peyton Manning in 1998.
Well, we'll just see how that works out, won't we? The road to NFL failure is paved with No 1 picks like JaMarcus Russell, Tim Couch and David Carr in the past 15 years, all of whom promised to deliver FAR more than they ever delivered (although it's hard to apportion blame to the players in most instances as it is the teams who actually put the target on their chests and set them out there to be shot at).
There is no real doubt that Luck is headed for the now Manning-less Indianapolis Colts, unless owner Jim Irsay is the ultimate poker player and has EVERYONE thrown off the scent of who he really wants.
The Player Who Has Become RGIII (or Baylor quarterback Robert Griffin the III, to his parents) is next up on the Sure To Go list, with Washington having mortgaged themselves to the hilt in order to swap with St Louis at No 2 in the picking order.
And then we're off into flights of fancy. Southern California offensive lineman Matt Kalil is a popular choice at No 3 to Minnesota, but the Vikings have so many issues to deal with you could see them looking in any one of five different directions, while Alabama's Trent Richardson is the consensus fourth choice, as Cleveland clearly need a running back in the absence of Peyton Hillis.
Equally, the Browns have a ton of holes to try to fill through the Draft, so you could see them picking any of six alternatives. You pays your money... (and you keep paying, in many instances).
Of course, there is still a full week yet before we get to Radio City for real, so that's enough time in Mock Draftland to get past prediction No. 7,000. Me? I'll just sit back and let it all happen when it happens. Just don't try to get me excited about the UFC, sorry, NHL, action in the meantime.